One Comment
Five Questions: Linh Nguyen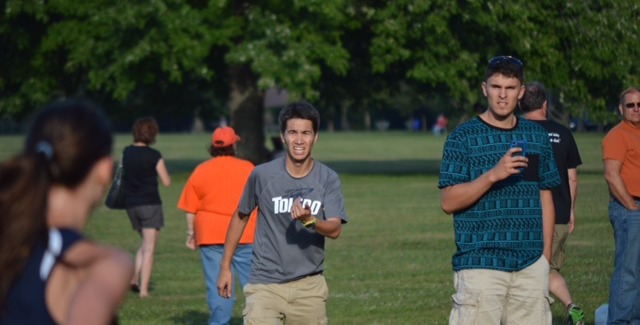 Jesse Squire | On 18, Nov 2014
Welcome back to 5 Questions, where we pick the brains of people from all areas of the running scene. Today I'm talking to Linh Nguyen, who is in his second year as head coach at the University of Toledo. His Rocket women's team qualified to the NCAA Cross Country Championships last Friday as expected, but unexpectedly knocked off two higher-ranked teams in the process (then-#8 Michigan and #19 Ohio State).
Daily Relay: Congratulations on winning the Mid-American Conference title and qualifying to the NCAA Championships! Last year you said you were nine points away from a "very different season", missing the conference championship by three points and the NCAAs by six. This year your team achieved those goals with comfortable margins for error. What's been the biggest difference between this year and last?
Linh Nguyen: Honestly, I think the biggest difference is just time. When I got here last year, I changed things pretty drastically from a training perspective from what they had done before. When you make that kind of change, it takes a while to transition. I think if people payed attention, we had some very good results in track that kind of pointed to our training starting to come around. This fall we were able to come in on the same page and just have things clicking from the start. Also, that relationship and trust between coach and athlete was much more established this year. I know them really well now and they know me. We're very cohesive as a unit and that makes a big difference.
DR: In this neck of the woods, the three colleges that draw the most attention from sports fans are Ohio State, Michigan and Notre Dame, and any Rocket team that managed to beat all three in a weekend would get a great deal of attention. Does your team get the respect it deserves on campus and from the local sports media?
LN: We definitely get a lot of positive attention and support in our athletic department. The administration knows what's going on with our program and follows us closely as do other coaches. It's great to know that the people in charge are invested in each and every team. I'm not sure if local sports media really knows yet how good the team is and what we've been able to accomplish in our last couple meets. Maybe this week they will? As for the team themselves, they don't care what the name is on the front of your jersey. If you line up against them, they are trying to beat you.
DR: Now that you're going to nationals, what's the goal there? Is it to set a new high-water mark for Toledo's best finish at an NCAA cross country championships, which currently stands at 21st (2011)?
LN: We set a goal this year at team camp to focus only on the women that are on the team and what we're doing on a day to day basis. We didn't want to get caught up in rankings, comparisons (even to past UT teams), or what others were doing. The best way to be your best is to focus on what you must do to prepare each and every day. Anything else is wasted energy. Not once this season (even at [the] MAC [Championships]) have we talked going in about what place we wanted to finish. Instead, we talked about what we needed to do to have a good race as a team. When we met as a team in our tent yesterday after the race, I congratulated the women on their performance but reminded them that qualifying was a goal of the season but not the goal of the season. They were happy but knew that the most important race is still to come. I think if we continue to run well and work on tightening our spread, that the result will be positive. We've been running at about a 45 second 1-5 spread through the season but yesterday we were at 27 seconds. That was because 2-5 closed the gap, not because #1 ran slower. I'd like to think we're better than a 21st place team if we run to our potential.
DR: Six of your varsity seven this year are seniors. How has that affected things, and how will they approach the last cross country race of their collegiate careers?
LN: Well, it obviously helps us to have a veteran presence on the team. Janelle has made a huge jump this year to break into that senior group, which has been great. She's gaining so much from being around that group and training with them every day. They have been here before. They won't be nervous going to NCAAs and won't be phased by all the peripheral stuff that goes on around a championship. Both at MAC and Regionals, they were excited with their results but not overly giddy. They are extremely mature and focused so I think they have seen these past two meets more as byproducts of their overall goals than they have as goals themselves. It's an amazing group of women really. They are very unique in their commitment, determination, and desire. They are tight knit and share the same goals and values. It's been an honor to coach them the past two years.
DR: How's that 'stache growing in? We need pictures. [Nguyen agreed to grow one if the team won the conference meet in a "post long-run deal gone wrong".]
LN: The mustache was actually a goatee from MAC until Regionals. Deal was if we get to NCAA it has to become a mustache only, so I took care of that this morning. It's really an ugly sight to behold but I know the team will enjoy laughing at it for the next week. Sometimes coaches make rash deals in efforts to motivate and this was definitely one of those times.