2 Comments
Huddle takes 10,000m title, continues to put Beijing behind her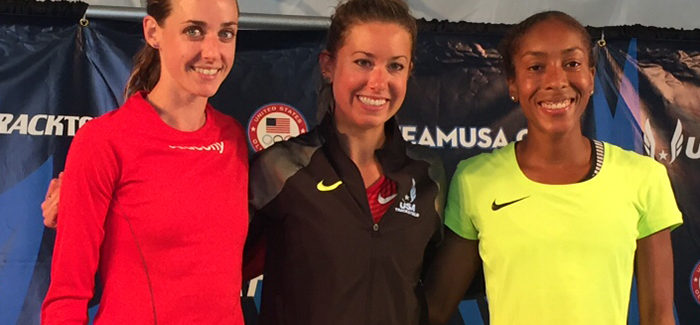 Brendon Desrochers | On 02, Jul 2016
EUGENE, Ore. — There is a subset of sports fans that only knows Molly Huddle as the runner who pulled up a few meters short of the finish line in last August's World Championships 10,000m before being pipped at the tape for the bronze by fellow American Emily Infeld.
If that ends up being her legacy, it's a cruel one for the only active American female distance runner with a resume to compare with Shalane Flanagan.
Since that gaffe, Huddle has continued to dominate domestically on the roads and the track, a run of success which found its latest triumph in the women's 10,000m in a hot late-morning sun Saturday.
Huddle took the lead from the start, and no one dared challenge her. She clicked off 76-second laps, which were enough to slowly but surely splay the field. By the bell, it was just she and Infeld left in the lead. By then, though, their spots on the team had been secure for more than a mile.
"I debated letting someone else take the pace, but I didn't want it to get slower than 77-78," said Huddle after the race, noting that she would have risked mishaps like Kim Conley losing her shoe, had she sat in the pack.
With six laps to go, Huddle turned the screws, dropping a couple of 75s, followed by a 74, 73, 71 and, finally, a 68.37 that dispatched Infeld over the last 400 to win in 31:41.
Unlike in Beijing, Huddle did not raise her arms or slow before the finish Saturday.
"It helps when there's no tape," Huddle quipped. "I'm trying to just learn from it. I mean, there's not a ton I learned from it to be honest. I try not to let it steal any more from me by being fixated on it."
"It's never going to go away," said her coach, Ray Treacy, of that Beijing finish. "But you got to put it back in the far reaches of your mind as much as possible, so that you push it back by having good performances in the race. That's why she went on the roads to run the way she did last fall — to put it as far back in your mind as she could."
Huddle won the New York City Half Marathon in March after a dominant fall on the roads in which she swept the USATF championships at 5K, 10K, 10-mile and 20K as well as the .US National 12K.
Qualification Saturday was hard for Huddle, since she set the pace in the hot sun, but it was mostly a formality for someone of her domestic dominance. With Flanagan focused on the marathon, there was no one to challenge her for the win, let alone three that could shut her out of Rio.
Her time was in line with her winning mark last year (31:39) but gave little indication whether she is in shape to challenge the best of Ethiopia and Kenya. In Hengelo, The Netherlands, on Wednesday, Ethiopia held its 10,000m trials, and 10 women ran faster than Huddle's winning time in a paced race.
The most notable of those was Almaz Ayana, who came within two seconds of breaking Tirunesh Dibaba's 5,000m world record in Rome in June. In Hengelo, Ayana ran the fastest-ever debut in a 10,000m by a woman, clocking a 30:07 and winning by 21 seconds over Gelete Burka and Dibaba, who is the third fastest all-time at 10,000.
Huddle, whose personal best is 30:47, will have to compete with at least six athletes capable of running faster than that to take home the medal  that eluded her in the final meters in Beijing.
"Having seen some of the Ethiopian results, to medal, you need to be in 30:20 shape, which is a tall order – it's the American record," said Huddle, in reference to Flanagan's 30:22, which was good for bronze at the Beijing Olympics in 2008. Last year's Worlds 10,000m was won in 31:41.
"I don't think it will be as tactical [in Rio]. We have to be ready to run fast."
The Hengelo results and Huddle's performance Saturday are in the shadow cast by the recent drug bust of Jama Aden, who is the coach of Ethiopian distance star and 1500m world record-holder Genzebe Dibaba and many other elite athletes.
"I just have to trust that rules will be followed in August," said Huddle.
"We can control what we can control ourselves," said Treacy. "The goal is to have her in sub-30:30 shape when she goes to Rio. That will get her in the mix, and that's all you want — to get her in the mix. And you don't know what can happen when you get yourself into that kind of shape."
She and her coach indicated that she plans to run the 5,000m here. Treacy said that Huddle, who feels more comfortable at 5,000 than 10, will use these races as sharpening for Rio rather than going to Europe for fast races.
This will be Huddle's second Olympics. She competed in the 5,000m in London in 2012, and she said the biggest lesson she can apply from that experience has to do with not letting the spectacle distract her.
"Just trying to not have an out-of-body experience when you get on the track," Huddle said of going to the Olympics. "I learned to tune that out and pretend it was just any other race."
Upon leaving Eugene, Huddle will continue to train in Providence this summer, whose July heat, Treacy said, should be preparation enough for the warm, humid Rio winters.
Sisson out of 5,000m after scary finish to 10,000
One of Huddle's training partners in Providence under Treacy is Emily Sisson, a 5,000m NCAA champion both indoors and outdoors at Providence College, where Treacy coaches distance. Sisson, who finished fifth in this event last summer, spent most of Saturday's race in mid-pack. Sisson chopped away at those trailing Huddle late in the race to move into a virtual tie for sixth with a lap to go.
That lap did not go well, with Sisson stumbling and weaving down the track in the final 100m and nearly collapsing at the finish before being held up by a marshal and attended to by Huddle. She will not run the 5,000m in the second half of the trials.
"She ran the race we wanted her to run and got up into sixth or seventh, but then the heat got to her and there was no recovering from that," said Treacy. "I don't know how she made it around that last lap."