No Comments
Friday's Best Matchups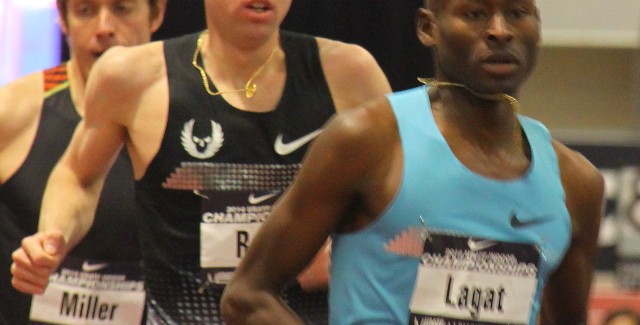 Jesse Squire | On 27, Jun 2014
Can anyone challenge Bernard Lagat in tonight's 5000 meters? If so, who?
For this weekend's USATF Championships, I'm abandoning my usual format of previewing the best matchups of the entire weekend and instead doing it one day at a time.
Yesterday's action
The best race of the day was the women's 10,000 meters, which ended up being a one-on-one battle between Kim Conley and Jordan Hasay. After a slow opening half, the second half was run in about 15:34 and none but Conley and Hasay could keep it up. Hasay surged to the lead with 200 meters to go but Conley hung on and swept past on the homestretch for her first national title.
The men's 10,000 meters saw Chris Derrick push the pace for the last 5000 meters before the inevitable took place and Galen Rupp kicked to an easy win, his sixth straight. Kibwe Johnson and Kara Patterson regained national titles in the hammer and javelin. More from the Sacramento Bee.
Alysia Montano got lots of attention for toeing the line in the women's 800 meters heats despite being 7½ months pregnant.
Complete results are available here.
On Tuesday, co-meet director John Mansoor said, "We [Sacramento] don't have the Nike money like they [Eugene] do, but we have a better fan base — and Eugene's is rabid and knowledgeable, but not as many as what we have. We have larger fan-base numbers…" But as of yet the numbers haven't supported his claim. Yesterday's announced attendance was 5,824, the lowest Thursday turnout at a USATF Championships since 2007 (5,480 in Indianapolis).
Today's matchups
Your key web links…
Meet website
Live webcast at USATF.tv from 2:45pm ET
Schedule, start lists and live results
TV coverage is on NBC Sports Network from 10:00pm to midnight (ET), during which time the webcast will switch to field events only.
And today's best matchups are…
Jenn Suhr vs Mary Saxer
Women's pole vault, 5:50pm local time (8:50pm ET)
Suhr is the dominant American, the indoor and outdoor record holder and 14-time national champion. Saxer dealt Suhr a rare national meet loss at the indoor championships in February, and Suhr is ready to even the score.
Will Claye vs Christian Taylor
Men's triple jump, 6:10pm local time (9:10pm ET)
Claye and Taylor are quite simply the two best in the world in this event and pretty closely matched–they have identical listed qualifying marks. Claye has had the upper hand so far this season, but remember that Taylor spent much of the early part of the year running the 400 meters (and was on the US team at the World Relays).
Tori Bowie vs Allyson Felix
Women's 100 meters, 8:43pm local time (11:43pm ET)
I don't know if Felix should be considered one of the favorites to win the women's 100, but I know that NBC's producers will focus on her during the broadcast and ignore just about everyone else because they just don't know any better. Tori Bowie has suddenly emerged as a sprint talent this spring and should be considered the favorite to win.
Mike Rodgers vs Charles Silmon
Men's 100 meters, 8:52pm local time (11:52pm ET)
Mike Rodgers has been pretty clearly the second-best US pro sprinter this year, and the best (Justin Gatlin) is not competing so he's a strong favorite. Silmon ran very well last year, winning the NCAA title and making the US team for the World Championships. He hasn't done much yet this year but looked good in winning his heat yesterday. If anyone can challenge Rodgers, I'm going to guess it's Silmon.
Molly Huddle vs Shannon Rowbury
Women's 5000 meters, 9:05pm local time (12:05am ET)
Huddle is the overwhelming favorite in this event. She's the American record holder and has stayed at the top of the track distances even while beginning to explore road racing. Rowbury, however, should not be ignored. She's six years past her peak season of 2008 but has put together her best season since 2010. She's run well across a range of distances and broke the American record at the rarely-raced 2 miles. Her 4:03.36 for 1500 meters at the adidas Grand Prix means she has the speed to win a kicker's race.
Bernard Lagat vs the Oregonians
Men's 5000 meters, 9:25pm local time (12:25am ET)
Bernard Lagat has begun to show a few signs of age but still enters this race as the favorite to win it for a record seventh time. His biggest rival, Galen Rupp, has opted not to run this event after winning last night's 10,000 meters, but the remainder of Lagat's competition all live and train in the Beaver State. The Oregon Track Club's Hassan Mead has the fastest time, a 13:02.80 in May that ranks him near the top of the world. The Bowerman Track Club's Ryan Hill and Lopez Lomong have the kind of miler's finishing speed that Lagat has found so useful in championship races, and their teammate Andrew Bumbalough isn't exactly chopped liver either.