No Comments
Daily News Roundup: USA Indoor Championships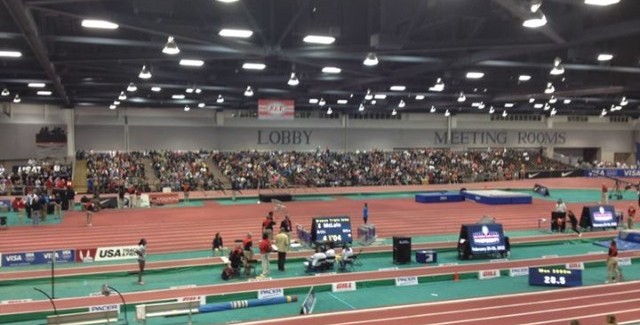 We're just one day away from the beginning of the USA Indoor Championships. The Daily Relay will have on-site coverage in conjunction with the House of Run podcast. Yours truly will be in Albuquerque, along with the Relay's Kevin Sully plus two members of our "relay pool": the House of Run's Jason Halpin plus a photographer, a murky character we're meeting in Albuquerque. (He's a bald technical genius who goes by a physicist pseudonym…should we be worried?)
There will be live TV coverage on NBC Sports Network on both Saturday (4:30pm – 6:00pm Eastern time) and Sunday (3:30pm – 5:00pm), and all other events will get live webcast coverage at USATF.tv.
Other key links:
Meet website
Meet schedule
Entries
If there's one event that really deserves your attention, it's the men's 3000 meters (Saturday at 5:47pm ET). Entries include the five fastest in US history (Galen Rupp, Bernard Lagat, Ryan Hill, Andrew Bumbalough, Garrett Heath), the former US 5k record holder (Lopez Lomong) and the Wanamaker Mile champion (Will Leer). It's not hyperbole to say that this might be the best American indoor distance race in decades.
Links
The new House of Run podcast is up!Jason and Kevin discuss the three world records from the weekend, Mary Cain's dominating win in the Millrose Games, Bernard Lagat's American record and another victory for Marvin Bracy. The guys also break down the upcoming US Indoor Championships, continue the best nickname debate and brainstorm events for the greatest track meet of all-time.
Speaking of Marvin Bracy, our own Pat Price asked five questions from the young sprinter and got five answers.
And our other relay leg, Jim McDannald, talked to Hammer Media's Martin Bingisser about gear and technology for throwers and their coaches.
News
Runner's World's Morning Report recaps all of yesterday's news: Kara Goucher is still shopping for a sponsor, sprinter Lauryn Williams won Olympic bobsled silver, and more.
Let's Run takes its weekly look at track and distance running news.
Spikes Mag picks thirteen magic moments from the World Indoor Championships, including one of my favorite clips of all time: the hurdle mayhem at the '87 Worlds in Indianapolis.
More from Spike Mag
Haile Gebreselassie tells Athletics Weekly that the sub-2:00 marathon will happen some day. It's this generation's four-minute mile but I think it will be far more elusive.
More from Athletics Weekly
Former world cross country champion Lynn Jennings shares the story of last month's near-death experience. She says being a fit runner saved her life.
More from RunBlogger.com
"The Unsung Glory of the Mile Run" takes a look back at Alan Webb's career.
More from The Atlantic
Jon Gugala interviews Nick Symmonds and pimps his autobiography due out this summer–which, of course, will be entertaining and controversial.
More from Competitor.com
The USATF Foundation awarded grants to fourteen throwers, giving them the much-needed financial support in order to stay in the sport.
More from USATF Foundation
The Stan Saplin Award for Excellence, awarded by the Armory Foundation, goes to Runner's World columnist Peter Gambaccini for "significant contribution to the promotion of track and field".
More from ArmoryTrack.com
Worlds team announcements: Russia. Notable by his absence is Aleksey Dmitrik, who cleared 2.40m in the high jump this year.
Video of the day
A look back at the 2011 USA Indoor Championships men's 3000 meters, a big showdown between Galen Rupp and Bernard Lagat.