No Comments
College Weekend Wrap -- April 17-21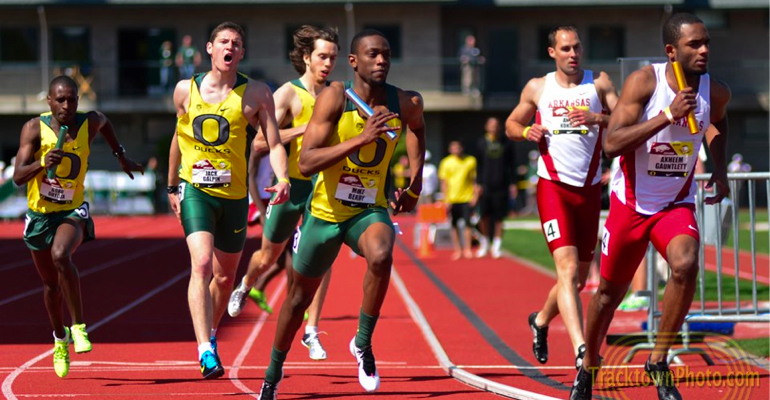 Jesse Squire | On 22, Apr 2013
Photo courtesy of TracktownPhoto.com
The athletic news this week was dominated by things other than athletics, but by Saturday morning our attention went back to the track for some great team and individual competition. Let's take a look at what happened.
Tradition
The Boston Bruins played an emotional game on Wednesday night against the Buffalo Sabres, the first sporting event held in The Hub since Monday's horrific marathon bombing. But the previous afternoon, across the Charles River in Cambridge and with little hubbub, another sporting tradition continued at Harvard's McCurdy Track.
The teams involved are at universities in which history runs deep. Harvard (1636) and Yale (1701) team up against Oxford (ca. 1096) and Cambridge (ca. 1209) in the "Oxbridge" meet, held every two years and rotating back and forth across the Atlantic. Dating from 1899 and using a nineteenth-century scoring system (1 point for a win, nothing for anything else), the meet brings to mind a more genteel amateur style of competition–which is in no way a bad thing. If the Bruins game was a way for the city to come together, then this meet was a way to prove that long-held traditions will continue on unchanged.
Oh, and who won? The Yanks topped the Brits, 27 to 11, to stretch their winning streak to six meets in a row.
Dual Meets
In the search for attention and fans in an ever more crowded sports marketplace, college track needs to think outside the box. Two meets this weekend did just that. (And can someone think outside the box and come up with a new term that isn't as old and tired as "think outside the box"?)
Arkansas 86, Oregon 77
Results | Photo gallery | Race videos
A much-anticipated dual meet took place on Saturday between Arkansas and Oregon in the middle of the Oregon Relays. Generally, the Oregon Relays is a meet mostly geared towards high schoolers with some low-key competitive opportunities for the various local pros and semi-pros, but without a lot to really generate excitement on the collegiate level. It's a staple of the Oregon home schedule but hardly a must-see event.
In a stroke of genius, a year ago former head coach Vin Lananna (now assistant AD) came up with the idea of holding this dual within the larger Oregon Relays format. The two teams were expected to be contenders for this year's NCAA Championships, and both have deep and balanced rosters ideal for dual meets, so it was a matchup that everyone thought would be a good one. And boy, did the meet deliver.
Oregon, #2 in the Track and Field News dual meet rankings to #1 Arkansas, went out to a big 17-1 lead after Friday night's hammer throw and 5k and maintained that lead for almost all of Saturday's action. This was expected, according to the formcharts prepared by Curtis Anderson of the Eugene Register-Guard, but the meet was also expected to tighten as the day went along.
There were some great individual efforts, such as Elijah Greer's 800 meter victory for the Ducks in 1:46.20, a collegiate leader and the fastest ever run in a dual meet, and his teammate Mac Fleet's 3:40.21 in the 1500, also a collegiate leader. But in a dual meet, it's the little things that count.
Oregon missed sprinter/footballer DeAnthony Thomas, who was too beat up from spring football to be ready to go, and Arkansas didn't bring sprinter Marek Niit or jumper Raymond Higgs, also both injured. The Hogs' poles never showed up in Eugene, but two-time NCAA champ Andrew Irwin managed 5.50 meters (18′ ½") on borrowed equipment anyway. And an entire laundry list of athletes on both sides did more than was expected–which also means some athletes on both sides did less than was expected.
In the end, however, it ended like all classic meets end: winner take all in the 4×400 relay. Beating Arkansas in this event is a tall order, considering the Razorbacks are reigning NCAA indoor champions in it. But at the final exchange, Arkansas' Akheem Gauntlett had just one step on Oregon's World Championships medalist, Mike Berry. Oregon head coach Robert Johnson said "I'll take that any day of the week and twice on Sundays".
Berry was still just barely behind as the two turned onto the homestretch, with the crowd of 7,344 on its feet, and Gauntlett held him off by just 0.25 seconds to give the victory to Arkansas.
Gauntlett had not originally been selected for anchor duty, but Arkansas head coach Chris Bucknam said "He ran a great 200, so we put him on the anchor. He just seemed more spry and a little bit fresher, and it worked out for us. That's no small item to hold off Berry." Berry, last year's NCAA runner-up at 400, was bothered by stomach problems that had him "throwing up a lot" but he still put everything he had out for the team.
Arkansas successfully defended their #1 position in the Track and Field News dual meet rankings, but it's not over for them. Next week they take on #5 Florida and #7 Ohio State in a home triangular, which just might lead to another 4×400 thriller.
Ole Miss 107, Mississippi State 54 (men)
Ole Miss 91, Mississippi State 65 (women)
Results
Across the country at the Mississippi Open, hosts Ole Miss and visitors Mississippi State copied Oregon's meet-within-a-meet format. Competing amongst other teams such as Missouri State, Murray State, and a handful of junior colleges, the two in-state rivals scored the action as a dual. This was apparently a meet-day decision (as there was no mention of it anywhere until Saturday morning). "It's good any time you can have your in-state rivals come and compete," head coach Brian O'Neal said. "It's good for our sport. Anytime we host a meet on our campus, we want to make sure we're putting our best foot forward."
While this is a great idea and something that should be done elsewhere as well, I think some pre-meet promotion of that rivalry might have helped get attention. Look at Oregon's hype–they were talking about their dual meet with Arkansas for more than a year. The Ducks get big home meet turnout for more reasons than just tradition.
In any case, the meet was a blowout, and it was headlined by some very good sprinting. Isiah Young won the 100 in 10.09, good for #3 on the 2013 world list, then turned around and won the 200 in 20.39, also #3 on the world list and a collegiate leader. Young made the US Olympic team in the 200 last year, which was considered a surprise since he'd finished just 4th at the NCAA Championships. But Young was the SEC champ in the 200–never a minor accomplishment–and this year's performances have been excellent. It's beginning to look like Young simply underperformed at last year's NCAA Championships.
Cal 85, Stanford 78 (men)
Stanford 102, Cal 61 (women)
Results | Photo gallery
As innovative as these two meets are, nothing in college sports compares to the "sports hate" of a familiar and ancient rival. When track and field can harness that, the results are brilliant.
Stanford and Cal have now met for 119th time in an affair they call "The Big Meet". It is totally old school and totally fun. Example: they have a formal meet program–for a dual –and it even includes a scorecard. You can't get a scorecard at a pro baseball game these days but you can get one at Cal-Stanford.
How else is it old school? Cal head coach Tony Sandoval got doused with the water bucket for breaking the Stanford men's six-year winning streak. Cal jumper Hamed Suleman clinched that win by winning the triple jump after having surgery last week. The theme of the day in this meet is "we", not "me".
Stanford's women kept their success going (3rd win in a row, 15th in the last 17 years) on the back of a quadruple effort by 400 hurdler Kori Carter. These days no one ever does a one-day quadruple, especially not an athlete who leads the world list as Carter currently does, but the stars don't hide at a must-win dual meet.
"I run for wins, not times," Carter told the San Francisco Examiner. "Now let's refocus and kick some Cal butt."
"We were all confident. I've been having a good season so far," said Tom Blocker, Cal's triple winner in the sprints. "This is the Big Meet. It means a lot to us."
Other scored meets
In other scored meet action, UConn beat Rhode Island and Southern Connecticut in a men's-only triangular (recap, results), Cornell swept Binghamton and Buffalo (recap, results), Eastern Illinois (men) and Illinois State (women) took wins in a triangular with Northern Iowa (recap, results), and UMBC (men) and hosts Morgan State (women) won the big Legacy Meet (results).
Conference Meets
ACC Championships
Results
The ACC's strangely-early championship meet turned out to be a Florida State-Virginia Tech duel on the men's side, as expected, but was unexpectedly close on the women's side.
Florida State and Virginia Tech have ruled the ACC men's championship, as all of the last twenty indoor and outdoor conference titles have been won by one or the other. Once again they took the top two spots, with the Seminoles coming out on top by nine after holding the lead for most of the meet's final day. Florida State got wins from Dentarius Locke (100), James Harris (400), Stefan Brits (long jump), Jeff Pelage (discus) and the 4×100 relay. The meet was clinched with a sixth-place finish in the 5k by Michael Fout, the oft-injured former Foot Locker cross country champion. Next up for the Seminoles is preparation for the NCAA Championships.
In terms of individual efforts, Florida State high jumper James Harris surprisingly jumped to #2 on the collegiate list in the 400 meters with 45.25, but finished just fifth in the high jump. Notable by his absence from the ACC Championships is freshman sprint star Marvin Bracy.
Clemson's women won their eighth ACC championship in a row (indoors and out) but it wasn't a walkover. The Tigers piled up 104 of their 151 points in the sprints and hurdles but scored just four points in the distance races. Florida State's more balanced squad stayed close and then piled on the points in the penultimate 5000 meters in a 1-2-3 finish. That tied the score going into the 4×400 relay, but the Tigers responded by crushing the competition and winning the race by nearly three seconds.
Sean Cobey, Clemson's coach this season, has held the moniker of "Interim Director of Track & Field" ever since former coach Lawrence Johnson was unexpectedly sent packing in the second week of January. Whether or not he becomes permanent, he's held the ship steady. Besides the women's two ACC championships, the men's team finished third, their best showing since 2008. Also this year, star hurdler Brianna Rollins ran the three fastest 60 hurdle times in collegiate history during the indoor season and looks ready to make a similar impact outdoors. Teams are often in disarray when the head coach suddenly resigns but Cobey kept things together, and for that he deserves some credit.
In other conference meets, Western Carolina swept the titles at the Southern Conference Championships (results, recap), and Liberty swept the Big South titles
results, recap), which represented a seventh consecutive conference triple crown for the Flames' men.
Open Meets
The other major competitions of the weekend in college track were mainly "open" competition, and by that I mean meets that combine pros and collegians in non-scored competition. There was a lot going on and it can be kind of a full-court press of information. I'm going to try to simplify it.
Mt. SAC Relays
Results | Videos
Mt. SAC had so much top-level action that I will miss a lot here just due to simplicity's sake.
Kansas State's Erik Kynard beat a stellar field of professionals in the men's high jump with a meet record of 2.34 meters (7′ 8″), which ties his PR and is the best height of the outdoor season. He beat a couple of darned good jumpers in the process in Jesse Williams (the defending world champion) and Dusty Jonas. Only four other collegians have ever gone higher in outdoor competition; two of them (Hollis Conway and Charles Austin) became Olympic gold medalists, and a third (Jonas) just lost to Kynard.
When talking of collegiate high jumping, this year everything comes in pairs. Earlier in the day, Indiana's Derek Drouin posted the outdoor world leader (2.31/7′ 7″) at the Hoosier's own Polytan Invitational, only to have it eclipsed hours later by Kynard. It's a fairly amazing thing to have two collegians put up outdoor world leaders on the same day, but it's even more amazing to realize that Kynard's outdoor world leader isn't even the best college jump of the year–Drouin went 2.35 (7′ 8½") to beat Kynard at the NCAA Indoor Championships. No doubt, this is the event to watch this year.
Back to Mt. SAC action: Oregon's English Gardner won the women's 100 meters in 11.00 (wind: +1.8), the world's leading time. It puts Gardner at #6 in collegiate history, an #2 in Pac-12 history. Top pro Carmelita Jeter was ahead until 80 meters when she pulled up with what she called "just a cramp". Gardner was probably already the favorite to retain her NCAA title at 100 meters, and now she's a strong favorite.
On Friday night, Dartmouth's Abbey D'Agostino crushed a good field in the 5000 meters. Her time of 15:11.35 puts her #3 on the all-time collegiate list, behind only Jenny Barringer (Simpson) and Kim Smith. More importantly from her perspective, it's an 'A' qualifying time for this summer's World Championships.
LSU Alumni Gold
Results
LSU's annual Alumni Gold meet brings together top collegians along with Baton Rouge-based pros. The top result was from Natoya Goule, the NCAA 800 meter indoor champion. Running for the home team, the Bayou Bengals, she recorded 2:00.76, a new outdoor world leading time and good for #9 on the all-time collegiate list. Right behind was teammate Charlene Lipsey in 2:03.13. Splitting the two at the top of that collegiate list is Oregon's Laura Roesler, who won the elite race at Mt. SAC in 2:01.75. Those three went 1-2-3 at the NCAA Indoor Championships. LSU and Oregon are likely to fight it out for the women's team title, and the 800 will be a key event.
Texas A&M freshman Deon Lendore posted a collegiate leader over 400 meters with a 45.00 victory, and Alabama's sudden sprint star Diondre Batson confirmed his form from last week with a win over a quality field (albeit in a less-than-stellar time).
Other meets
Most of the best races at the Kansas Relays (results) were the individual events rather than the relays. Kansas' own Michael Stigler took no shame in finishing second in the 400 hurdles behind Olympic silver medalist Michael Tinsley, running the fastest college time of the year in 49.42.
The highlight of Baylor's Michael Johnson/Dr. Pepper Classic (results) was in the 400 meters, of course, as George Mason's David Verburg won it in 45.56. I wonder if he got an "I'm a Pepper" t-shirt for his efforts…
At Princeton's Larry Ellis Invitational (results), the Tigers' Julia Ratcliffe broke her own Ivy League record in the hammer throw with 68.80 meters (225′ 9″) to move into second on the 2013 college list.
Awards
Time to hand out the week's accolades.
Teams of the Week: For the men, it's an easy choice. Arkansas gets it for their tough dual meet win over Oregon. On the women's side it's a pretty tough call, but Oregon had a lot of big marks at the Mt. SAC Relays and the Ducks get the nod.
Athletes of the week, sprints/hurdles: For the women, it has to go to Oregon's English Gardner for her big run in the 100 meters at Mt. SAC. For the men, I'm going to go with Ole Miss' Isiah Young for his 10.09/20.39 double win at the Mississippi Open.
Athletes of the week, distance: Oregon's Elijah Greer broke a 35-year-old record by running the 800 in 1:46.20, eclipsing Rayfeild Beaton's 1:46.47 from the '78 USC-UCLA meet as the fastest ever run in a dual meet. Dartmouth's Abbey D'Agostino wins the women's award for her tremendous 5000 meter run at Mt. SAC, where she was within sptting distance of the collegiate record.
Athletes of the week, jumps: Kansas State's Erik Kynard is an easy pick, for his world leading mark in the high jump at the Mt. SAC Relays. The women's winner also jumped at Mt. SAC, as San Diego State's Shanieka Thomas went to the top of the 2013 college triple jump list with her 13.75 meter (45′ 1½") second-place finish.
Athletes of the week, throws: Virginia Tech's Tomas Kruzliak won the ACC Championships hammer throw with 70.84 meters (232′ 5″), a 2013 collegiate leader. Stanford's Brianna Bain also went to the top of the leader board with her 56.03 meter (183′ 10″) javelin win at The Big Meet.
Team Players of the week: Stanford's Kori Carter posted four wins at The Big Meet, the 100 and 400 hurdles plus anchoring the winning 4×100 and 4×400 relays, all in barely more than two and a half hours. The men's winner comes from the same meet, as Cal's Hamed Suleiman came off minor surgery last week to take a long jump/triple jump double win and help his Bears break a six-year Stanford winning streak.
D-II athletes of the week: Western (Colo.) State's Ieuan Thomas wins the men's award for his D-II-leading 8:46.20 in the steeplechase at the Mt. SAC Relays, which is #8 on the 2013 all-division collegiate list. The women's award goes to Vashti Thomas of the Academy of Art, who competed in four events at the Mt. SAC Relays and recorded D-II leaders in two of them, the 200 meters and 100 hurdles.
D-III athletes of the week: McMurry's Paul Davis won the shot put at the McMurry/Heartland Invitational in a very big way. The Lubbock native sent the iron ball out to 20.53 meters (67′ 4¾"). Not only does it break the D-III record by nearly two feet, it's the #2 mark of the entire collegiate season, trailing only Jordan Clarke (a four-time NCAA D-I champion). It's only 7 centimeters off the IAAF World Championships 'A' standard!
The women's award goes to UW-Oshkosh's Christy Cazzola for her 4:18.22 run over 1500 meters at the Mt. SAC Relays. She's just the second D-III runner ever to get under 4:20.
NAIA athletes of the week: Willy Irwin of Concordia (Ore.) put up some big throws at the Mt. SAC Relays, an NAIA-leading 19.49 meters (63′ 11½") in the shot and 58.46 meters (191′ 9″) in the discus. Irwin's shot put mark places him third on the outdoor all-division list. Teammate Gabriella Dixon wins the women's award for her NAIA-leading mark of 15.30 meters (50′ 2½") in the shot put, also at the Mt. SAC Relays. Both are coached by Mac Wilkins, the 1976 Olympic discus champion.
Next week…
It's relay weekend for most teams, heading out to the classic meets at Penn and Drake, but a few teams in the south and west have their rivalry dual meets on tap. Either way, it's the best week of the year for college track and field.