One Comment
College Weekend Wrap-April 13 and 14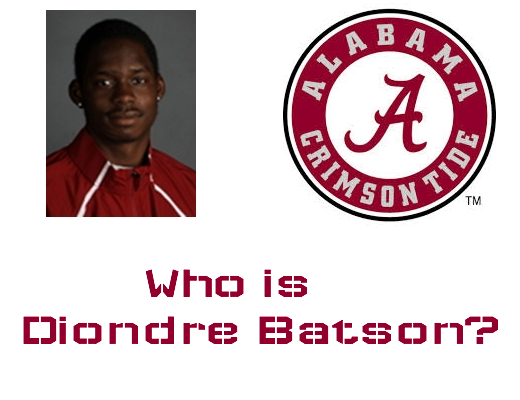 Jesse Squire | On 16, Apr 2013
The weekend found us with a new sprint find, LSU already winning a national title of sorts, a question of when a college mark is a college mark, and lots more.
Who is Diondre Batson?
The Alabama sophomore won the 100 meters at Georgia's Spec Towns National Team Invitational in the world-leading time of 10.06 (wind: +1.9) and added the 200 title as well (20.61, #2 on the yearly collegiate list). Where the heck did that come from?
Batson's previous PR was 10.27, but his "best" run may have been his wind-aided 10.10 to win the NorCal Community College regional last year while at American River CC. He swept the 100 and 200 at the California CC championships, and finished 8th in the 200 meters at the NCAA Indoor Championships and 4th at the SEC Indoor Championships in his first season in the collegiate big leagues.
So he's not completely off the radar, but he was off the charts. As in not listed at all on TFN's latest NCAA Championships formcharts, in either the 100 or 200. Now he has to be considered a contender to win an NCAA title, if not a favorite. One-off performances in the 100 happen sometimes. But make no mistake, we now know who he is.
On the topic of upsets by sprinters, remember Isiah Young? No? Young was a surprise third-place finisher in the 200 at the 2012 Olympic Trials, earning a spot on the team to London, after finishing just fourth in the same event at the NCAA Championships. He had a big day at his team's own Ole Miss Invitational, sweeping the 100 and 200 in good times (10.14 and 20.50). Teammate Sam Kendricks, who won a deep Texas Relays pole vault competition a few weeks back with a big 19′ ¾" clearance, ran his regular-season win streak to eight straight meets. Turnout for the meet was good, a "packed house", according to head coach Brian O'Neal, who said "the atmosphere was electric". Seating capacity at Ole Miss is listed at 1,500, so it's not massive fan turnout but certainly better than most college meets. The presence of Olympic gold medalist Brittney "The Beast" Reese in the long jump competition probably helped in that regard
As far as how to draw some fan interest, the current thinking is that more regular season meets should be team-oriented scored affairs, among anywhere from two teams to a dozen. Running Times even gave a shout-out to four serious college rivalries that are alive and well in dual meets. There was plenty of scored action this weekend.
Battle on the Bayou
Men's scores: LSU 140, Penn State 124, Arizona State 119, UConn 117, Mississippi State 90
Men's results
This meet was nip and tuck until the end, the way we fans like it to be. "I like scored meets. I appreciate teams like Arizona State, Penn State, Mississippi State and Connecticut coming down and making this a great meet," Tiger head Dennis Shaver told LSU associate SID Will Stafford. "It was very competitive all the way through the final events with each team turning in some outstanding performances. I thought it was a great event."
LSU showed off their tremendous power in the sprints, winning all the flat events of 400 meters or less. Freshman Darrell Bush cut hs PR to 46.15 and just might be a factor at the NCAAs. Junior Sherman Allsop had a tight finish with Arizona State's Ryan Milus in the 200, winning by a mere 0.002 seconds.
Penn State was led by sophomore shot putter Darrell Hill, who threw the ball out to 19.08 meters (62′ 7¾") to put himself #5 on the collegiate list. Jordan Clarke, Arizona State's all-around throwing star, only threw the discus and was beaten by LSU's Rodney Brown. Brown is probably the #2 thrower in the NCAA, as he's second on the national list and has lost only to leader Julian Wruck of UCLA.
Women's scores: LSU 188, Penn State 139, Arizona State 134, Mississippi State 96
Women's results
Since the women's competition had four teams, it qualified as a "dual meet" by Track and Field News' definition. The Tigers finished their dual meet season with a perfect 7-0 and more or less clinched the national dual meet championship. All the other major contenders have a loss, either to LSU directly (Texas A&M) or to a team that lost to LSU (Oregon). Teams are also evaluated by their strength "on paper" and get bonuses for a strong and/or extensive dual meet schedule, and LSU is ahead of the other teams in those dimensions as well.
"I love these kinds of meets because the focus is more on how well you compete when you line it up instead of just chasing a better time or a better mark," Shaver told LSU's Stafford. "I thought our athletes did a great job of that in the meet today. They went out there and competed for one another just as much as they did for themselves. That's what I'm most proud of with their effort today."
Regardless, LSU got some big marks from the meet. Kimberlyn Duncan won the 200 in 22.82 (wind: -0.2), the second-fastest ever run in a dual meet. Tori Bliss broke the school record in the shot put with 17.04 meters (55′ 11″), bumping her up into #8 on the yearly collegiate list–but more importantly, she handily beat Arizona State's Anna Jelmini, who sits at #9 on the list.
The kind of competitive, team-first effort Shaver talked about was best exemplified by Laura Carleton, who doubled up in the 1500 and 3000 and won them both. Carleton, the reigning SEC indoor champion in the 5000, broke her PR in the shorter race and held off teammate Charlene Lipsey, a legitimate half-mile star, by 0.04 seconds.
Arizona State picked up a couple of nice wins in the long throws. Jelmini won the discus with 59.25 meters (194′ 5″) and NCAA leader Chelsea Cassulo won the hammer with 67.30 meters (220' 10″), a Bernie Moore Track Stadium record. Both were among the furthest ever in a dual meet.
Razorback Invitational
Men's scores: Minnesota 137, Arkansas 137, Texas A&M 129, Oklahoma 73, Kansas 62, Oklahoma State 32
Men's results

"It's like I said earlier this week, I still believe that no matter what we do, we want to win the meet," said Arkansas coach Chris Bucknam. "I love the fact that there's finality to the meet and you can see a score." Both Arkansas and Texas A&M did, however, appear to have just one eye on the scoreboard while the other was on prepping athletes for the end of the season, as both teams ran their top athletes rather selectively. Bucknam may also be saving some gas for the next two weeks, when the Track and Field News dual meet national championship is on the line in meets against Oregon, Florida and Ohio State. But nobody handed the Golden Gophers the "win" (a tie is as good as a win over these teams), they had to go out and earn it.
One guy who did do some extra for the team was Arkansas' Tarik Batchelor. The third-place triple jumper at this year's NCAA Indoor Championships won both the long jump and triple jump, his first one-day double of the year. Few if any events produced great marks but the competition was keen in a few of them. In the 800, Minnesota's Harun Abda beat back Arkansas' cadre of NCAA Indoor Championship qualifiers, and Texas A&M's Henry Lelei won the 1500 over Minnesota indoor All-American John Simons.
Women's scores: Texas A&M 189, Arkansas 148, Kansas 91, Oklahoma 66, Oklahoma State 31
Women's results

Texas A&M showed off great depth, as the Aggies held back a bit and still came away with a big win. But honestly, all the top teams held back a bit. For example, Kansas start long/triple jumper Andrea Guebelle ran the 400 and 4×100 relay instead of jumping.
Kansas sprinter Paris Daniels ran a quick (and wind-aided) 200, crossing the line in 22.76. In the 400, Texas A&M's Kamaria Brown beat Arkansas' Regina George, 52.21-52.48. The throws had good results, with Oklahoma's Tia Brooks putting up yet another big distance in the shot put (18.39 meters) and Texas A&M's Shelbi Vaughan remaining undefeated in her short collegiate discus career (56.49 meters).
Other scored meets
A new dual meet series started up this year between Air Force and New Mexico, two teams regularly at the top of the Mountain West. Air Force won on the men's side, New Mexico won the women's meet, and it was a hit with coaches and athletes. From the Colorado Springs Gazette:
"Next week we'll be in a meet and there will be no winners and losers, there will just be times," Air Force track coach Ralph Lindeman said. "I just don't think it's something people can relate to and kids don't have as much fun. This is the kind of meet that our sport really needs."
…
"We've gotten away from scored meets and having fun," New Mexico coach Joe Franklin said. "This is like middle school sports, there's a winner and a loser. We lost one, won one."
After the meet the two teams showcased the friendliness of track and field by sharing a barbecue. There was no word on fan turnout–it was probably low due to cold weather and, well, being a track meet–but it sounds like it had to be a lot of fun.
A big BOOO! goes out to Nebraska. The Huskers hosted a quadrangular against Wyoming, Tulsa and South Dakota State and would have won easily…but for some reason, the meet wasn't scored. It couldn't be due to fears of losing to the opposition. It couldn't be due to the opponents' wishes, as teams like those don't dictate terms to teams like Nebraska. I'm sure there's a reason, I just don't agree with whatever reason it is.
The oldest dual meet series in the nation continued as Harvard and Yale met for the 110th time. Harvard swept both the men's and women's titles, taking winning streaks to three (men) and six (women). Sophomore hurdler Jarvis Harris broke Harvard's 48-year-old school record in the 110 meter race in the Crimson's 36-point beat-down of Yale. The meet also served as a selection event for Wednesday's competition, when a combined Harvard-Yale team takes on a combined Oxford-Cambridge team.
In other scored meet action:
* Long Beach State won the Big West Challenge Cup for the sixth consecutive time, beating back UCSB, Cal State Fullerton and UC Irvine at Anteater Stadium, and UC Santa Barbara won the women's title.
* Sacramento State won their own Mondo Mid-Major Challenge, while BYU won the women's title.
* Kent State (men) and Ohio State (women) were the winners at the All-Ohio Championships.
* Fordham won the men's title at the Metropolitan Championships by two points over Southern Connecticut State, taking the lead on the very last event. St. John's won the women's title with much less drama, besting runner-up Fordham by fifty points.
What's "college competition"?
Julian Wruck, UCLA's discus star, took a weekend away from his team to go back home to Australia for their national championships. He threw the discus 66.32 meters (216′ 8″) to win in the land down under. It's yet another world leader for Wruck, and he's my early favorite for the Bowerman Award. He moves to #3 on the all-time collegiate list. Or does he?
Here's the question: should a mark made halfway around the world be counted on all-time collegiate lists? It was made during the "collegiate season", which ends at the NCAA Championships, so it probably will. I can also see arguments that overseas competition shouldn't be part of the "college season". Those who decide what belongs on these lists are the Track and Field News staff and the USTFCCCA, level-headed people who I'm sure already have a policy. I don't have a passionate opinion one way or another–a statement that rarely passes my lips–but I think it's a topic worth debating.
In decline
There is no way to describe Tennessee's track programs in the last few years other than to say they are in steep decline. This is mirrored by another part of the program, the Sea Ray Relays, a once-classic meet now also in decline.
Maybe my memory doesn't reflect reality, but it this meet was a big deal back when it was known as the Dogwood Relays. Not as big a deal as some of the other big relay carnivals, but it was probably the best collegiate meet in the country for its weekend, and possibly the best meet of the collegiate season in the southeast.
This year's meet was just sad. The only BCS-conference teams that came with anything approaching their full squads were Wisconsin, Purdue, Vanderbilt and UConn (and the Huskies only brought their women). The only other FBS-conference teams that came were East Carolina and a handful of MAC teams.
Other top results
Georgia freshman Maicel Uibo won the decathlon at a home competition with a score of 8223, a new collegiate and world leader. It's puts him at #8 on the all-time collegiate list. It's also a World Championships 'A' qualifier which will guarantee the Estonian a spot on his national team in Moscow. His first day was good but his second day was better, just 45 points off the collegiate record for the second day.
Central Florida sprinter Octavious Freeman won the 200 meters at the Miami Hurricane Invitational in 22.57 (wind: +0.1), a new collegiate and world leader, beating veteran pro Lauryn Williams by just 0.01 seconds. Teammate Aurieyall Scott won the B-heat of the 100 meters in 11.30 (wind: +1.6) to move to #2 on the 2013 collegiate list.
Florida State's Georgia Peel and Colleen Quigley went 1-2 in the 1500 meters at their own Seminole Invitational in 4:14.40 and 4:15.65, good for second and third on the 2013 collegiate list.
Awards
Men's team of the week: Minnesota Golden Gophers. How could I not give this to a team that tied #2 Arkansas and beat #1 Texas A&M?
Women's team of the week: LSU wrapped up the national dual meet championship this weekend, making them an easy choice.
Men's sprint/hurdle athlete of the week: Alabama's Diondre Batson, the sudden world leader in the 100 meters.
Women's sprint/hurdle athlete of the week: Gotta go with UCF's Octavious Freeman, the new world leader in the 200 meters.
Men's distance athlete of the week: Columbia's Harry McFann finished third in the 800 (first collegian) at the George Mason Spring Invitational in 1:48.22, good for 5th on the 2013 outdoor collegiate list.
Women's distance athlete of the week: Florida State freshman Georgia Peel, who is now #2 on the 2013 collegiate 1500 list with her 4:14.40 win at the Seminole Invitational.
Men's jumps athlete of the week: Decathlete Marcel Uibo of Georgia did a lot of things well in his two-day competition this week, but the long jump of 7.82 meters (25′ 8″) stands out. He's fifth on the 2013 outdoor collegiate list!
Women's jumps athlete of the week: Arizona State heptathlete Christabel Nettey won the long jump at LSU's Battle on the Bayou with a jump of 6.53 meters (21′ 5¼"), further than any other D-I athlete has jumped during the outdoor season.
Men's throws athlete of the week: Whether he was in a UCLA jersey or not, Julian Wruck deserves this one for his big discus win at the Australian Championships.
Women's throws athlete of the week: Indiana State's Felisha Johnson won the shot put at the Sea Ray Relays with a PR of 18.10 meters (59′ 4¾"), and added second-place finishes in the discus and hammer.
Men's team player of the week: Jarvis Harris helped Harvard whup Yale by winning the 110 hurdles (in school record time) and running on the winning 4×100 relay along with finishing second in the triple jump.
Women's team player of the week: LSU's Laura Carleton ran a rare single-day distance double at the Battle on the Bayou, taking the 1500 and 3000 in more-than-respectable times of 4:19.99 (a PR) and 9:44.09.
Men's D-II athlete of the week: Findlay's Derrick Vicars won the shot put and discus at the Sea Ray Relays. His shot put distance of 19.42 meters (63′ 8¾") has been beaten by only one D-I athlete during the 2013 outdoor season.
Women's D-II athlete of the week: Johnson C. Smith's Danielle Williams won three events and took second in another at the Golden Bull's home invitational. She won the 100 and ran on winning 4×100 and 4×400 relays. She was second in the 100 hurdles (first collegian) in 13.14, good for #4 on the 2013 collegiate list.
Men's D-III athlete of the week: McMurry's Paul Davis won the shot and hammer at the Hardin-Simmons Invitational. While not a PR, Davis' shot put distance of 19.21 meters (63′ ¼") would still put him #2 on the all-time D-III list.
Women's D-III athlete of the week: Mount Union's Mary Mahoney won three events at the All-Ohio D-III Championships. She won the 200 (24.33, not a seasonal best but still faster than anyone else in D-III), the 400 (54.73, D-III leader) and ran on the winning 4×100 relay (47.91, 6th in D-III).
Men's NAIA athlete of the week: Morningside's Monte Larsen was everywhere at the Sioux City Relays, winning the 800, anchoring the winning 4×800 and sprint medley relays, and taking second in the 400 hurdles. That lone second-place finish still produced the NAIA leader, 52.53.
Women's NAIA athlete of the week: Oklahoma Baptist's Akela Jones put up NAIA-leading marks in two events at Wichita State's K.T. Woodman Classic, 13.97 in the 100 hurdles and 1.73 meters (5′ 8″) in the high jump.