2 Comments
College Weekend Wrap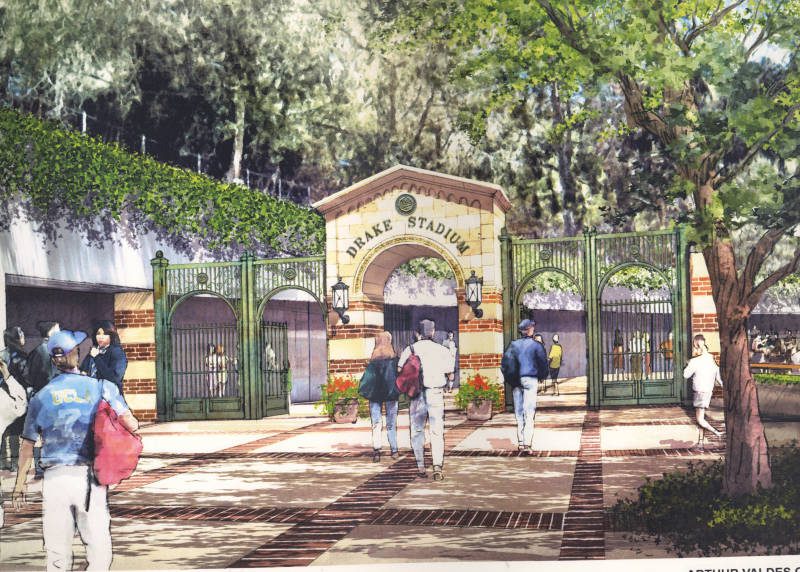 Jesse Squire | On 08, Dec 2013
Could this be the view for future NCAA championships? (Photo: UCLABruins.com)
This first weekend of collegiate track and field is a warm-up of sorts, allowing sprinters and hurdlers and field event athletes a chance to get out of training and put their skills to the test of competition. Some teams don't even do official meets and simply run intrasquad affairs (and a few of those, in California and Arizona, were held outdoors).
As such there isn't much story to tell about competition this weekend, but there are other stories to tell about college track.
Upping their game
Two SoCal institutions are seriously upgrading their track and field facilities, one right now and one in the near future.
UCLA announced its Drake Enhancement Project, a three phase upgrade to the Bruins' Drake Stadium. Phase one is currently underway and consists of laying down a new Mondo surface. Phase two will take place after the spring season is over and consists of new entryways, a new video board, placement of a new shot circle to highlight the event, and recognition areas for former Bruin greats and the namesake of the stadium, former coach Elvin "Ducky" Drake. Phase three will upgrade the pressbox to modern media standards, and no timeline is currently set for that phase.
Opened in 1969 and with a seating capacity of 11,700, Drake Stadium used to host some big-time events: three USATF Championships, massively well-attended duals with USC, and invitationals that were comparable to today's professional World Challenge circuit.
From the press release:
[The Drake Enhancement Plan] will bring the stadium back to the forefront of NCAA track and field facilities. The enhancements to Drake Stadium promises to strengthen UCLA in its bid to host upcoming major California, national, and international competitions at Drake Stadium as it once did…and is planning to stage additional future premier NCAA and high school competitions.
About forty miles east of the UCLA campus lies Mt. San Antonio [junior] College, host of the annual Mt. SAC Relays at its Hilmer Lodge Stadium. On Monday the college announced its Project 2020, a $62 million upgrade to the stadium, taking it to the level needed to host the 2020 Olympic Trials. The upgrades include laying a new track with the wide-radius turns needed for major events, plus creating an adjacent three-lane warmup track (with eight sprint lanes on the straightaway), and updates to the stadium infrastructure and fan experience.
Whether or not Mt. SAC can wrestle the Trials away from Eugene remains to be seen, but it seems likely that the word "Olympic" is necessary to get that kind of fund-raising done. In any case, Mt. SAC will use the new track and stadium for whatever it can. "If there is a national championship in the sport of track and field, we want to host it," said Doug Todd, Mt. SAC's director of special events.
That these two athletic departments (plus Kansas, via its new Rock Chalk Park) want to get into the game of hosting major meets is no small thing. From 2008 through 2014, twelve of the fourteen NCAA and USATF outdoor championships were held either in Eugene or Des Moines. Sacramento State now appears to be back in, hosting this year's USATF meet, but Des Moines appears to have dropped out of the bidding for NCAA meets in the near future.
Not only do major meets need to move around the country to gain wider exposure for the sport, but they need to go to bigger media markets. Des Moines, Eugene and Sacramento aren't where you need to be to get wider attention. I mean, Eugene might be "Disneyland for track fans" but UCLA and Mt. SAC are where the real Disneyland is.
Failure
The "Friday News Dump" is the term used when newsmakers release unpopular items right before the weekend begins, hoping for it to disappear from the news cycle before people start paying attention again on Monday. No surprise, then, that Temple University chose to announce the elimination of nine sports programs on Friday afternoon. Of course, men's indoor and outdoor track and field were two of those nine programs.
To Temple's credit, they did not use the ever-popular Title IX blame game for the cuts. The athletic director noted an "underfunded athletic department" as the lone reason.
I've seen all kinds of athletic programs eliminated over the decades and I've seen every kind of response from the teams and the public, but I've never seen the response to be one of faulting the university's administration. If the athletic department is underfunded, why has this shortcoming occurred? If nine coaches are losing their jobs and 150 athletes are losing their scholarships, then shouldn't this be seen as a massive failure on the part of the athletic department, and shouldn't heads roll?
This is a massive failure. People whose job it is to produce revenue and to fund-raise have failed. People whose job it is to be efficient with university funds have failed. Why Temple continues to participate in FBS football is, I think, a very good question given that nine other athletic programs have just been eliminated–and that the FCS level is significantly less expensive.
The Owls compete in the Atlantic Ten in every sport besides football, and no other A-10 team plays FBS football. None of the other Big 5 Philadelphia colleges play FBS football, either. Owl football has bounced from conference to conference, being kicked out of the Big East, then becoming an affiliate member of the Mid-American Conference, then returning to a much-weakened Big East, and now competing in the new American Athletic Conference. They've won just two bowl games in school history. Temple does not belong in FBS football and the outsized expense of trying to stay there appears to be killing its athletic department.
But Temple can hardly be blamed for the idiocy of the college football system. All other college sports survive on a kind of a socialist system, where the profitable teams on campus fund the unprofitable, and the profits from the NCAA basketball tournament are distributed around the country. Football doesn't work that way due to the bowl system, which tends to suck money out of the colleges and into private hands (the bowl committees, who are accountable to no one).
This is how stupid the whole system is: Bowling Green beat Northern Illinois in Friday night's Mid-American Conference Championship game, and by doing so it cost the athletic department two-thirds of a million dollars. Yes. Really.
Had NIU won, they would have qualified to a BCS bowl, likely the Tostitos Fiesta Bowl, and earned a payout of $8.5 million. As with most conferences, that gets split up equally among MAC members (less NIU's bowl-related expenses). Roughly $8 million split twelve ways would have been two-thirds of a million dollars for everyone. Now BG goes to a third-tier bowl where the payout may not even cover expenses–and the university will be forced to buy blocks of tickets for the game, which the Falcons will not be able to sell out, and thus probably come out with a loss. "We won a championship," joked head coach Dave Clawson, "but we're not going to be able to buy jock straps next year".
The long-term health of college sports beyond the three or four biggest conferences is dependent on a football playoff eventually pushing the bowls out of existence. All of them. The TV rights fees from a football playoff would dwarf that of the NCAA basketball tournament, and all that money could be kept within the NCAA's member institutions instead of going into private hands. It's the only sane alternative for college sports as a whole–and the only way we won't continue to see track and field die in the "mid-major" schools.
Scoreboard
There's not a whole lot of inherent meaning in team scores kept this early in the season. This is little more than pre-season competition, a break from training and a checkpoint on progress. But I do think it's important to keep score whenever we want to have something for the casual fan–and anyone who doesn't think fan interest is important should drop out of Division I athletics.
If we want the general sports supporter to come see their Tigers/Bulldogs/Wildcats/Ephs/Banana Slugs/whatevers in a track meet, then we need to have the team aspect count for something. People know the teams but they don't necessarily know the athletes. (I mean, who doesn't love to hate Duke come tournament time, even if you're not up to date on which Dukies you should specifically hate?). Team scoring ties everything together, while unscored meets are often just a bunch of stuff that happens.
Anyway, the scores…
MEN
Appalachian State 212½, Western Carolina 192, USC Upstate 44½, Virginia Tech 20
Indiana State 133, Eastern Illinois 111, Illinois State 70
Liberty 183, Radford 131
Drake 121½, Northern Iowa 89½, Western Illinois 89, Iowa State 84
Maine 100, New Hampshire 88
Cornell 247, Binghamton 79, Syracuse 31½, Colgate 5
Penn 39½, Leigh 25½, East Stroudsbourg 25, West Chester 16, Moravian 16, Lafayette 12, TCNJ 3
Middle Tennessee 2-0, Tennessee State 1-1, Western Kentucky 0-2 (dual meet scoring)
North Dakota State 3-0, South Dakota State 2-1, North Dakota 1-2, U-Mary 0-3 (dual meet scoring)
Vermont 94, Merrimack 38, Hartford 25
Monmouth 162, Stevens 54, Wagner 42
note: Iona, Stony Brook, Providence, Fairleigh Dickinson, NJIT, and St. Francis (NY) were at Fordham for a "dual scoring meet" but no scores were released
WOMEN
Western Carolina 215.2, Appalachian State 130½, USC Upstate 44½, Virginia Tech 17.7
Eastern Illinois 126, Indiana State 102, Illinois State 75
Liberty 247, Radford 157
Iowa State 115½, Missouri State 107½, Drake 89, Northern Iowa 68, Western Illinois 49, Missouri 22
New Hampshire 111, Maine 77
Cornell 153, Binghamton 105, Syracuse 58, Colgate 18
Penn 56½, Lehigh 44, Millersville 11, West Chester 10½, East Stroudsburg 6, Moravian 4½, Lafayette 3, TCNJ 1½
Middle Tennessee 3-0, Tennessee State 2-1, Austin Peay 1-2, Western Kentucky 0-3 (dual meet scoring)
North Dakota State 3-0, U-Mary 2-1, South Dakota State 1-2, North Dakota 0-3 (dual meet scoring)
Vermont 77, Merrimack 50, Hartford 32
Monmouth 170, Wagner 67, Stevens 40
note: Iona, Stony Brook, Providence, Fairleigh Dickinson, NJIT, and St. Francis (NY) were at Fordham for a "dual scoring meet" but no scores were released
Athletes of the Week
Awards time…
LATE EDIT: In the comments section, Martin Bingisser suggests Illinois State's Curt Jensen as the first star of the weekend. He's completely right but I missed it since the results of that meet had not yet been uploaded to TFRRS.org as of Sunday evening. This happens quite often and is one of many reasons that the college recap will publish on Monday afternoon starting in January.
MEN
The first star: Mason Finley, Wyoming
Competing at the Cowboy's own Power Meet, the senior out of Buena Vista, Colorado, sent the shot put out to 20.12 meters (66′ ¼") to break his own PR, the Wyoming school record, and the War Memorial Fieldhouse record. The only athlete who threw further last indoor season was Arizona State's Jordan Clarke, now graduated.
The second star: Richard Chavez, Arkansas State
At the Red Wolves' own ASU Kickoff Classic, Chavez also got off a big mark in the shot put. He hit a massive PR of 20.09 meters (65′ 9¾"), an improvement of more than five feet over his old best (established 18 months ago). Again, only eventual NCAA champion Clarke threw further during last year's indoor season.
The Third Star: Jax Thiors, Washington
Thiors cleared 5.51 meters (18′ 1¼") at the Huskies' intrasquad meet on Friday night, a height that would virtually guarantee him an NCAA Championships qualifier if it had been in an official competition. It's a big deal for the his team; the sophomore from Glasgow, Scotland, did not score a single point at a conference championship last year but now stands as a threat to win the MPSF.
D-II Athlete of the Week: Justin Welch, Findlay
Welch won the weight throw at Findlay's own Oiler Opener with an automatic NCAA Championships qualifying mark of 22.00 meters (72′ 2¼"). The hammer/weight throwing community does not have hard numbers, but it appears it puts Welch in the top five in D-II history in the event.
D-III Athlete of the Week: Chad Gentry, Mount Union
Gentry all three sprints at Kent State's Golden Flash Gala and produced a D-III leader (and indoor/outdoor PR) in the 200 with his eighth-place finish in 22.20 seconds. He also took runner-up in the 400 in 49.03, just shy of his outdoor PR and putting him at #2 on the D-III list. Both are likely to qualify him to the NCAA Championships.
NAIA Athlete of the Week: John Broaden, Indiana Tech
Broaden won the 60 meters at IPFW's Mastodon Opener in a time of 6.75 seconds. Not only is that a PR by a huge 0.16 seconds and an NAIA Championships automatic qualifier, but the same time as the runner-up at last year's NAIA Championships.
CIS Athlete of the Week: Corey Bellemore, Windsor
A "third year" out of Windsor, Bellemore broke the Canadian junior record in the 1000 meters at the Lancers' annual intrasquad meet with 2:25.39. The previous record was held by Jeremy Rae, who might be best known for anchoring Notre Dame's distance medley relay to an NCAA indoor title last March.
Team Player: Jamie Ruginski, Southern Maine
In a five-team meet at Bowdoin, Ruginski competed in four events, winning three and accounting for 19¾ of his team's 113 points. He won the long and triple jumps and ran on the winning 4×400 relay, and took third in the shot put.
WOMEN
The first star: Emily Sisson, Providence
At the Boston University Season Opener, Sisson used her excellent cross country form to win the 5000 meters in 15:40.62. It was an indoor PR by Sisson and just short of her outdoor PR (15:34.54). More importantly, it's a certain qualifier to the NCAA Championships, as only two women ran faster during last year's regular season (and both are graduated). She pulled along teammates Sarah Collins and Laura Nagel to likely qualifiers as well, all three running under 15:43 and lapping the rest of the field multiple times.
The second star: Christina Hillman, Iowa State
Hillman sent the iron ball out to 17.51 meters (57′ 5½") at the Cyclones' Holiday Preview. Only one other athlete competing in the NCAA this year has ever thrown further, Arizona's Alyssa Hasslen, and she's never thrown that far indoors.
The third star: Dani Bunch, Purdue
Bunch broke two school records at IPFW's Mastodon Opener, the shot put and weight throw. Her mark in the weight throw, 21.72 meters (71′ 3¼") is the NCAA leader and further than the PR of any returning thrower.
D-II Athlete of the Week: Kalena Franklin, Grand Valley State
Franklin had a busy weekend at the Lakers' Early Bird meet. She won the 60 hurdles with an all-division leader of 8.40 seconds, won the 300 meters in 39.13 seconds, and ran on the second-place 4×400 relay team.
D-III Athlete of the Week: Becky Huberty, St. Scholastica
Huberty won a shot/weight double at the Saints' own The Opener Meet and currently ranks in the top three in D-III in both.
NAIA Athlete of the Week: Akela Jones, Oklahoma Baptist
Jones won the high jump at Tuesday's OBU Early Qualifier with a new PR of 1.86 meters (6′ 1¼"). It's the nation's leading collegiate mark and breaks her own Bahamian national record. She also won the 60m hurdles in an NAIA-leading 8.62.
CIS Athlete of the Week: Danielle Delage, Toronto
Delage won the high jump at Cornell's Greg Page Relays with a height of 1.73 meters (5′ 8″), the only CIS qualifier of the meet.
Team Player: Antoinette Goodman, North Dakota State
The junior from Burnsville, Minnesota, led the Bison to victory at the Dakota Duals with wins in the 60 meters (7.68), 300 meters (40.03) and long jump (5.77m/18′ 11¼"). The two running event times were field house records.
Reading List
Five things you should read if you haven't already…
Billy Mills to Receive the NCAA Theodore Roosevelt Award
Newly formed Collegiate Running Association includes trail and mountain running
American dream and scholarship trail seems to have run its course
Track and Field News ranks the top ten recruiting classes for men and women
Two UO club running members earn their way onto the Division 1 track and field team