5 Comments
Fifty Athletes of the Year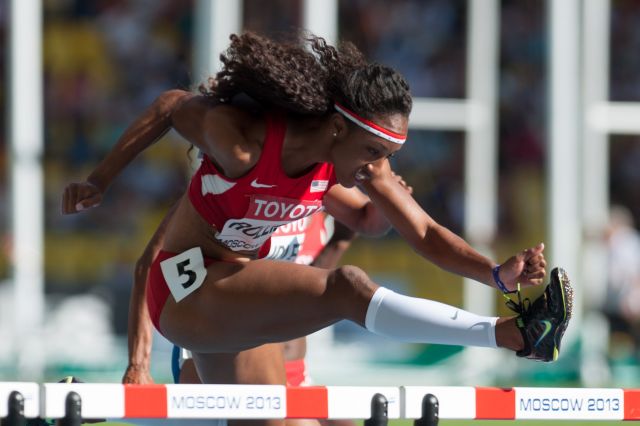 Here's one of our athletes of the year, but we have 49 more for you.
This is the time of year for Athlete of the Year awards. USA Track and Field is announcing theirs this week, Athletics Canada just announced their nominees, and the USTFCCCA will reveal its Bowerman Award winners later this month.
Here at the Daily Relay, we know that this is far too big a country to pick just one athlete of the year. This is the United States, after all. So I picked fifty athletes of the year, one for each state.
Athletes were assigned to states not by their current residence but by their hometown. "Hometown" can mean a lot of things, especially if someone moved around a lot, so state representation was determined by where they went to high school. This lead to some funny things; Bernard Lagat could not represent any state (since he went to high school in Kenya) and one state is represented by an athlete who competes for another country.
But wait! There's more! You get a bonus ten athletes of the year, one for each Canadian province!
Let's get to our athletes of the year…
1. Florida: Brianna Rollins
Miami, 100 hurdles
She should be on everyone's short list for the world's best athlete. She forged an undefeated season in an unforgiving event and approached the "unapproachable" world record.
Florida is a tough state. Besides Rollins, the Sunshine State had four individual Worlds medalists (Justin Gatlin, Curtis Mitchell, Tony McQuay, Jenny Simpson) and a Diamond Race champion (Gatlin).
2. Virginia: LaShawn Merritt
Portsmouth, 400 meters
Merritt had a few early-season losses but was totally dominant when it counted. He won the World Championships and the Diamond Race, and ran the fastest time in the last six years.
3. Colorado: David Oliver
Denver, 110 hurdles
There was no clear-cut leader in the men's hurdles until late in the year, when Oliver emerged as the top dog by virtue of winning Worlds gold and the Diamond Race.
4. Mississippi: Brittney Reese
Gulfport, long jump
"The Beast" wasn't terribly consistent but won the World Championships title and jumped far enough to raise talk about Jackie Joyner-Kersee's venerable American Record.
5. Oregon: Ashton Eaton
Bend, decathlon
Eaton dominated the World Championships but his other competitions didn't measure up to what he's done in the past. Still, he's a Worlds gold medalist and it wasn't close. Oregon may be a hotbed for track but the only other top star who grew up in the state is Galen Rupp.
6. Pennsylvania: Ryan Whiting
Harrisburg, shot put
Whiting did not win gold at the World Championships but probably had the best year of anyone who did not–American or otherwise. He won the Diamond Race and had the year's seven longest throws.
7. New York: Jenn Suhr
Fredonia, pole vault
Suhr won Worlds silver but what really put her over the top here was the World Indoor Record she set in March. The New Yorker who got the most press was, of course, Mary Cain, but the Empire State also had two more USATF outdoor champions (Natasha Hastings, Delilah Muhammed).
8. Texas: Brigetta Barrett
Duncanville, high jump
Barrett won another silver medal, this time at the World Championships, and came up just one centimeter short of the American Record. She is eligible to represent either New York or Texas, as she moved during her high school years.
9. Idaho: Nick Symmonds
Boise, 800 meters
Symmonds lost his streak of five straight national titles but won Worlds silver, the USA's best men's 800 meters result in a Worlds or Olympics since Dave Wottle's gold in 1972.
10. Michael Tinsley
Little Rock, 400 hurdles
Tinsely came up just 0.01 seconds short of gold at the Worlds, plus he won three Diamond League races.
The rest, in alphabetical order by state…
Alabama: James Harris
Lanett, 400 meters and high jump
The 400/high jump double isn't that uncommon in high school but it's extremely rare on the college level. He finished 4th in the high jump at the NCAAs and had just ten minutes to change his shoes and finish 5th in the 400. He went on to make the 4×400 relay team for the Worlds, where he ran in the heats.
Alaska: Janay DeLoach Soukup
Eielson Air Force Base, long jump
DeLoach Soukup was the US champion and about the most consistent long jumper in the world until the Worlds rolled around.
Arizona: Will Claye
Phoenix, long and triple jumps
Claye's 2013 season was highlighted by a Worlds bronze medal.
California: Brenda Martinez
Rancho Cucamonga, middle distance
This was a tough choice–there was no superstar from California this year–but Martinez broke new ground for US middle distance runners. She was the first ever Worlds medal winner in the women's 800 meters. She broke into the all-time US top ten in both the 800 and 1500.
California had a down year, supplying just three US outdoor champions (Sharon Day, Duane Solomon, Alysia Montaño) and three individual Worlds medalists (Martinez, Lashinda Demus, Carmelita Jeter).
Connecticut: Mike Hartfield
Manchester, long jump
Hartfield broke Ohio State's 78-year-old school record, set way back in 1935 by the great Jesse Owens.
Delaware: Marquis Dendy
Middleton, long/triple jumps
Dendy wins this on the strength of his indoor season, when he won the NCAA long jump title with the year's best US distance (27′ 2″), the best by a collegian in over a decade.
Georgia: Christian Taylor
Fayetteville, long/triple jumps
Taylor had a subpar outing at the Worlds and failed to medal, but he did win the triple jump Diamond Race. That's enough to top other Georgia natives such as Aries Merritt, Reese Hoffa and George Kitchens.
Hawaii: Logan Taylor
Aiea, 110 hurdles
The USC alum tied for 34th on the US list.
Illinois: Dawn Harper-Nelson
East St. Louis, 100 hurdles
Harper-Nelson was fourth at the World Championships and won five Diamond League races (plus the overall title). That won her a tough battle for Land of Lincoln honors over Evan Jager, who put together the most competitive season by a US steeplechaser in thirty years (and the fastest ever).
Indiana: Kylie Hutson
Terre Haute, pole vault
Hutson was USA runner-up at both the indoor and outdoor national championships and ranked second on the US list.
Iowa: Lolo Jones
Des Moines, 100 hurdles
She's spending more time on bobsledding than hurdling these days but is still very good. While Iowa native A.G. Kruger won the US hammer title and Jones was fifth at the nationals, she's far more competitive on an international level than is Kruger.
Kansas: Isiah Young
Junction City, sprints
His USATF runner-up finish in the 200 meters is likely to turn into a win once the Tyson Gay situation is cleared up, and he missed making the Worlds final by just 0.03 seconds.
Kentucky: Bobby Curtis
Louisville, road racing
Curtis was runner-up at the USA 15k Championships and ranks seventh on the yearly marathon list with his recent 2:13:24 PR in Fukuoka.
Louisiana: Kamaria Brown
Baton Rouge, sprints
She scored in three events at the NCAA outdoor championships and was a key part of Texas A&M's runner-up finish. She was runner-up in the 200 and ran on the 4×400 and 4×100.
Maine: Ben True
North Yarmouth, distance
True's greatest moment came at the World Cross Country Championships, where he finished sixth and led the US men's team to a completely unexpected silver medal. He took the hated fourth place in two events at the USA Championships, both the 5k and 10k, and missed a spot on the US team in the shorter race by less than half a second. His 13:11.59 puts him just seventh on the yearly US list–but eleventh in US history.
Maryland: Matthew Centrowitz
Annapolis, middle distance
The brilliant tactical runner won another US title and a silver medal at the Worlds. He is rapidly becoming among the most accomplished milers in US history.
Massachusetts: Shalane Flanagan
Marblehead, long distance
She's clearly the best all-around long-distance runner in the USA. She won national titles in cross country and the track 10,000, took 8th in the 10k at the Worlds, was the year's top US marathoner, and broke the world record for the road 12k (albeit while losing to fellow American Molly Huddle).
Michigan: Tiffany Porter
Ypsilanti, 100 hurdles
Porter does not represent the USA in international competition (last year she was derided as a "plastic Brit" by England's famously nasty press), but that does not matter here. What matters is where she grew up and went to high school, and her Worlds bronze medal trumps the accomplishments of any other Michigander this year.
Minnesota: Gabriele (Anderson) Grunewald
Perham, distance
Anderson bombed at the US Championships, finishing just eleventh in the 1500 meters, but then had a breakout year over the summer and ran some great times: 4:01.48 and 8:42.64, both barely outside the all-time US top ten.
Missouri: Mike Rodgers
St. Louis, sprints
Rodgers was fourth in the 100 meters at the US Championships and only managed to get on the Worlds team due to the Tyson Gay affair. He produced once he was on the team, finishing sixth at the Worlds and running on the silver-medal winning 4×100.
Montana: Patrick Casey
Laurel, 1500/mile
Casey's transfer from Montana State to Oklahoma apparently sat well with him. He took third in the NCAA 1500 meters and then made it to the USA Championships final, and broke four Oklahoma school records this year.
Nebraska: Jeremy Scott
Norfolk, pole vault
Scott took runner-up at the USATF Outdoor Championships with his best mark of the year. At the Worlds, he failed to get out of the qualifying round. At 6′ 9″, he might be the tallest world-class pole vaulter in history.
Nevada: Amanda Bingson
Las Vegas, hammer throw
The UNLV alum had a breakout year in 2013. She broke the American Record while winning the USA title, and then finished tenth at the World Championships.
New Hampshire: Russell Brown
Hanover, 1500/mile
Brown was one of two New Hampshire natives in the USA Outdoor Championships 1500 final, where he finished ninth in a tight finish. The other, Andrew Wheating (Meriden), finished last. Brown also narrowly beat Wheating at the Oxy High Performance meet in May.
New Jersey: English Gardner
Voorhees, sprints
Gardner won a relatively rare NCAA/USA double in the 100 meters and finished just out of the medals at the World Championships.
New Mexico: Curtis Beach
Albuquerque, decathlon
Beach took seventh at the NCAA Championships decathlon, defeating fellow New Mexican Daniel Gooris (Albuquerque).
North Carolina: Ryan Hill
Hickory, distance
Hill had a dream season with a surprise third-place finish in the US Championships 5k and then hitting a huge PR of 13:14.22. That puts him in the top 25 in US history.
North Dakota: Riley Dolezal
Stanley, javelin
Only "miracle" fully describes Dolezal's performance at the US Championships. He had to hit a PR in the early season just to qualify, and even then he was in the B-section. He produced four PRs and added more than 30 feet to his pre-championship best. He went to #8 on the all-time US list–and more importantly, hit the Worlds qualifying mark.
Ohio: Ryan Wilson
Westerville, 110 hurdles
Wilson has taken a long road as a journeyman—it's been fifteen years since he scored all the points for his team to win the state high school championships–and it finally came together for him in 2013. He won the USA title in an upset, made his first-ever national team, and ended up with a Worlds silver medal. Ohio supplied two more USA champions in Erik Kynard (Toledo) and Treniere Moser (Stow).
Oklahoma: Gunnar Nixon
Edmond, decathlon
Nixon left college this year to pursue a pro career and it paid off. He won the USA indoor heptathlon title, finished third at the prestigious Gotzis decathlon, took second at the USA outdoor decathlon, and briefly led at the World Championships before finishing 13th.
Rhode Island: Jake Freeman
Warwick, hammer throw
Freeman won the USA indoor weight throw title and finished fourth at the USA outdoor championships. He's been around for a while (he was NCAA champion nine years ago) but still came close to his PR this year.
South Carolina: Matt Elliott
Green Sea, 1500/mile
A full-time teacher, Elliott came from nowhere to finish fourth at the USA outdoor championships. There he gave the best postrace interview in Flotrack history.
South Dakota: Sam Pribyl
Webster, pole vault
The South Dakota alum tied for 20th on the yearly pole vault list.
Tennessee: Andrew Bumbalough
Nashville, distance
"Bumbi" was a solid runner this year across distances ranging from 1500 to 10,000 meters and finished fifth in the 5000 at the USA championships.
Utah: Shalaya Kipp
Salt Lake City, steeplechase
Kipp rolled through an undefeated collegiate season in the steeplechase and took third at the USA championships. At the Worlds she ran close to her PR but it wasn't good enough to make the final. After all of that she still came back to finish ninth at the NCAA cross country championships.
Vermont: Jesse Chapman
East Thetford, decathlon
The UConn sophomore won the Big East decathlon and finished 20th at the NCAA Championships.
Washington: Brad Walker
Spokane, pole vault
Walker won his ninth USA title this year and was a stalwart on the Diamond League circuit. He was just shy of a medal at the Worlds with a fourth-place finish.
Wisconsin: Erik Sowinski
Waukesha, 800 meters
Sowinski was lightly regarded coming into his first "pro" season (a misnomer since he wasn't yet getting paid) but he made the best of his opportunities. He was a late add to the Millrose Games 600 meters and responded with an American Record, and then won the USA indoor title at 800 meters.
West Virginia: Chelsea Carrier-Eades
Buckhannon, heptathlon
The former West Virginia Mountaineer took sixth at the USA championships and a month later came a single point short of the 6000-point mark.
Wyoming: Amber Henry
Mountain View, steeplechase
Henry finished third at the NCAA championships and sixth at the USA championships. She was a one-woman wrecking crew for her Weber State team at the Big Sky Championships, setting stadium records in three events (1500, steeple, 5000).
Canada

Here's your extra ten athletes of the year, representing the ten Canadian provinces…
1. Saskatchewan: Brianne Theisen-Eaton
Humboldt, heptathlon
2013 was one of the best years in Canadian track and field history, so #1 was a hard choice. Theisen-Eaton was my top choice not only because of her silver medal at the World Championships, but because of her consistently high performances. She won the Gotzis heptathlon in May and took third in the season-ending Talence heptathlon.
2. Ontario: Derek Drouin
Corunna, high jump
Picking the best Ontarian was harder than picking the best Canadian. Drouin was one of four who set Canadian Records this year (the others were Lanni Marchant, marathon; Matt Hughes, steeplechase; and Shawn Barber, pole vault) and one of two who won Worlds medals (the other being Damian Warner, decathlon). I went with Drouin, given that he achieved both and was a consistently high performer in both collegiate competition (swept NCAA titles over very tough competition) and on the pro circuit.
3. British Columbia: Dylan Armstrong
Kamloops, shot put
Armstrong was awarded two World Championships bronze medals in 2013. One was the one he won in Moscow, and another was from the 2010 World Indoor Championships after Andrei Mikhnevich's positive doping test moved Armstrong from fourth to third. There is no word yet as to whether Armstrong will receive yet another bronze for the same reason, this last one from the 2008 Olympics.
The rest, in alphabetical order…
Alberta: Angela Whyte
Edmonton, 100 hurdles
Whyte has been around forever–she ran for Canada at the 2001 World Championships in her hometown–but had one of her best seasons ever. She finished sixth at the Worlds, a career high, and set a wind-aided PR–again, in her hometown at the Edmonton International Track Classic.
Manitoba: Nicole Sifuentes
Winnipeg, middle distance
Sifuentes, known as Nicole Edwards in her days at the University of Michigan, took second in the 1500 meters at the Canadian Championships and became just the tenth Canadian to run under 4:05. At the Worlds, she missed making the final by just two places.
New Brunswick: Caleb Jones
Saint John, javelin
Jones took third at the Canadian Championships and set a new provincial record.
Newfoundland and Labrador: Jillian Forsey
Stephenville, distance
Forsey finished runner-up in the junior race at last weekend's Canadian Cross Country Championships.
Nova Scotia: Eric Gillis
Antigonish, marathon
Gillis went to #7 on the all-time Canadian marathon list with his fifth-place finish at the Toronto Marathon.
Prince Edward Island: Jared Connaughton
Charlottetown, sprints
Connaughton, a 200 meter specialist, took second at the Canadian Championships but lacked the qualifying mark for the Worlds. He anchored Canada's gold-medal winning 4×100 relay at the Francophone Games.
Quebec: Alex Genest
Lac-aux-Sables, steeplechase
Genest finished 13th at the World Championships, one of the best results in Canadian history.