4 Comments
College Recap: Hammer stars and can Oregon win?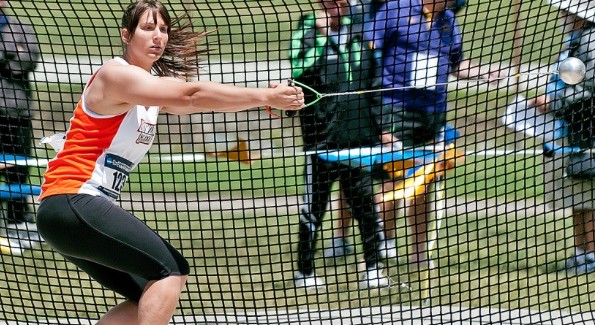 Jesse Squire | On 12, May 2014
Photo courtesy Bowling Green Athletics
Aside from a few early conference championship meets, there wasn't much action this weekend. Most teams were saving up energy and fine-tuning for next week's conference championships. Having to take a week more or less off right when the weather is getting nice is a problem for college track as a spectator sport–one I'll touch on later–but there was one event that saw a lot of big-time action.
Hammer Time
The hammers flew this weekend. Nick Miller, a Brit at Oklahoma State, overtook the 2014 NCAA lead with a throw of 74.37 meters (244′ 0″). Big marks were recorded by Wisconsin's Michael Lihrman (a Big Ten record), Kent State's Matthias Tayala and Michigan's Ethan Dennis. One meet in particular saw a couple of very long bombs.
I was the PA announcer at Friday's 29th annual Toledo Invitational. It was one of those late-season send-off meets, mostly filled by the college equivalent of "JV" runners finishing out their season plus a few athletes taking one last shot at some sort of qualifying mark. I still have a day job (you can help change that by clicking on our Amazon Affiliates link and buying, I don't know, maybe a Lear jet) so I couldn't get to the meet until the afternoon. That meant I missed the fireworks.
Early in the morning, the men's hammer throw saw Findlay's Justin Welch throw 72.93 meters (239′ 3″). For two days it stood as the longest throw in the NCAA, regardless of division. It puts Welch #2 in D-II history, behind only Ashland's Kibwe Johnson (a 2012 Olympian). It makes him the #8 American collegian of all time.
Next up was the women's hammer, and Bowling Green's Brooke Pleger went to #2 in the NCAA with 67.97 meters (223′ 0″). It puts her at #10 on the all-time American collegiate list.
Bowling Green is located just 25 miles south of Toledo, and Findlay is just another 20 miles south of that. Welch's hometown of Pemberville is ten miles east of Bowling Green. And 30 miles to the west is Defiance College, for whom Tom Postema brought home an NCAA D-III hammer title last year. How did this unknown rural area suddenly become the capitol of college hammer throwing?
In this country, I think it's safe to say that hammer throwing is a niche activity. And like a lot of niches, it's filled by talented people who find that niche through a cosmic accident. Pleger and Welch both first picked up a hammer in high school in the same summer throws academy, but their paths to the top were very different.
Welch was an unremarkable athlete in his youth. "In junior high, believe it or not, Justin was a pole vaulter and ran some distance," according to Gary White, the longtime head track coach at Pemberville's Eastwood High School. "He threw a little bit of shot and disc, but he wasn't real great at it. He did not even throw in the league meet for us when he was a freshman because we had a senior who was out-throwing him."
So he went home that summer and was determined to make a difference. Among other things, he went to the summer throws academy organized by Justin Carvalho, who was then a young assistant track coach at Bowling Green State University. Carvalho is a former hammer thrower and is eager to teach the event to anyone who wants to learn. And Welch wanted to learn. He came back as a high school sophomore and started throwing bombs in every event. He kept in close contact with Carvalho, who helped him become a monster thrower.
Welch went on to become a rarity: a 62-foot high school shot putter who was actually better at the other throws and had no interest in playing football. He threw the high school discus nearly 200 feet, was a high school All-American in the hammer throw, and won bronze in the hammer at the 2009 Pan-American Junior Championships. His best high school throw of 245′ 4″ still sits at #5 on the all-time high school lists.
A highly valued recruit, he landed at Georgia to work with Don Babbitt, one of the nation's best throws coaches. He had a good freshman year, not such a good sophomore year, and then he decided that Georgia wasn't the place for him. He was struggling academically and lots of travel for meets didn't help.
Welch sat out a year after transferring to Findlay, which was close to home with much less travel. And Findlay had something else: Justin Carvalho. Bowling Green did not renew the contract of the head track coach after the 2011 season, Carvalho needed a new job, and Findlay needed a throws coach. It all came together for Welch, and two years later the hammer is really flying.
Pleger came to Carvalho's throws academy all the way from the Ann Arbor suburb of Saline in the summer before her senior year of high school. She took to the hammer quickly, ended up 10th at the National Scholastic indoor championships in the weight throw, and set the Michigan high school hammer throw record. She was unremarkable in the other throwing events but Carvalho knew she had hammer talent and recruited her to Bowling Green.
Unlike Welch, Pleger stayed put in one place but that place changed around her. The end of her freshman year was when the coaching staff changed, including Carvalho, and what little athletic talent there was transferred out. Pleger was one of the few who stayed, and she said it was because she'd fallen in love with the city of Bowling Green and didn't want to be anywhere else. The new head coach, Lou Snelling, hired another smart young hammer enthusiast by the name of Matt Conly, and Pleger continued her sharp improvement curve. Last year she became an All-American, and this year she's undefeated with four new facility records to her name, all while stressing through the rigors of nursing school.
And what about Tom Postema, the D-III champ from Defiance College? His path crosses theirs too. He was a part of the club team at Bowling Green during his freshman year (BG dropped men's varsity track in 2001) and first picked up the hammer there. He then transferred to Defiance so he could compete on a varsity team and progressed to national champion.
While the common thread in these athletes' story is a single coach, he's not the one responsible for their achievement. The athletes are. After all, Carvalho has coached a whole lot more athletes that didn't become All-Americans than who did. What he did do was help these talented people find their place in the world. If we have more competent and passionate hammer coaches reaching out to teenagers, we will find more elite hammer throwers.
Dissatisfaction in Oregon?
College track is a big draw in Eugene, Oregon, or at least relative to what it is anywhere else, and earlier this year the NCAA announced that the next eight national outdoor championships would be held at Hayward Field. At the time there were arguments about whether it would be better to spread the meet around or if it would give Oregon too much of a home advantage. My worries were that it is far from guaranteed that college track would still be popular in Eugene that far into the future.
It seems like track has always been a big deal in Eugene, but there have been down times. Ten years ago was a down time. The fans didn't like coach Martin Smith's habit of not running his stars at home meets, and the most popular and interesting regular-season meet, the Pepsi Team Invitational, was killed off for three years. Attendance was down, way down, and even the Prefontaine Classic didn't sell out every year. When Smith was fired he was replaced by Vin Lananna, who is a good coach but far and away the best promoter, organizer and PR person in American track and field.
Lananna stepped down from coaching last year in order to concentrate on that role as promoter, organizer and PR person. And there's already some dissatisfaction. The Oregonian's Ken Goe fills us in.
…there is an undercurrent of dissatisfaction with Oregon's four-meet home, regular-season schedule that included one meet in which team scores were kept.
Of the other three meets, one was the Oregon Preview, which came a week after the NCAA Indoor Championships and was essentially an exhibition. One was the Oregon Relays, which many of the better UO athletes missed because they were at the Mt. SAC Relays. And one was Friday's night's Oregon Twilight, in which many of Oregon's top performers sat out because the Pac-12 Championships are next weekend.
…Note this thread on the eDuck track board. The Eugene community long has felt a special connection to the UO team and athletes. Some clearly want to see UO athletes compete at home, and compete to win in regular-season meets that matter.
…Edward Cheserek, perhaps the most special UO freshman distance runner since Steve Prefontaine, ran exactly once at Hayward in the regular season. That essentially was a 5,000 time trial in the Oregon Relays. Phyllis Francis, star of Oregon's 2014 NCAA Indoor team title, did not run an open 400 at home in the regular season.
Oregon is the only place that takes the fan's needs into consideration for home meets, and it's the only place with lots of fans. Go figure. Anyway, what Goes describes isn't unusual. Splitting squads even while running at home, regular season meets that feel like exhibitions, and pursuing qualifiers and fast times ahead of interesting competition is the norm in college track and field. It's why nobody comes out to watch the meets. I wouldn't cross the street to see most college track meets.
A few weeks ago I reported on a proposal that would radically change college track's regular season. Meets could only be used for qualifying if they were team scored meets (a "team" being at least 14 athletes) or a massively large relay meet. It's an attempt to fix some of the problems that Goe notes but I don't think this is the way to go about it, nor do I think it address the core problems.
There are a lot of endemic problems in track and field as a spectator sport, but the biggest one at any level beyond high school is this: athletes in track and field compete less often than those in any other sport (save horse racing and boxing, about the only two sports whose popularity has fallen further in the last 50 years than has track).
It's why we got basically no meaningful college competition this week, because everyone is saving up gas for next week's conference championship meets. It's why we get so few team-oriented meets, because athletes don't compete very much and coaches want to save their efforts for hitting qualifying marks.
Let's look at Edward Cheserek's outdoor season. He skipped the Oregon-Arizona dual to go to Stanford and run a 25-lap tempo run back in 21st place, just to get a NCAA regional qualifying mark. He ran another quasi-competitive 5000 meters at the Oregon Relays, a race no one seemed to want to win, just to get another NCAA regional qualifying mark. And he ran two electrifying relay legs at the Penn Relays. That's it. 50% of his outdoor regular season was wasted on qualifying and there's no good reason he had to do that other than NCAA bureaucracy.
Governing bodies such as USATF and IAAF allow indoor times and distances as qualifiers for outdoor championships, but the NCAA does not. The IAAF even allows a top-15 finish at the World Cross Country Championships as an 'A' qualifier for the 10,000 meters. If the NCAA followed the lead of the IAAF, hundreds of athletes would already have their regional qualifiers in the bag before outdoor season ever began. It would leave time in the regular season for the kind of competition that fans want to see.
Hitting qualifying marks is not interesting. Competition is interesting. I know we can't eliminate the need for qualifying marks but we can make them less of a burden.
Can Oregon win the national title?
In Goe's article I mentioned above, he says Of course, Oregon coach Robert Johnson is trying to position his team for the championship season, and clearly believes scheduling this way enhances the Ducks' chances to win NCAA titles.
Oregon's women's team has won the NCAA indoor title five years in a row now, and in each of the last four years the faithful Duck fans have hoped for an outdoor title and have been disappointed. The conventional wisdom is that those teams ran out of gas late in the season and underperformed at the outdoor championships. But does the conventional wisdom hold up to scrutiny? I don't think so. I think the problem is that Oregon's teams were (and are) made for indoor track, not outdoor track, and that's why they haven't won the outdoor championship.
Despite my above rant, it's true that indoor track and outdoor track are not quite the same sports, at least when looked at from a team perspective. 16 of the 17 events contested at the indoor NCAAs have an outdoor counterpart, some exact and some approximate. The indoor 60 is not exactly the same event as the outdoor 100, but it's contested by more or less the same athletes and a large percentage of athletes will score at the NCAAs in both events. The same is true of the 60 hurdles/100 hurdles and pentathlon/heptathlon. It's a bit more of a stretch to relate the indoor 3000 to outdoor 5000 and indoor 5000 to the outdoor 10,000, and even more so for the indoor weight and outdoor hammer, but the crossover is significant enough to say they're roughly equal events from a team personnel point of view.
There is one indoor-only event, the distance medley relay. There are six outdoor-only events, the 4×100, 400 hurdles, steeplechase, discus, hammer and javelin. These events are what make indoor and outdoor track different from each other.
If we look at just those sixteen events that are common to both indoor and outdoor track, did Oregon really drop off from the indoor NCAAs to the outdoor NCAAs? Maybe, sort of. But not much.
In 2010, they went from 53 (indoors) to 51 (outdoors). In 2011, it was 59 (indoors) to 44 (outdoors), and that was the year that multi-event star Brianne Theisen lost May and June to a back injury. In 2012, the team went from 41 (indoors) to 54 (outdoors). 2013 was the only real big dropoff, from 55 (indoors) to 37 (outdoors).
So we have indoor/outdoor changes of -2, -15 (which should probably be considered -5 due to a catastrophic injury), +13 and -18. A small dropoff while going from indoor to outdoor should be expected since there's more competition. (Most California teams don't take indoor track seriously.) I only see one year where Oregon came up short at the outdoor championships.
The key is those other events. In their five indoor championships, the Ducks have scored 28 points in the distance medley, the lone indoor-only event. In their four "failed" attempts at an outdoor title, the Ducks scored 21 points in all six outdoor-only events put together. That's a big negative swing going from indoors to outdoors.
Even worse, it's a negative swing that their opponents haven't had. Here's a summary of the NCAA Championships scoring swing by Oregon and each year's champion team from the indoor-only DMR to the six outdoor-only events.
2010
Texas A&M: +13
Oregon: -2 (8 pts in indoor DMR but only 6 in outdoor 4×1, 400H, stpl, DT, HT, JT)
2011
Texas A&M: +16
Oregon: -7
2012
LSU*: +20
Oregon: break even
2013
Kansas: +18
Oregon: +5
(*Yes, I know LSU's 2012 title was vacated due to a positive doping test, but play along with me here–Oregon is still officially second that year.)
For four years in a row, Oregon started anywhere from 13 to 23 points in the hole just by moving to an outdoor slate of events. No wonder it's been such an uphill battle.