No Comments
The Monday Morning Run: Kiprop rolls, Obiri destorys Dibaba, American sprint struggles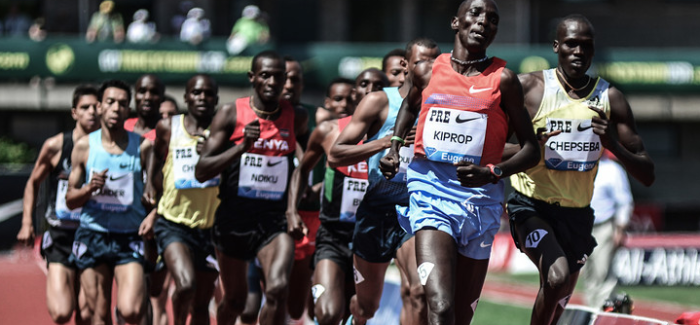 Kevin Sully | On 12, May 2014
Photo via TrackTownPhoto
If you were to look at a list of marks from this weekend's professional track meets, you would probably think the times came from a meet in July or August.  From the Doha Diamond League meet on Friday through Saturday's Grand Prix in Tokyo, the times were fast and the competition was deep.  As always, the marks are just part of the story. Let's dive a bit deeper.
The Medalists
The top three performances of the week
Gold: Asbel Kiprop
Kiprop won the 1,500 in Doha with a world-leading 3:29.18. Behind him five other runners ran under 3:31. Six runners in total ran personal bests, including the Olympic champion Taofuik Makloufi who finished fourth. Kiprop had the help of ambitious rabbits who set a fast early pace, but he closing speed was devastating. He covered the last lap in 54.50 and sprinted with relative ease to open up a gap on Silas Kiplagat and Ayanleh Souleiman.
Running this fast this year in the season backs up Kiprop's world record talk.  When he outlined his goals in January he said, "Honestly, it's my goal for 2014 to run 3:26 if not 3:25. The world record's my main target."
Last year, Kiprop ran surprisingly close to Hicham El-Guerrouj's world record of 3:26.00 in Monaco when he posted an uncontested 3:27.72. Even with that time, the world record still seemed to be outside of Kiprop's grasp.
So does a 3:29.18 in May mean Kiprop has a legit chance at the mark? It very well might, but remember Kiprop traditionally runs fast in May. Here is a look at his last few seasons:

Though his time from Friday is the fastest he has run this early, it isn't abnormal.  Kiprop usually runs very close to his eventual season best in May. The lone exception was last year, when he shaved off 3.41 seconds between from Doha to Monaco. He would need something similar this year– a 3.18 second improvement to tie El-Guerrouj's world record. With no championships to challenge him, he should have many chances.  Rieti and Monaco both have fast tracks, but the question might come down to pacing.  The list of rabbits who can run around 2:48 for a 1,200 is very short.
Silver: Hellen Obiri
She crushed Genzebe Dibaba (and as a result most fantasy track and field teams) with a 8:20.68 in Doha. Like the men's 1500, an incredibly deep field finished behind her. Mercy Cherono finished second in 8:21.64 and Dibaba's 8:26.21 was only good enough for sixth. 17 women finished the race. 10 ran personal bests. Obiri's 8:20 is the 7th best time in history and is the fastest time not run on September 12th or 13th 1993.
We should have known Obiri's was sharp after her demolition of the 1,500 field at the Drake Relays two weeks ago. Still many of us, myself included, looked at Dibaba as the clear favorite after her three world records this winter. Obiri shut her and the rest of the field down in the final 400 meters. Though there were six women together at the bell, Obiri blasted a 61.58 last lap and Cherono was the only woman anywhere close at the finish.
We did it with the men's 1,500, so let's now discuss the possibility of the women's 3,000 world record being broken. Both Obiri and Cherono hinted after the race that it was a possibility. The IAAF's ran the headline "Obiri and Cherono Warn Wang Her 3,000M Record May Finally Be Challenged."
Notice the word choice–may finally be challenged.
Not broken, eclipsed or erased but challenged.  Wang Junxia's 8:06 is under no threat. Not by Obiri, Cherono, Dibaba or any woman in this generation of runners.
An 8:06 is roughly a 2.8% improvement from 8:20. A similar improvement in the men's 1,500 world record (3:26) is 3:20. Put another way, Obiri would have had to run almost two seconds faster per lap or back-to-back 4:03s in the 1,500. It's not going to happen unless Obiri can hop onto the same magic track in Beijing that Wang, and the three other women who broke 8:20, competed on during the Chinese championships in 1993.
Bronze: Men's High Jump
Five men went over 7-9 ¼ (2.37 meters) this week. Ivan Ukhov won the Doha competition in 7-10 ¾ with Derek Drouin, Erik Kynard, Mutaz Essa Barshim all finishing at 7-9 ¼. Then on Saturday, Ukhov returned to face Bohdan Bondarenko in Tokyo. Bondarenko cleared 7-10 ½ to best Ukhov.
This is shaping up to be a historic year in the men's high jump. Not just with the depth, but with multiple athletes having the ability to challenge Javier Sotomayor's 8-0 ½ world record from 1993. In an era of hyper-specialization and geographic dominance in most events groups, it is interesting to see that all five over 2.37 this weekend hail from different countries–United States, Russia, Canada, Ukraine, Qatar.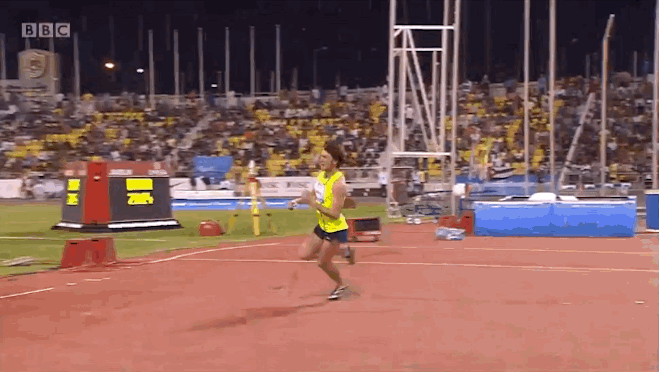 Surging….
-Lashawn Merritt
Lost in the shuffle of the deep distance races in Doha were some interesting head-to-heads. Lashawn Merritt bounced back from his loss last week to Luguelin Santos to take the men's 400 in 44.44, equalling his world leading time. Youssef Masrahi finished second in 44.77 and Santos struggled in fifth with a time of 44.94.
Merritt looked like a different runner than he did when he was caught at the line in Kingston. Perhaps I got ahead of myself when I suggested last week that Santos could crash the rivalry between Merritt and Kirani James this season. Probably why you shouldn't make broad statements after one race.
-Mohammed Aman
Of all the distance races in Doha, the men's 800 was really the only one where the competitors showed some rust. Not having David Rudisha probably slowed things down a bit as well. After not following the rabbit, Aman caught Nijel Amos in the homestretch to win in 1:44.49. Amos, the Olympic silver medalist who disappeared last year amid reports that he might give up running to become a DJ, held on for second place.
Somehow Duane Solomon's non-paced 1:43.88 from Mt. SAC is still the world lead.
-Christo Landry
The American won his second US road racing title of the season at the River Bank Run in Grand Rapids, Michigan. Landry tied the American US 25K record, finishing in a time of 1:14:18. In April, Landry won the US 10-mile title in Washington DC. Future marathoner Chris Solinsky ran the longest race of his career and finished in 3rd place in 1:16:43.
Slowing….
-Genzebe Dibaba
The triple world record holder was left at the bell in Doha. She eventually finished in 8:26.21, good enough for a personal best outdoors, but she was a spectator in the final lap.  While the 8:26 is nothing to get too concerned about, it is far off the 8:16.60 that she ran when she set the world record indoors. For how potent Dibaba has been in the winter, she hasn't been nearly as effective outdoors in the spring or summer. Maybe she runs better in smaller fields when she can dictate the pace. On Friday, she got stuck at the front for the latter part of the race and she still had five other women sitting on her should when she hit the bell.
There is also the possibility that she overcooked the indoor season and hasn't quite recovered fully from that whirlwind couple months where she set world records in the 1500, 3000, 2-mile and won the World Indoor Championships.
-English Gardner
Gardner, a multiple time NCAA champion, has struggled in her first full season as a professional. She was handily beaten by her former teammate Jenna Prandini at the Mt. SAC Relays, placed seventh in 11.50 at the Jamaica Invitational and finished last with a 11.57 clocking in Doha.
Surprising results for someone who was routinely running low 11s last year despite competing in multiple events for the Ducks. This season, she hasn't been a factor in any of her races and is losing to women she beat easily last year.
-Allyson Felix
After about a month of professional meets, it doesn't look like any American sprinter will push Shelly-Ann Fraser-Pryce this year. Her main rival over 200, Allyson Felix, has yet to debut despite planning to race twice in the past two weeks. The Felix question is best summed up by Nick Zaccardi:
Interesting that Allyson Felix flew to Grand Cayman, did the pre-meet press conference and then didn't run (for a second straight meet).

— Nick Zaccardi (@nzaccardi) May 8, 2014
-Moses Mosop
Mosop embodies the fragile line between elite and irrelevant in the marathon. He debuted at the distance in 2011 Boston Marathon where he ran 2:03:06 and finished four seconds behind the winner, Geoffrey Mutai (in retrospect, his proximity to Mutai is more impressive than his time). That fall, he won the Chicago Marathon and broke Sammy Wanjiru's course record. Since then, it has been rough going. Mosop has been injured and inconsistent for much of the last three years. On Sunday, he finished 12th at the Prague Marathon in 2:20:37.
Under the Radar
-Kemi Adekoya
In Doha, the Nigerian turned Bahrainian ran a world-leading 54.59 in the 400 hurdles. The time is a personal best by over two seconds and her first result since 2012. That year she ran 57.22 and signed with the University of Houston. However, she never competed for the Cougars and didn't appear in any results that I could find for all of 2013. Fast forward a year and she switched nationalities, got a bunch faster and won a Diamond League race out of lane one.
-Jenny Simpson
Jesse devoted an entire section of his pro recap to Simpson's race so I guess it technically isn't under the radar anymore. Still, in such a busy weekend it was easy to miss Simpson's run halfway around the world. She won the 1,500 at the Seiko Golden Grand Prix meet in Tokyo in a quick 4:03.91. As Jesse noted, only one other time has an American run this fast, this early in the season and that was Simpson last year at the Drake Relays. Simpson's mark came with little competition as she was more than four seconds ahead of training partner Emma Coburn.
-American Track League
Results on the meet website this week, good. No real exposure, bad.
The American Track League's second stop was highlighted by Queen Harrison beating Lolo Jones in the 100-meter hurdles and Bershawn Jackson winning the 400-meter hurdles. Other than that, there weren't many big names in Charlottesville. The stated goal of the ATL is to attract new fans to track and field, but if they can't create better fields then it will have trouble keeping the olds ones. Spirited competition, a compact schedule and off-track entertainment is great, but ultimately people come to watch stars.
Numbers Sometimes Lie
–Justin Gatlin ran a 10.02 into a -3.5 wind in Tokyo. According to Track and Field News…. well I'll just let them say it.
Justin Gatlin's 10.02 into a 3.5mps wind in Tokyo today converts to a 9.80 with zero wind, making him =No. 5 on the all-time adjusted list. — Track and Field News (@tandfn) May 11, 2014
Jesse broke the wind dilemma down here.
Keeping Score
Every Friday, Jesse lays out his best matchups of the weekend. Some of them live up to the hype, others never materialize. Here are the results of some of his featured face-offs:
Heather Kampf vs Nicole Sifuentes
Women's pro race, Medtronic TC 1 Mile
Cancelled because of a tornado. I'm not joking.
Nick Willis vs Will Leer
Men's pro race, Medtronic TC 1 Mile
See above.
Piotr Małachowski vs Gerd Kanter
Men's discus throw, Diamond League Doha
Małachowski finished first and Kanter was third. I picked Kanter on my fantasy team.  Don't pick your fantasy team based on season bests.
Yarisley Silva vs Silke Spiegelburg
Women's pole vault, Diamond League Doha
Silva was second and Spiegelburg finished tied for fifth. Once again, there were fantasy implications for team House of Run after I put my faith in Silva. I'm thinking I should stay away from field events.
Eunice Sum vs Chanelle Price
Women's 800 meters, Diamond League Doha
This match-up produced a great race with Sum winning in 1:59.33 with Price close behind in second in 1:59.75. Despite the loss, Price's phenomenal 2014 continues.
David Oliver vs Ryan Wilson
Men's 110 hurdles, Diamond League Doha
Oliver dominated the field after a slow start, winning in 13.23. Wilson finished fifth.
Shelly-Ann Fraser-Pryce vs Blessing Okagbare
Women's 100 meters, Diamond League Doha
Not a sensation time, but Fraser-Pryce handled Okagbare quite easily. Is anyone going to challenge Fraser-Pryce this season?
Mac Fleet vs Jordan McNamara
Men's 1500 meters, Oregon Twilight
Ben Blankenship, who flew to Eugene after the tornado cancelled the mile in Minnesota, ran 3:39.33 to beat McNamara and Fleet.
The Week Ahead
-There is more Diamond League fun on Sunday in Shanghai. A few early storylines:
Where does Aries Merritt fit in the high hurdle pecking order? David Oliver and Hansle Parchment won the big races so far this year and there is a deep group behind them. Which Merritt will we see in 2014? Will it be the 2012 version who set the world record and won Olympic gold? Or will he run more like he did in 2013, when he finished sixth in the World Championships?
Will Allyson Felix race? She is scheduled to compete in the women's 400 against Francena McCorory and Amantle Montsho.
Unheralded Simon Magakwe is the world leader in the men's 100. With Justin Gatlin, Kim Collins and Nesta Carter slated to run in Shanghai will that time survive the weekend?
Jenny Simpson will get a chance to take on Abeba Aregawi, the woman who beat her for gold last summer in Moscow.
A potential great face off in the women's 200 with Veronica Campbell-Brown and Shelly-Ann Fraser-Pryce. Kimberlyn Duncan and Blessing Okagbare are also entered.
-In the United States, distance fans will have their eyes on the Oxy High Performance Meet in Los Angeles. The athletes will have to contend with the heat on Thursday evening. The high might creep into triple digits with expected evening temperatures in the 80s. Distance running weather!
Reading List
–David Epstein explains why Tyson Gay received a light sentence for his doping violation.
-On the same topic, Doc Patton responds to drug users receiving reduced sentences.
-In case you missed it, here is the story of Charlotte Brown, a blind high school pole vaulter.