No Comments
What Can Track Learn From the NHL?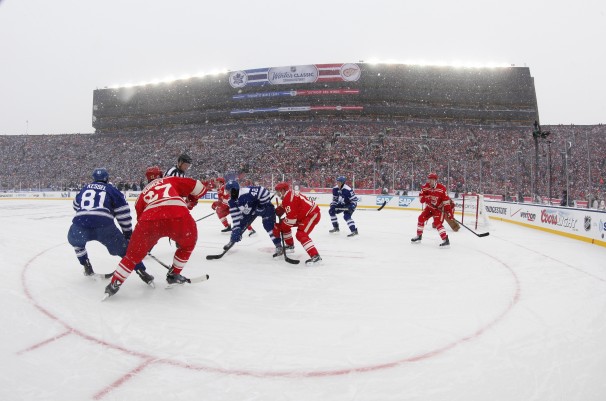 Jesse Squire | On 02, Jan 2014
What can track learn from a scene like this?
Yesterday's Winter Classic was hailed as a tremendous success. The hockey game between the Toronto Maple Leafs and Detroit Red Wings was played in cold and snowy conditions in front of a record crowd of 105,491 at the University of Michigan's "Big House". How can track and field get some of that action?
Chief among the things that make the Winter Classic work is making it the world's biggest game of shinny, a fun time for players and fans alike. The closest thing to shinny I can think of in track was when I was a kid and we used to pick sides on summer nights and run relay races up and down our street under the lights. In terms of professional track and field, street races and mall pole vaults and other kinds of other innovations are a bit of the same thing, and they're very popular.
But another thing that works for the Winter Classic is tolerating subpar conditions. All of these outdoor games are sloppy (the 2011 game literally was, played on a rainy night in Pittsburgh). Snow on the ice grabbed the puck off sticks yesterday, and tape on sticks lost its stickiness in the cold. Even if they're fun, Winter Classics generally are not pretty. But in track, great competition with supbar performance is a hard sell.
Track once did have scenes like the Winter Classic, which is an indoor arena game taken into an outdoor stadium. We took our outdoor stadium sport and crammed it into indoor arenas. The old 160 yard board tracks rarely produced great times and they didn't determine championships, but they were great fun–and from the 30s up to the 80s, the crowds turned out for indoor meets like they rarely did for outdoor ones.
Track and field's mark-obsessed nature and marks-based qualifying system reduces incentive for competition based around, well, competition. Especially in the distance races, times matter too much. Think about this: the only new domestic meet of any note in the last decade is the Oxy High Performance affair, and it exists as a series of time trials and nothing else. My personal thought is that any move away from marks-based championship qualifying to one based on competition is a good one.
OK, enough of that. Links:
The House of Run's new podcast is up. Jason and Kevin wade into the unknown and try to predict what 2014 will bring in the running world. Can David Rudisha, Yohan Blake and Jessica Ennis rebound from injury? Will any world records be broken? Is there any chance that Usain Bolt and Mo Farah race each other?
Also, the guys discuss a confusing doping case, another instances of runner vs. deer and make amendments to the runner/not a runner constitution.
News
The morning's news is all in Runner's World's Racing News: Leo Manzano is still without a sponsor, fewer races in the US National Parks, and a New Year's Eve race roundup.
Other news…
Speaking of sponsors, announced at 1pm today: Worlds silver medalist Nick Symmonds switched from Nike to Brooks. More importantly, he is switching his club affiliation from the Eugene-based Oregon Track Club to the Seattle-based Brooks Beasts.
Let's Run has four quick thoughts about the change. Among the more interesting observations is that an OTC-Brooks Beasts 4×800 relay would be a tossup (and could challenge the standing world record).
Scott Bush has his take on the news for Runnerspace.
Three years ago, Canada premiered its National Track League. This year will see the USA's American Track League. Now the Irish are getting into it with their own National Club Indoor League.
Kenyan javelin star Julius Yego, famously self-taught via Youtube, is going to train with the javelin-obsessed Finns.
Race results…
Mariko Kiplagat Kipchumba (2:08:06) and Mare Dibaba (2:21:36, course record) won China's Xiamen Marathon earlier today.
More from EthioSports
Led by the Shitara twins, Toyo University leads the Hakone Ekiden after the 108 kilometers of the first day. Ddespite running the second-fastest first day ever, they have a narrow 59-second lead going into today, the conclusion of this national collegiate road relay championship.
More from Japan Running News
What to watch…
The Hakone Ekiden finishes up tomorrow in Japan, which is tonight in the USA. Read Brett Larner's preview, watch via the web and/or follow Twitter updates.
Video of the day
Fom Runnerspace, episode 4 of The Race Walking Dead