No Comments
The Weekend's Best Matchups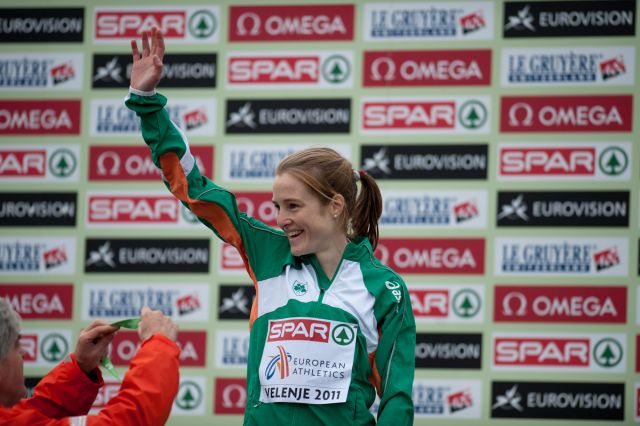 Jesse Squire | On 03, Jan 2014
Can Fionnuala Britton hold off Gemma Steel and Maryam Jamal to win her third straight Antrim International Cross Country?
It's still a light weekend of competition, coming just on the heels of the new year, but there are still a few good matchups to follow this weekend.
1. Fionnuala Britton vs Gemma Steel vs Maryam Jamal
Women's 5.6k race, Antrim IAAF International Cross Country
CAFRE Campus, Antrim, Northern Ireland
Saturday, 2:25pm local time (9:25am ET)
Click here for TV coverage in Ireland, UK and Africa
Steel and Britton are two of the best cross country specialists in Europe right now and are the headliners in this IAAF cross country permit event. Britton won the 2011 and 2012 European titles and is the two-time defending champion here, but Steel won silver at last month's championships while Britton finished fourth and out of the medals.
Jamal is a mile track star with some good 5ks to her credit. Coming off a big win on New Year's Eve at the BOClassic 5k, on paper she should win easily. But cross country tends to be an equalizer, and Britton is running on familiar territory and in front of a home crowd.
This day-long event has twelve races for various age groups and competitive levels. One of the competitions is the Celtic Cross Country International in which teams from Ulster, Ireland, Scotland and Wales compete for individual and team titles.
2. Imane Merga vs Conseslus Kipruto
Men's 10k race, 57th Campaccio-International Cross Country
Angelo Alberti, San Giorgio su Legnano, Italy
Monday, 3:00pm local time (9:00am ET)
Race website | Follow on social media
This is the first big cross country race of the Italian season, and if it's Italian then Alberto Stretti is the man who knows what's going on. This is a deep field full of Kenyan and European stars but Merga and Kipruto are the ones to watch. Merga is the 2011 World Cross Country champion and just came off a narrow win in the BOClassic New Year's Eve 10k. Kipruto is an interesting entrant, not well-known for cross country but a tremendous steeplechaser. Other big names include Japhet Korir, the reigning World cross country champion (see below), Albert Rop and Moses Kipsiro.
The women's race has a marquee matchup too, one between two steeplechase stars. Hiwot Ayalew and Milca Chemos were fourth and first, respectively, in the steeple at last year's Worlds. They are up against competition that includes Linet Masai and Mimi Belete.
3. Emmanuel Bett vs Japhet Korir
Men's 10k race, Antrim IAAF International Cross Country
CAFRE Campus, Antrim, Northern Ireland
Saturday, 2:50pm local time (9:50am ET)
Korir is the reigning World Cross Country champion, and it was a big upset when he won it, but he had a disastrous end to his 2013 season when he picked up a lung infection. Recent results in some big cross country races indicate he's made a recovery. Of the other entries, the toughest appears to be Emmanuel Bett, a 26:51 runner who won the Cross Internacional de la Constitución six weeks ago.
4. Princeton vs Navy
Wesley A. Brown Field House, Annapolis MD
Sunday, 11:00am
Host website

This will be one of the first college meets of the new year, and one of just six held this weekend. Princeton is the better team on paper, but Navy is one of the few college teams for whom dual meets are very important. The Army-Navy dual meets are the most important competitions of the whole year for the two service academies and they tend to go into duals with, well, a military precision.
This men's-only series has been held 42 times and the rivalry is split at 21 wins each. Last year the Midshipmen went into Princeton and came away the victors by a narrow 91-89 score, their first win in the series in the last ten years. You can be sure that the Tigers have not forgotten.
5. Jordan Scott vs Shawn Barber
Men's Elite Competition, Pole Vault Convention
Stile Athletics Field House, Akron OH
Saturday, 7:00pm (ET)
It's barely into the new year and we've already got a great pole vault matchup here, one between the reigning US and Canadian champions. Still just 19 years old, Akron's own Shawn Barber broke the Canadian record last year but still a bit of an underdog against Scott. The weekend-long Pole Vault Convention is a combination of competitions and coaching clinics plus sessions directed at parents of vaulters, but the elite competition is pretty darned good. The women's competition is deep as well, including four of 2013's top ten Americans.