3 Comments
Bracketology: First Round Kicks Off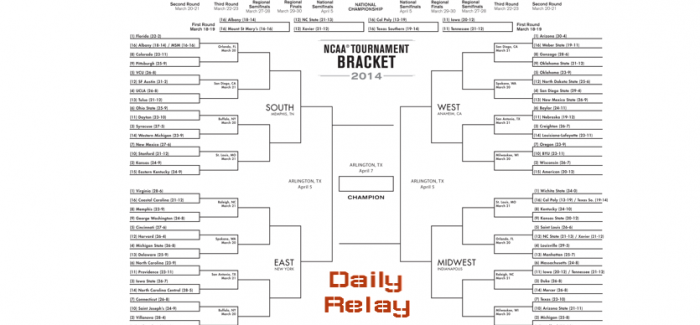 The NCAA tournament starts up with its first round today and tomorrow (aka "least productive workdays of the year"). Here at the Daily Relay, we're doing our own version and we started on Tuesday with the "first four".
A quick reminder of how this works:
We start with the bracket for this year's basketball tournament. Each "game" matches up great track and field athletes in each university's history, with the winner decided by career accomplishments and a subjective decision of who was "better".
But the key is that once an athlete has been used, he or she cannot be used again. So, for example, Ohio State will keep Jesse Owens in reserve until he's really needed. Thus the "best" athlete in each school's history might not come up until later rounds–but they might have to be used in early rounds to get past a tough opponent, leaving the team vulnerable in later rounds.
Here we go with today's games, in the same order in which they'll be played.
Dayton vs Ohio State
Dayton's Mallory Barnes was a two-time indoor All-American in the weight throw. Ohio State high jumper Mel Walker just missed making the 1936 Olympic team, then dominated the 1937 season and set a world record.
Winner: Ohio State
Wisconsin vs American
Wisconsin's Don Gehrmann won three straight NCAA championships in the mile (at a time when freshmen were not eligible) and finished seventh in the 1948 Olympic 1500 meters ("probably the worst race I ever ran", he says). American's Sean O'Brien finished fourth in the 1500 at the 2003 NCAA Championships.
Winner: Wisconsin
Colorado vs Pittsburgh
When you think Colorado track and field, you tend to think of distance runners: Jenny Simpson, Dathan Ritzenhein, and so forth. Even Mary Slaney ran there for a little while. But their greatest track alumni is decathlon legend Bill Toomey. Pittsburgh's John Woodruff was one of the most dominant half-milers in collegiate history, won Olympic gold while still in college, and possibly got robbed of a world record by some Texas good-old-boy shenanigans.
Winner: Pittsburgh
Cincinnati vs Harvard
Cincinnati's David Payne never won an NCAA title in the high hurdles, but won Olympic silver and twice won Worlds bronze. Harvard's Bill Schick was one of the best sprinters of the early 20th century; he won four national collegiate titles, set a world record for 100 yards, and is a member of the Penn Relays Wall of Fame.
Winner: Harvard
Western Michigan vs Syracuse
When heavily favored Harrison Dillard failed to make the 1948 Olympic team in the 110 hurdles, Western Michigan's Bill Porter made the best of the opportunity and won the Olympic gold medal. Syracuse long/triple jumper Meyer Prinstein set world records in 1898 and 1900, won four US national titles, and three Olympic gold medals.
Winner: Syracuse
Oregon vs BYU
Oregon is going to go a long way in this tournament but facing off against BYU in the first round means they'll have to burn a great athlete here. BYU's Frankie Fredericks was never the "best" sprinter in the world but was second- or third-best pretty much every year for the entirety of the nineties. To defeat him, the Ducks are going to have to use up Mac Wilkins, one of the all-time great discus throwers, who won Olympic gold and silver and broke the world record three times in a single meet.
Winner: Oregon
Mount St. Mary's vs Florida
Mount St. Mary's Peter Rono won Olympic 1500 meter gold in 1988, probably the biggest Olympic upset ever in that event–which is a nice way of saying he never did much else, even win an NCAA title. Florida's Dennis Mitchell was one of the most consistent sprinters of his day, winning three major bronze medals (one Olympic, two Worlds) and was a dependable runner on gold medal winning and world record setting 4×100 relay teams.
Winner: Florida
Michigan State vs Delaware
Michigan State sprinter Fred Alderman won three national collegiate titles, one each in the 100 yards, 220 yards, and 440 yards, and won Olympic gold on the 1928 4×400 relay. The highest NCAA Championships finish in Delaware history is Alexander Coles' 5th-place tie in the high jump in 1990.
Winner: Michigan State
Connecticut vs St. Joseph's
UConn hurdler Phylicia George reached the finals of both the 2011 Worlds and the 2012 Olympics while competing for her native Canada. St. Joseph's Ed Lennex scored at the 1976 NCAA Championships in both the long and triple jumps.
Winner: Connecticut
Michigan vs Wofford
Wofford has never scored a point at an NCAA Championship; long/triple jumper Adrien Borders is their only multi-time Southern Conference champion. Lisa Rainsberger came to Michigan on a swimming scholarship but gave it up to run, earning All-American honors and going on to win the 1985 Boston Marathon–the last victory by an American in the Patriot's Day classic.
Winner: Michigan
St. Louis vs NC State
St. Louis only began sponsoring track and field in 2006; Margo Richardson holds several school records and has won a pair of indoor conference title in the mile. NC State's Laurie Gomez earned six All-American awards and won the 1991 NCAA title at 5000 meters.
Winner: NC State
Oklahoma vs North Dakota State
Tia Brooks won four NCAA shot put titles for the Sooners and finished eighth at last year's World Championships. North Dakota State has only recently made the jump to Division I; 2012 Olympic triple jumper Amanda Smock was a three-time NCAA Division II champion.
Winner: Oklahoma
Villanova vs Milwaukee
Villanova's history of great athletes is shockingly deep. Sydney Maree won two NCAA titles, broke the world record for 1500 meters, and held American records at four different distances. Milwaukee's lone All-American since moving to Division I in 1990 is half-miler Cory Peterson in 1997.
Winner: Villanova
Texas vs Arizona State
Here's an example of how a tournament seeded for basketball can line up great track programs in the first round. The greatest in the history of Arizona State is Henry Carr, the 1964 Olympic champion at 200 meters and one of the world's best at 400 as well. To beat him, Texas has to bring out Sanya Richards-Ross, who has won Olympic and World gold medals at 400 meters.
Winner: Texas
Louisville vs Manhattan
Matt Hughes won two NCAA steeplechase titles for the Cardinals and broke the Canadian record while finishing sixth at last year's World Championships. Manhattan's Lindy Remigino never won an NCAA title in the sprints but did win the 1952 Olympic 100 meter gold medal.
Winner: Manhattan
San Diego State vs New Mexico State
Jack Rand won San Diego State's first NCAA title with a pole vault victory at the 1934 championships. New Mexico State's only point ever scored at an NCAA Championships came from 400 hurdler James Thomas in 1960.
Winner: San Diego State
Come back tomorrow for 16 more matchups as the first round continues.