No Comments
5 Questions with Merge Records on their upcoming 25k to commemorate 25 years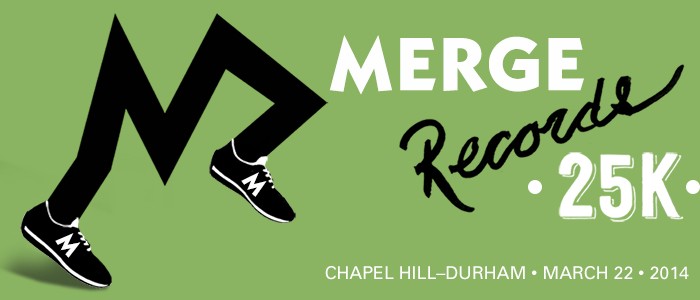 On

March 21, 2014

http://patprice.com
Welcome back to 5 Questions, where we pick the brains of people from all areas of the running scene. Today, we were lucky enough to catch up with Christina Rentz, publicist for longtime label, Merge Records. Merge is celebrating 25 years in existence in 2014 and will commemorate that with a 25k race from Chapel Hill, NC, where the label began, to Durham, NC, where it now resides. The race is tomorrow (Saturday, March 22, 2014). Follow Merge on Twitter @mergerecords, Facebook, and Instagram.
5 Questions with Merge Records on their upcoming 25k to commemorate 25 years
1. Daily Relay: First off, running and indie rock don't have much of a combined history. What led to the idea of the Merge 25k?
Merge Records: Three Merge staffers – Lindsey Kronmiller, Keith Artin & myself (Rentz) – ran the Tar Heel 10 Miler together last year. On the way home, Keith pointed out that it was about a half-marathon distance from the Cat's Cradle in Carrboro to our offices in Downtown Durham. Somehow, the idea of a "fun run" amongst friends became a much bigger goal! Lindsey & I had done a beginners' running program (RunBuds) at Bull CIty Running and we asked Kim to come talk to us. She said "You can do it" and so we decided to go for it! We thought it sounded like a fun, community-oriented way to celebrate 25 years of rock n' roll.
2. Daily Relay: Merge has quite the stable of artists, from locally grown acts like The Love Language and Mount Moriah to international superstars like Arcade Fire. Will any Merge Artists or staffers be running Saturday?
Merge Records: 4 staffers, but alas, none of our bands were able to make it. We are thrilled to have The Love Language and Vertical Scratchers performing at the finish line, though!
3. Daily Relay: The popularity of Arcade Fire's debut in 2004 changed the game for Merge, with the album going gold in the US and platinum in Canada. How did that change the trajectory of the label for the last 10 years?
Merge Records: Merge has had a very long, interesting history marked by "big" successes like "Funeral." I don't think it changed much in the way that we do business, but it definitely allowed for our staff to get a little bigger.
4. Daily Relay: The race will start in Chapel Hill and end in front of Motorco/Fullsteam in Durham. Is this to symbolize where Merge started, and where they are now located? What can people expect at the finish line, and along the course?
Merge Records: It definitely is a nod to our history. And finishing in Durham, where we have been for nearly 13 years, is definitely something we were excited about. Here is a link to our race page: http://www.mergerecords.com/25k with all of the information about our party. It's going to be a great one! And it is Free & open to the public – not just racers – we are encouraging everyone to come out and bring their families.
5. Daily Relay: What can the public expect out of Merge in the coming year as a label? and what is Merge excited about locally?
Merge Records: We are doing a series of reissues celebrating our 25th anniversary (http://www.mergerecords.com/merge-25), as well as a big music festival in Carrboro in July. We are partnering with the Durham Bulls again to provide the walk-on music for the game on June 5 and Mac will throw out the first pitch and Heather from Mount Moriah will sing the national anthem! We are also doing a series of concerts with Duke Performances (more on that soon).
We have new releases on deck from Wye Oak, Bob Mould, and Reigning Sound in addition to a few surprises for local music fans to come this year!
Daily Relay: And with this being the 25th year of Merge Records, can we expect a Merge 26k in 2015, and so on?
Merge Records: My response to this has become "Ask me again on Sunday!"
If you enjoy 5 Questions, check out the archive of previous interviews over at Writing About Running