No Comments
Bracketology: First Round Finishes Up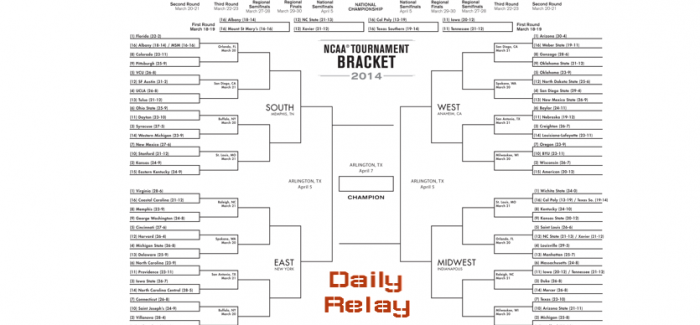 This is our third day of "college track bracketology" and the first round is completed today, just like in the NCAA basketball tournament.
A quick reminder of how this works:
We start with the bracket for this year's basketball tournament. Each "game" matches up great track and field athletes in each university's history, with the winner decided by career accomplishments and a subjective decision of who was "better".
But the key is that once an athlete has been used, he or she cannot be used again. So, for example, Ohio State will keep Jesse Owens in reserve until he's really needed. Thus the "best" athlete in each school's history might not come up until later rounds–but they might have to be used in early rounds to get past a tough opponent, leaving the team vulnerable in later rounds.
Today's action…
VCU vs Stephen F. Austin
VCU's Kiara Porter is one of the few active athletes in this tournament and has eight Atlantic 10 championships and counting, and has a relay gold medal from the 2012 World Junior Championships. Stephen F. Austin's Jennifer Hoppe won four Southland conference titles in the heptathlon and high jump.
Winner: VCU
UCLA vs Tulsa
UCLA is one of the all-time powerhouses in track and field, and in this round the Bruins are represented by Gail Devers, who won nine career gold medals in four different events at the Olympics, Worlds, and World indoors, and scored more points in the UCLA-USC dual than any man or woman in history. Tulsa's Chris O'Hare won the NCAA indoor mile title two years ago and broke the collegiate record in 2013.
Winner: UCLA
New Mexico vs Stanford
New Mexico's greatest ever track athlete is Adolph Plummer, who won the 1961 NCAA title at 440 yards and broke the world record in the same event in 1963. Stanford's Ben Eastman set world records at both 400 and 800 meters and won Olympic silver in 1932 in the shorter event.
Winner: Stanford
Kansas vs Eastern Kentucky
Kansas' Jim Bausch won the 1932 Olympic decathlon with a world record score. Eastern Kentucky's Jackie Humphrey-Corbin was a six-time All-American in the 100 hurdles and won the 1988 Olympic Trials.
Winner: Kansas
Virginia vs Coastal Carolina
Paul Ereng won Olympic and World Indoor gold in the 800 meters while at Virginia. Coastal Carolina's Amber Campbell never won an NCAA title but has won two US hammer championships and six national titles in the indoor weight throw.
Winner: Virginia
Memphis vs George Washington
Steffen Nerdal was twice an NCAA runner-up in the indoor weight throw for Memphis. George Washington does not currently sponsor track and field (although a women's team will begin next year); Megan Hogan, now with Team USA Minnesota, was their best-ever cross country runner based on her eighth-place finish at the 2010 NCAA Championships. She also finished sixth in the 10,000 at the 2010 USATF Championships.
Winner: Memphis
North Carolina vs Providence
UNC has to pull out its big gun in the first round: hurdler Allen Johnson, the 1996 Olympic champion and a five-time World champion. Providence forced the Tar Heel's hand with John Treacy, the 1984 Olympic silver medalist in the marathon and twice the World Cross Country Champion who ran on four Olympic teams for his native Ireland.
Winner: North Carolina
Iowa State vs North Carolina Central
Two great hurdlers go head-to-head here. Iowa State's Danny Harris went undefeated in his college career in the 400 hurdles and won three NCAA championships but is probably best remembered for breaking Ed Moses' long winning streak. NC Central's Lee Calhoun won two NCAA titles in the high hurdles and two Olympic gold medals, both as slight upsets. He was suspended for the 1958 season for falling foul of amateur rules by accepting prizes won on a TV game show.
Winner: North Carolina Central
Arizona vs Weber State
Arizona's Lawi Lalang has won about umpteen NCAA championships and holds the collegiate record for the mile. Weber State's Farley Gerber won the 1983 NCAA title in the steeplechase in what was then the fastest time ever run by an American collegian (and only recently beat by Princeton steepler Donn Cabral). In that race he beat Washington State's Julius Korir, who won gold in the next year's Olympic steeplechase.
Winner: Arizona
Gonzaga vs Oklahoma State
Gonzaga doesn't do a whole lot with track, considering that the West Coast Conference doesn't sponsor the sport anymore. Cheska Fairbanks is their only individual WCC cross country champion. Oklahoma State quarter-miler Jesse Mashburn won two NCAA titles in 1955 and 1956 (plus an AAU title during his freshman year) and ran on two Olympic 4×400 meter relay teams.
Winner: Oklahoma State
Baylor vs Nebraska
Two of the greatest sprinters of all time go head-to-head in this first-round matchup. Merlene Ottey began her career at Nebraska where she won many AIAW and NCAA titles and set all kinds of college records, but that was only the beginning of an international career that stretched more than thirty years. She has won more Olympic medals than any woman in the Western Hemisphere (none of them gold) and more World Championships medals than anyone, period. Baylor has Michael Johnson, the 400 meter world record holder and former 200 meter world record holder, who is tied for the most World Championships gold medals ever won (with Carl Lewis).
Winner: Baylor
Creighton vs Louisiana-Lafayette
Creighton sprinter Thomas Barron won a Missouri Valley Conference 100 yard/220 yard double in 1930, which accounts for 2/3 of all the individual conference titles ever won by the Bluejays. The Ragin' Cajuns' Ndabe Mdhlongwa won the 1995 NCAA title in the triple jump and, between indoor and outdoor track, seven Sun Belt conference triple jump championships.
Winner: Louisiana-Lafayette
Wichita State vs Texas Southern
Harold Manning won two AAU championships in the steeplechase while at Wichita State (it was not part of the NCAA program at the time) and finished fifth in the 1936 Olympic final. Texas Southern's Mary Onyali won the 1988 NCAA 200 meter championship, then went on to won Commonwealth gold and Olympic bronze for Nigeria.
Winner: Texas Southern
Kentucky vs Kansas State
Kentucky's Mark Nenow held the American record for 10,000 meters for fifteen years. Kansas State's Erik Kynard won a surprise Olympic high jump silver medal in 2012 plus two NCAA championships and is consistently among the best high jumpers competing today.
Winner: Kansas State
Massachusetts vs Tennessee
UMass' Ron Wayne was a cross country standout for the Minutemen in the early 70s and won the 1974 AAU marathon championship. Tennessee's Tim Mack won the 1995 NCAA indoor pole vault championship and had a career year in 2004, when he won Olympic gold.
Winner: Tennessee
Duke vs Mercer
Duke's Joel Shankle earned the moniker "The One-Man Track Gang" for his versatility–he is credited with scoring 682¾ points in dual meets for the Blue Demons Devils–and won the 1955 NCAA long jump title and Olympic high hurdle bronze in 1956. Mercer has only recently added women's track and field; Justin Parker was Atlantic Sun conference cross country runner-up in 2000.
Winner: Duke