3 Comments
Introducing College Track Bracketology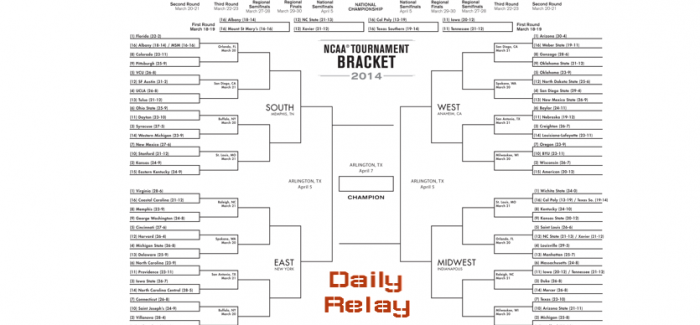 If you're like me, today's work mail included a tournament bracket to fill out for your workplace's pool. And if you're like me, you figure it would save time to just throw the bracket in the trash and set a $5 bill on fire because the result would be the same. If only it were about track and field…
We're here to grant your wish. For the next three weeks, the Daily Relay will be running Track and Field Bracketology. It's not just our attempt to avoid using trademarked NCAA words and phrases, it's our attempt to piggy-back on the spring's biggest sports-related attention-grabber.
Here's how it works. We start with this year's tournament pairings, but each "game" is a matchup of great track athletes in that university's history, one from each. The winner is based on my judgment of who was better, based on various accomplishments. Winners advance to take on other winners, just like a real tournament.
Here's the twist: no athlete may be used more than once. In other words, Ohio State can't just ride Jesse Owens all the way to the title. Since there are six rounds, the eventual tournament champion must have great depth of track and field tradition.
To show you how it goes, here are the "First Four", the play-in games to be held on Tuesday and Wednesday evening. Just like in the real tournament, the action gets fast and furious on Thursday and Friday.
Albany vs Mount St. Mary's
Albany has only been a Division I university since 2000. Their greatest in track and field since then is pole vaulter Luke Schoen, a three-time scorer at the NCAA Championships. Mount St. Mary's is represented by Kip Cheruiyot, the 1989 NCAA champion at 1500 meters and 7th-place finisher in the same event at the 1988 Olympics. Cheruiyot isn't the "greatest" in Mount St. Mary's history but is good enough to win here and save more firepower for later rounds.
Winner: Mount St. Mary's
Iowa vs Tennessee
This right here shows the challenge of winning out through six or possibly seven rounds, since track and field has absolutely nothing to do with the seedings. Great athletes in a school's history may have to be used in early rounds just to get through.
Iowa brings Ed Gordon, a three-time NCAA long jump champion, two-time USA champion, and two-time Olympian who won gold in 1932. Tennessee's deep and rich history in track and field brings Aries Merritt, the 110 meter hurdles Olympic champion and world record holder.
Winner: Tennessee
Cal Poly vs Texas Southern
What's more important when picking a winner of these matchups–what they did in college or what they did afterwards? I'm considering both but making college more important. That's an important question to consider since Cal Poly discus thrower Stephanie Brown Trafton has the unusual distinction of winning more Olympic gold medals (one) than NCAA championships (none). Texas Souther's Jim Hines also never won an NCAA title, but that was because TSU competed in the NAIA in his day. He did win the 1968 Olympic 100 meter gold medal and set a world record.
Winner: Texas Southern
Xavier vs North Carolina State
Xavier's Julie Isphording was an Olympic marathoner in 1984 and competed on the Musketeers' men's cross country team because there wasn't a women's team at the time. NC State's Julie Shea benefitted from the Wolfpack's early interest in women's sports and won seven national collegiate titles, but her greatest accomplishment might be twice winning the ACC's all-sports MVP awards–beating out, among others, Ralph Sampson and Lawrence Taylor.
Winner: NC State
Come back on Thursday for more bracketology as the first round begins.