One Comment
5 Questions with Erik Kynard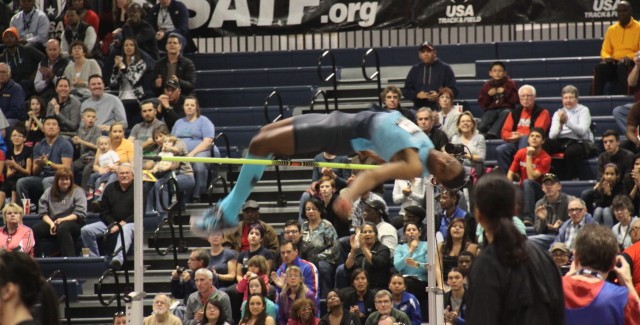 Photo: Dane Schubert
Welcome back to 5 Questions, where we pick the brains of people from all areas of the track & field scene. Today we caught up with high jumper Erik Kynard, who recently won his first USATF indoor championship. Erik is a two-time NCAA champion, the defending USATF outdoor champion, and the 2012 Olympic silver medalist. He will be competing for Team USA at this weekend's World Indoor Championships in Sopot, Poland. You can follow him on Twitter at @Erik_Kynard.
Daily Relay: This is your first full season competing as a professional for Nike. What is different now that you're no longer competing for Kansas State and what is the same? Are you still in Manhattan, Kansas?
Erik Kynard: Although this is my first full season competing as a professional, the approach to the season is no different though it's on a time delay. The professional circuit begins much later than the collegiate season so I was feeling as though I had been behind in my preparation but all is well. I'm still based in Manhattan, Kansas living the dream.
Daily Relay: How do you feel about your 2013 season? You jumped higher and jumped high more often than ever before, but ran into some very tough competition and didn't win as much hardware as in 2012. What were your high and low points?
Erik Kynard: My 2013 season went well although I was not fully satisfied with its outcome, come to think about it I'm never fully satisfied. It was great to compete at a high level on such a consistent basis, which was my higher point of the year.
Towards the end of the season I ran into some minor health issues that were more of a snag than I would've liked, more specifically at the World Championships. I'm all systems go for this 2014 season.
Daily Relay: How are you feeling about your first US indoor title? And how are you feeling about your first World Indoor Championships coming up?
Erik Kynard: I felt great after winning my first indoor title. I did not jump as high as I would have liked, but I understand that USA indoors is just a rung on the ladder of the indoor season. In regards to world indoors I'm excited to have the opportunity to be a [USA] representative and am looking to go and compete at a high level.
Daily Relay: The depth of competition in the men's high jump is just insane right now. What things do you see that has made it so good? What do you think it will take to medal in Poland?
Erik Kynard: I'm not sure what has made the men's high jump so good. I feel every event has it's time, it was once the men's 100m now it's the high jump. As far as medaling is concerned I'm just looking to go and make the finals and compete if I do that I'm in the mix.
Daily Relay: Are you looking forward to jumping in a produce department at the Drake Relays? [The Drake Relays is holding a special high jump competition inside a Hy-Vee grocery store.]
Erik Kynard: I'm extremely excited to compete in the produce section at Drake Relays. Everyone knows in regards to me competing there is no shortage of entertainment and in this instance there won't be a shortage of snacks.