No Comments
Daily News Roundup: National Signing Day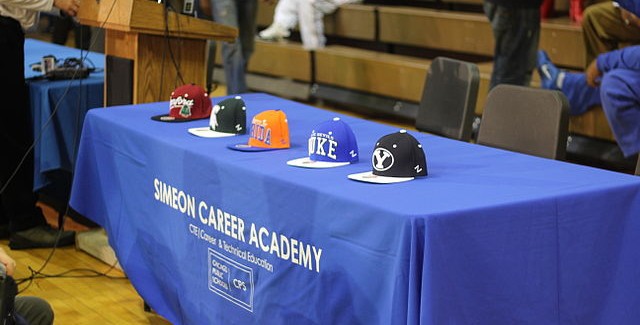 Today is national letter of intent signing day for several college sports, track and field (and cross country) among them. It's a relatively minor happening in our sport as compared to what happens with football or men's basketball, and I'm going to guess that very few high schools have TV cameras set up to document the choice of their runner, jumper or thrower.
Still, it's of some importance and you can follow the action at Milesplit.com. Dyestat also has a comprehensive college commitment database, broken down by state.
Track and field is a little different from other sports, though. The best recruiters don't always look good on signing day, because who is going to be great in college and who is a great high schooler are two very different things. The best recruiters know the difference.
Links
In this week's Four By One, Jason and Kevin take four minutes to discuss Genzebe Dibaba's 1500-meter world record, comaper a indoor world record or an indoor gold medal, debate the most interesting match-up at this weekend's New Balance Indoor Grand Prix, and wonder if Alexa Efraimson duplicate Mary Cain's success.
The new House of Run podcast is up! Jason and Kevin discuss Genzebe Dibaba's blistering 1500, Galen Rupp's decision to skip a world record attempt, Mo Farah's shot at Kenenisa Bekele, Nick Symmonds's jersey and much more. The guys also preview the New Balance Indoor Grand Prix, marvel at the rise of Alexa Efraimson and debate the correct way to handle therapeutic use exemptions.
News
Runner's World's Morning Report has all of yesterday's news: Gebrselassie chasing the masters' marathon world record, Stanley Biwott looking for London Marathon victory, and more.
Ken Goe's daily Oregon track and field rundown profiles Portland runner Ryan Vail, who brings the public along as he zeroes in on the London Marathon, plus all the morning's news.
Via Toni Reavis' blog, USATF long distance committee chairman Ed Torres challenges the Los Angeles '16 Olympic Marathon organizers to match the prize money offered by the competing Houston bid for those trials. His committee recommended Houston to USATF leadership mostly for that reason, an extra $100,000 total. I still think LA is the right choice for the sport's long-term image and sustainability, but Torres knows very well that those things don't pay athletes' rent right now.
More from Toni Reavis
Martin Bingisser tells us what he's been reading and how it relates to hammer throwing.
More from HMMR Media
New IOC president Thomas Bach criticized world leaders for making a statement by staying home from the Sochi Olympics and using the Games "as a stage for political dissent or for trying to score points in internal or external political contests". The Olympics have long been used by governments to put down minorities (and never with any IOC repercussions), but now Bach has openly stated what has always been the unspoken rule: tut-tut if governments or individuals use the Games to stand up for the powerless. Way to start things off at your first Olympics, guy.
More from Inside the Games
Pole vaulter Jenn Suhr is pumped for the World Indoor Championships. Key quote: "I'm in such good shape right now that I'm actually a little out of timing with my vault because I'm not used to the speed and strength that I have. "
More from the IAAF
Spikes Mag takes a look at the incredible rise of Damian Warner, who won a World Championships bronze just three years after taking up the decathlon.
More from Spikes Mag
What's on
The XL Galan, an IAAF Indoor Permit meet, takes place tomorrow in Stockholm at 8:45pm local time (2:25pm ET).
Meet website (in Swedish) | IAAF preview | Live webcast link (from 3:30pm ET)
Ethiopian-Swedish runner Abebe Aregawi is targeting the 1500 meter world record but admits it's a harder target now that it was a week ago. Other top matchups are in the women's high jump and men's high hurdles. It is the highest-quality meet of the season so far.
Video of the Day
You may not have been aware that the Canadian Institute of Diversity and Inclusion even existed, their TV commercial on the Russia/Olympic/gay controversy gets to the heart of the matter.