One Comment
5 Questions with Craig Leon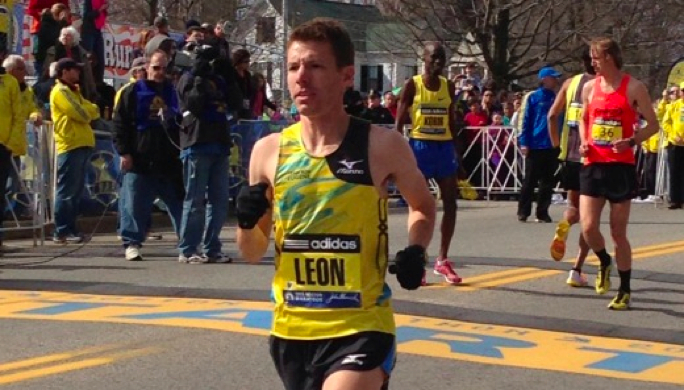 Pat Price | On 18, Apr 2013
Welcome to 5 Questions! This is where we'll pick the brains of people from all areas of the running scene. Expect a new interview every week! Today, we were lucky enough to catch up with the 10th place finisher from Monday's Boston Marathon, Craig Leon. Follow Craig on Twitter @cleonrun and check out his website for more information on his whereabouts CraigLeonRunning.com
5 Questions with Craig Leon
1. Daily Relay: First and foremost, we're glad you are home safe. What was the scene in Boston like from your perspective?
Craig Leon: It was just a surreal afternoon. I am still trying to process everything that transpired. I was in the Fairmont Copley Plaza, just a block away from the finish line, at the time of the explosions. Being the race's command center and host hotel, the scene was pretty chaotic during those first few minutes. The hotel immediately went on lockdown and we were told to stay on the ground floor while they attempted to figure out what was going on. Everyone's cell phones were basically off-line for the next several hours, so we were watching everything unfold just like everyone else: from the television. The toughest part about those first few hours was trying to figure out if a friend of mine made it across the finish line. I knew from his splits that he was going to be coming in around that time, so it was a relief to learn he had made it through about 10 minutes prior to the explosions.
2. Daily Relay: Now about the race; you had a 1 minute PR and were 10th overall. Were you happy with your performance?
Craig Leon: As for the race itself, what an unbelievable experience. From a kid who never finished in the top-10 at his own high school state meet, to finishing 10th at the Boston marathon – it doesn't get much better than that. For 12 weeks, I ran hundreds of miles dreaming of having a race like I did on Monday; it was the kind of race when things just flow, and if anything, I'm a little bummed to have not run a little faster. I knew I had put together a really quality block of training and was confident that I could run fast if things came together. I don't know what it is about the marathon, but I just come to life on race day; it just feels natural, comfortable.
3. Daily Relay: This was your first time running Boston. How was the course? Did it live up to the hype?
Craig Leon: Well first off, the crowd support was as advertised: loud, amazing, and a wee bit tipsy! The course is also as advertised: it's tough. I made an effort to talk with, and solicit advice from, as many people as I could in the weeks and days leading up to the race and there is no doubt that helped me on Monday, despite it being my first time. I think one of the reasons I like marathons so much, and in particular marathons that present unique challenges, is that it forces you to think your way through a race. I played a lot of golf growing up, and it's not unlike having to think your way through a round on a difficult golf course: you have to pick and choose your battles along the way. I think a runner's margin for error at Boston is so much smaller than any of the other marathons I have run, but that gives guys like me a chance to maybe sneak up on some people. The event is unlike any other, and I hope that they'll invite me back to run again.
4. Daily Relay: You currently live and train in another great running city, Eugene, Oregon. What has your experience been like there so far?
Craig Leon: Moving to Eugene a year and a half ago was my second best life decision – the first would still be choosing to attend college at Ohio University. The community here in Eugene welcomed me from day one and I am thankful to have such a great support system in place. I train with a new, non-profit, elite-development club (Team Run Eugene), who offers us financial and medical support, along with numerous opportunities to get involved with the community. The group's founder, Robert Wayner, a physical therapist whose clinic sponsor's the group, and team's coach, Ian Dobson, work, and continue to work, incredibly hard to give this group life. It's been fun to be on board from the beginning and I am really excited to be a part of its future! Immersing myself in the TrackTown community has been such a joy and I honestly feel like one of the luckiest runners out there because everything has turned out so well.
5. Daily Relay: You've put together a string of strong performances with at the Olympic Marathon Trials, Chicago and now 10th at Boston. What's next on your calendar?
Craig Leon: I was 26th at the Trials and 20th at Chicago (5th American). I'm someone who likes to race, so I'll be back at it come May. The plan is to hit some shorter road races over the next few months and then the US Half Marathon Championships in June. It will be good to work on some turnover for a training cycle before gearing up for a fall marathon. The goal in the fall will be to keep knocking time off my PB!
If you enjoy 5 Questions, check out the archive of previous interviews over at Writing About Running