One Comment
5 Questions with Bubby Lyles (the guy that got 150,000 retweets to take Lolo Jones on a date)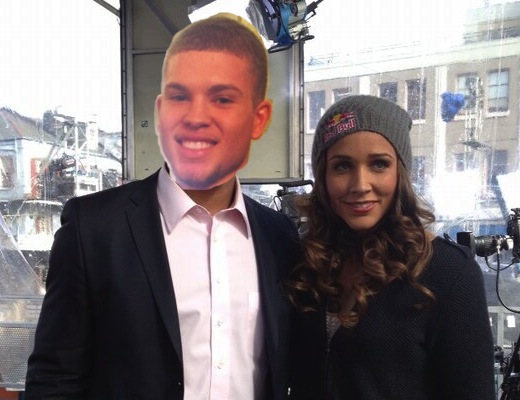 Pat Price | On 10, Jul 2013
disclaimer: here's the real photo
Welcome back to 5 Questions, where we pick the brains of people from all areas of the running scene. Today, we were lucky enough to catch up with the guy that got 150,000 retweets to take Lolo Jones on a date, Bubby Lyles. Follow him on Twitter @harrylylesjr and Instagram.
5 Questions with Bubby Lyles
1. Daily Relay: Who is Bubby Lyles?
Bubby Lyles: I am a 21-year-old student at Georgia State University in Atlanta, Georgia. I live in the metro Atlanta area. My only real connection to track would be this upcoming date with Lolo. I workout very often and enjoy all athletics. I love to teach kids how to play basketball, and often times at the gym, kids will ask me for help and I love to help them, because I didn't have anybody to teach me, so to be able to give back and offer help and show them how to workout in a safe and smart fashion is really one of my favorite things to do.
2. Daily Relay: What is it about Lolo Jones?
Bubby Lyles: Lolo seems like a great person. Obviously she is a pretty woman, but her personality and morals really captured my attention. She seems very down to earth and easy to get along with, and that's something that I look for. You can have looks, but if I can't get along with you or your personality or character is lacking, it won't work. She is very driven and ambitious, and I admire the fact she is so hungry for that gold that she is willing to try another sport to get it, that's a real competitor.
3. Daily Relay: What gave you the idea to solicit a date with the idea of getting 150,000 retweets?
Bubby Lyles: I knew that I couldn't just straight up ask Lolo for a date and get a response, so I have to do something to stick out, to at least get a yes or a no out of her. 150,000 was the second number that came to my mind. I originally thought that 100,000 would be the number, but I thought I could really push the envelope and make 150,000 work, and she would be more inclined to give me the opportunity to accomplish that feat.
If I get 150,000 RTs @lolojones will let me take her on a date! Help me out! pic.twitter.com/j9hFfxqlCi

— Bubby Lyles (@harrylylesjr) June 20, 2013
4. Daily Relay: Can you believe how fast you were able to attain the goal? How did you promote the idea?
Bubby Lyles: I think I am the only person that isn't shocked by how quickly I attained the 150,000 retweets. I always thought from the beginning that I would get them, and that it was just a matter of time. I honestly overestimated the power of Twitter, and thought I would get it sooner. The first few days were slow, and then once I started getting into the thousands, and tens of thousands, is when it really took off and I knew it would be just days before I would reach the 150,000 mark. In the beginning, I promoted the idea by just texting some friends, asking them to retweet. I went on Facebook and told people if they had a Twitter to please retweet it for me, or if not, to share the post. I also had people shouting me out on Instagram. I also reached out to my friend and current University of Georgia linebacker Brandon Burrows, and he got Aaron Murray to retweet it, which really helped. Other athletes like Kendall Marshall of the Phoenix Suns (and former UNC Tar Heel), Dominique Ellis of the Buffalo Bills, and various Major League Baseball players helped my cause as well. Also, these random parody accounts you see on Twitter all the time really pitched in, and I think they made the biggest difference. They have the type of following where they would support something like my cause, and it really helped put me over the top.
5. Daily Relay: Plans for the date? Where and When? Have you recently been in contact with Lolo?
Bubby Lyles: I have exchanged a couple of emails with Lolo's people. They wanted to know what my schedule looks like the next couple of months, and if I would be able to fly out to Baton Rouge. So until everything is set, I don't want to necessarily say what we will or won't be doing as far as a date goes, but I am taking suggestions, and I will make sure Lolo won't regret it and that she will have a good time. I am looking forward to the date and actually getting to know her.
If you enjoy 5 Questions, check out the archive of previous interviews over at Writing About Running