No Comments
What2Watch: Grand Blue Mile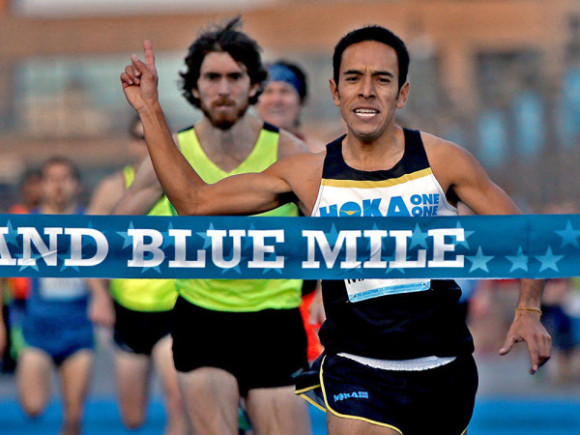 Jesse Squire | On 21, Apr 2015
This is by far the best week of the year for a track and field and running fan. Yesterday was Day 1, the Boston Marathon, and Universal Sports had wall-to-wall live television coverage. The wonderful week continues with the Penn and Drake Relays and wraps up on Sunday with the London Marathon.
Today is Day 2, and while there are only a few good races, one of them is very good. They are all part of the Grand Blue Mile, a road racing event tied into the Drake Relays in Des Moines.
There are seven races tonight for various ages and ability levels, but only two—the men's and women's elite races—are of interest to the track fan. (Maybe three; there's a mascot sprint at 6:35pm local/7:35pm ET).
Unfortunately, it does not appear that the races will be available on television or webcast. Your best bets for live race updates is Twitter, specifically @GrandBlueMile and @DrakeRelays.
LATE EDIT: there will be a low-tech webcast tonight! The link will be available later today at the Grand Blue Mile twitter account (see above).
The women's race goes off first, at 7:15pm local time (8:15pm ET). The field as announced by the Drake Relays:
Heather Kampf (Asics/Team USA Minnesota)
Heather Wilson (New Jersey/New York TC)
Gabrielle Grunewald (Brooks/Team USA Minnesota)
Molly Beckwith Ludlow (Saucony)
Nicole Sifuentes (Saucony/Canada)
Kirsty Legg (England)
Dana Mecke
Kampf is the queen of the road mile and always seems to be in the hunt to win an off-track race. She was runner-up at the BAA mile in Boston on Saturday. Nicole Sifuentes is race-sharp, having run 4:09.35 for 1500 meters last Saturday in Virginia. Gabrielle Grunewald has the fastest 1500 meter PR in the field (4:01.48, two years ago) but has just one race under her belt this season, the Carlsbad 5000. Molly Beckwith Ludlow is a very good 800 runner but the length of this race makes her a bit of an unknown quantity.
The men's race, slated for 7:30pm local time (8:30pm ET), is flat-out loaded. The absence of any distance relays this year at Penn's USA vs The World competition has freed up a ton of talent. Of the top American milers, just two (Ben Blankenship and Lopez Lomong) are not on the start list. That start list is:
Matthew Centrowitz (Nike/Oregon Project)
Leo Manzano (Hoka One One)
Bernard Lagat (Nike)
Pat Casey (Nike/Oregon TC)
Will Leer (Nike)
Riley Masters (Brooks Beasts)
Garrett Heath (Brooks Beasts)
Jordan McNamara (Nike/Oregon TC)
Matt Hillenbrand (Brooks Beasts)
Ryan Martin (Asics)
Frezer Legesse (Under Armour)
Duncan Philips
AJ Acosta
Boaz Korir (Kenya)
Centrowitz, Manzano and Lagat are the headliners, and deservedly so. All three are World or Olympic medalists (although Lagat's was eight years ago and, at 40 years old, he is finally beginning to show a few signs of age). Besides the big three, there is Pat Casey, runner-up at last year's USATF Championships; Will Leer, a two-time World Indoor team member; and Riley Masters, who set his 3:56.15 PR this year.
Tomorrow the great week continues with the Street Vault on Court Avenue in downtown Des Moines, which is slated to include world record holder Renaud Lavillenie.