5 Comments
The Weekend's Best Matchups: Boston and Mt. SAC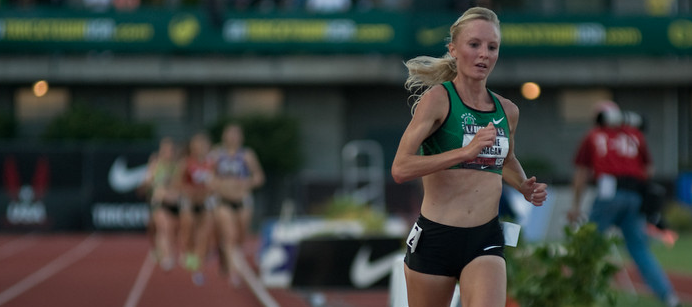 Jesse Squire | On 17, Apr 2015
This weekend's action is centered on the two coasts. The 119th Boston Marathon is on Monday, but the B.A.A. also puts on some shorter races on Saturday. The Mount San Antonio College Relays go through Saturday evening just outside of Los Angeles. And today, the Kansas Relays is going on halfway between them.
I have a lucky thirteen matchups that you should watch this weekend, but one stands out above all the rest.
Flanagan vs History
Women's race, Boston Marathon
Monday, 9:32am
Live coverage on Universal Sports TV from 8:30am
Webcast links: BAA | Universal Sports
Last year I said that every spring is met with two hopes: a Triple Crown and an American winner in Boston. Just about the most dramatic of all possible scripts played out as Meb Keflezighi broke the long US dry spell. This year's question: can Shalane Flanagan (Nike/Bowerman TC) become the first American woman in thirty years to win the race? If the answer is yes, she will be forever famous.
Last year, Flanagan pushed the pace hard from the gun, got dropped in the Newton hills, and finished seventh. This year, she has a different plan of attack, which sounds like "be the hound instead of the hare".
Last year's race was odd. Rita Jeptoo had a record-fast finish off a record-fast pace. It didn't seem possible, especially on Boston's notoriously difficult course. That it didn't seem possible now makes sense since we know Jeptoo got an EPO turbo-boost. Her absence makes things easier for Flanagan, and it also reveals the proper course of action.
If you ignore Jeptoo's presence in the 2013 and 2014 Boston Marathons, here are your margins of victory from the last seven women's races:
2008: 2 seconds
2009: 1 second
2010: 3 seconds
2011: 2 seconds
2012: 2 seconds
2013: 3 seconds
2014: 6 seconds
However it plays out, it appears likely that it will be close. Trying to blow the race open has not been a winning strategy lately. Remember how Desi Linden (Hanson's/Brooks) nearly stole the race four years ago? That's how it usually goes.
The best of the rest, in chronological order…
Kansas vs Kansas State
Collegiate quadrangular, Kansas Relays
Rock Chalk Park, Lawrence KS
Friday
Meet website
Live webcast via Flotrack (subscription required)
The Kansas Relays has a long and distinguished history, but has always been a few rungs down from the top of the relay meet ladder. The meet has reinvented itself several times over the years and managed to stay relevant at a time when only the strong or the wily survive in track and field. The new wrinkle in this meet is a collegiate quadrangular held as part of the larger Kansas Relays. This year's teams are Kansas, Kansas State, Colorado State and Purdue. Most of those teams appear in the top 25 of the Track and Field News dual meet rankings, and of course the intrastate rivalry is the big draw. The meet schedule has been compressed into a single day due to forecasts of severe weather on Saturday.
Whiting vs Hoffa vs Cantwell
Men's pro shot put, Kansas Relays
Eighth & New Hampshire Streets, Lawrence KS
Friday, 6:00pm local time (7:00pm ET)
The downtown shot put is in its fifth year at the Kansas Relays and has been wildly popular. About 3,000 spectators are expected, and they've rounded up the usual suspects: Ryan Whiting, Reese Hoffa, and Christian Cantwell, all of whom are among the top half-dozen of the world's best.
Soratos vs pros
Men's invitational 1500 meters (section A), Mt. SAC Relays
Hilmer Lodge Stadium, Walnut CA
Friday, 6:39pm local time (9:39pm ET)
Meet website | Live results
Live webcast via Flotrack (subscription required)
Montana State's Cristian Soratos came out of nowhere to become a new mile star this year. Indoors, he ran 3:55.27 and finished second at the NCAA championships. His first outdoor races of the season came last weekend, and now he's up against Lopez Lomong (Nike/Bowerman TC), Canadian steeplechase record holder Matt Hughes (Nike), and a few other second-tier pros such as Dan Huling (Nike/Bowerman TC) and German Fernandez (Nike/Bowerman TC). This will be a real test for Soratos.
Saunders vs pros
Women's invitational shot put, Mt. SAC Relays
Saturday, 1:00pm local time (4:00pm ET)
Like Soratos, Raven Saunders (Southern Illinois) is an emerging star who will face off against a good pro field. Saunders was essentially unknown until last year, when she broke the national high school shot put record, and as a college freshman she won the NCAA indoor and threw past the US junior record. At Mt. SAC she'll go up against Becky O'Brien, Jeneva Stevens (New York AC), and Brittany Smith (Nike), the women who finished 2nd, 3rd and 4th at the US indoor championships.
Okagbare vs quarter-milers
Women's invitational 400 meters (heat 1), Mt. SAC Relays
Saturday, 2:08pm local time (5:08pm ET)
Blessing Okagbare (Nigeria) is the world's most versatile sprinter. She swept the sprints at last year's Commonwealth Games, and won Worlds medals in both the 200 and long jump two years ago. She's running the 400 at Mt. SAC for conditioning work and will run against full-time quarter-milers such as Phyllis Francis (Nike) and DeeDee Trotter. Another interesting entry in the race is 800 meter specialist Alysia Montano (Asics).
Sowinski vs Johnson
Men's invitational 800 meters (heat 1), Mt. SAC Relays
Saturday, 2:56pm local time (5:56pm ET)
Erik Sowinski (Nike) and Brandon Johnson (Nike) came out of the woodwork two years ago to become serious national- and international-level competitors in the 800 meters. Sowinski stayed on top, but Johnson took a big step backwards last year. He ran a few indoor races that indicated he was making some sort of return to form, though, and this will his first real test.
Martinez vs Ludlow
Women's invitational 800 meters (heat 1), Mt. SAC Relays
Saturday, 3:04pm local time (6:04pm ET)
Just a few years ago, the women's 800 meters was among the weakest events for the USA. Now Brenda Martinez (New Balance) and Molly Ludlow (Saucony) are #8 and #11 in the All-Athletics rankings, and neither is the top American (that's Ajee Wilson, who is running at Princeton on Friday night). "B-Mart" has a higher performance capacity, but Ludlow is probably more ready to race, so this should be a good battle.
Young vs Old
Men's invitational 110m hurdles (heat 1), Mt. SAC Relays
Saturday, 3:22pm local time (6:22pm ET)
Aleec Harris (adidas) was the dominant hurdler of the indoor season, his first as a pro. He had a great senior season last year at USC but was overshadowed by the shocking improvement of Oregon's Devon Allen. Ryan Wilson is the veteran of the hurdling wars—he's kicking off his twelfth pro season—who finally broke through and won Worlds silver two years ago.
Huddle vs Chepkirui vs Daska
Women's race, B.A.A. 5k
Downtown Boston, MA
Saturday, 8:00am
Molly Huddle (Saucony) has arrived as a serious world-class road racer, and the B.A.A. 5k was the first of her six road wins last year. It's not going to be easy to repeat. Chief among her opponents is Joyce Chepkirui (Kenya), the Commonwealth and African 10k champion, and Mamatu Daska (Ethiopia), whose only loss in last year's B.A.A. Distance Medley series was to Huddle.
Lalang vs Sambu vs True
Men's race, B.A.A. 5k
Saturday, 8:00am
The B.A.A. 5k win streak by Ben True (Saucony) is twice as long as Huddle's, and it might be twice as hard for him to keep it going. Stephen Sambu (Kenya) is a nightmare on the roads, winning ten of his last twelve road races of ten miles or less—but one of those two losses was to True at last year's race. Lawi Lalang (Kenya) is better at the shorter distances and has serious miler speed.
Seyaum vs Uceny vs Kampf
Women's race, B.A.A. Mile
Downtown Boston, MA
Saturday, 11:30am
Morgan Uceny (adidas/Boston A.A.) comes into the B.A.A. Invitational Mile as the favorite based on her three previous victories in the event, but two competitors deserve special note. Heather Kampf (Team USA Minnesota) is the queen of the road mile and was a close second to Uceny last year. Dawit Seayum (Ethiopia) is a former World junior champion and ran a smokin' 3:59.53 for 1500 meters last summer.
Desisa vs Makau
Men's race, Boston Marathon
Sunday, 10:00am
Let's Run marks these two as the favorites to win. Lelisa Desisa (Ethiopia) won Boston two years ago, darn near won New York last fall, and has been first or second in nine of his last ten races. He's consistent, he knows the race, and he thrives in challenging conditions. Patrick Makau (Kenya) was once the world record holder and won his most recent race, the Fukuoka Marathon in December. And what about Meb Keflezighi (Skechers)? Winning last year was nigh on a miracle, but lightning has been known to strike twice.