3 Comments
The Weekend's Best Matchups for October 11-13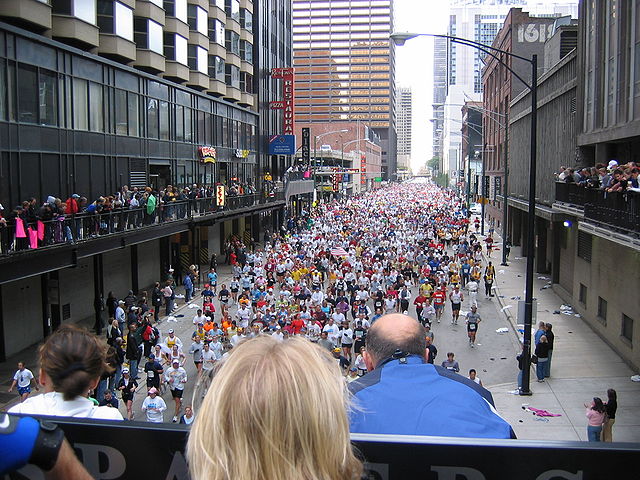 Jesse Squire | On 11, Oct 2013
26.2 magnificent miles await a small city's worth of runners moving through the Second City. (Photo by Creative Commons)
There are a few big college cross country meets this weekend (mostly D-II and NAIA) and some overseas road racing, but the major action of the weekend is all taking place in the Windy City.
The Bank of America Chicago Marathon is the second of three fall World Marathon Majors races and will start on Sunday at 7:30am local time (8:30am ET). Coverage will be on nbcchicago.com and watchathletics.com. Chicago area coverage will be on channel 5 (TV) and 670 AM (radio).
These are the top five matchups to watch.
1. Emmanuel Mutai vs Moses Mosop
These are the two headline names in the men's race. Mutai is tremendously consistent and led April's London Marathon for 25 miles before hitting the wall and finishing second. Mosop is the second-fastest marathoner of all time (from the 2011 "wind-aided" Boston Marathon) and won Chicago two years ago. But you can find reasons to doubt both of them: Mutai has won only one of his eleven career marathons, and a twelfth high-quality marathon is more than a lifetime's worth for most elites. Mosop got shut out of last year's canceled New York City Marathon and hasn't raced at all in 2013.
According to Let's Run, the most likely of the other contenders are Dennis Kimetto and Ayale Abshero. Kimetto is the ascendant racer; his two career marathons are a close second in Berlin last fall and a win in Tokyo this February, both in very fast times. Abshero is just 22 years old and also has only a few marathons on his legs, all very good but just shy of winning.
2. Dathan Ritzenhein vs Matt Tegenkamp
This is the race for the unofficial title of Best American Marathoner. The oft-injured "Ritz" has finally put together a decent stretch of training and racing and looks ready to roll. His 2:07:47 in last year's Chicago race makes him the third fastest American of all time, behind only Ryan Hall and former World Record holder Khalid Khannouchi. Tegenkamp has been a high achiever at shorter distances and is now trying his hand at the marathon for the first time, and his buildup races have gone very well. Each runner will have a trusted friend and training mate as his personal pacemaker. This matchup has the subtext of the Alberto Salazar training group (Ritz) vs the Jerry Schumacher training group (Teg), a serious and intense rivalry.
3. Atsede Baysa vs Rita Jeptoo
These two women staged a fantastic battle in last year's Chicago Marathon, going stride for stride until Baysa won by just one second. Both are back, but Jeptoo has had a better year as she won the Boston Marathon by a comfortable margin while Baysa finished fourth in the London Marathon. If you're looking for an upset, your best bet might be Jemima Sumgong, the reigning Rotterdam Marathon champion.
4. Zerseney Tadesse vs the marathon
Athletes who are good at cross country, 10k, and half marathons almost always become good marathoners but so far Tadesse is the exception. He's a former World Cross Country champion (considered the hardest race in the world to win), holds the world record for the half marathon, and has run 26:37 for 10k. As of now, though, he's been more or less a flop at marathoning; in three attempts, he's never broken 2:10.
He's apparently changed around his training this time, or at least his racing, as he's raced less going into Chicago. If it works then we have a potential monster of a marathoner on our hands. If not then he may be relegated to a side note in long-distance running history.
5. American journeymen vs a breakthrough
There are a handful of second-tier Americans in this race and one of them might be able to make the leap to the next level. The most likely candidates are Sean Quigley (Boulder Track Club), Mike Morgan (Hansons-Brooks Distance Project), Mike Sayenko (Club Northwest), and Craig Leon (Team Run Eugene). These are the semi-pros, the guys who are toiling in obscurity (even by running standards), less known than a running dog named Boogie, the ones who work like the devil for next to no money and sheer love of running. They are the Rockys of marathoning–but the great thing about our sport is that all of them get a shot at Apollo Creed. If one, just one can have a breakout race then it gives hope to the rest of us who are endlessly tilting at our windmills.