8 Comments
Viewer's Guide to Olympic Track and Field: Friday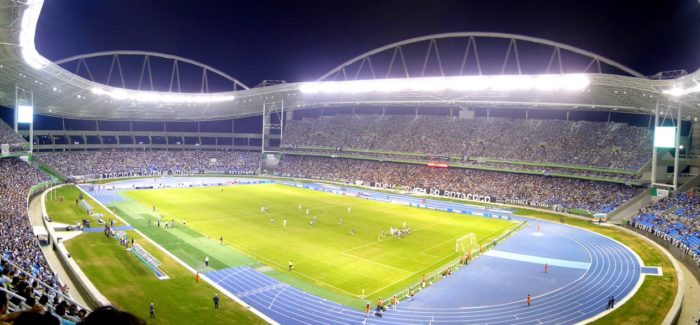 Jesse Squire | On 12, Aug 2016
Welcome to the first of our daily Olympic track and field viewer's guides. We're here to help you find out what, when, how, who and why to watch all of the action.
Today's highlights:
Women's 10,000 meter final (10:10am ET)
Heptathlon day 1 (8:35am/9:50am/7:35pm/9:05pm ET)
Men's 20k racewalk final (12:30pm ET)
Women's shot put final (9:00pm ET)
TV coverage
Things are always in flux, but these are what the current listings say. All times are Eastern.
NBC Sports Network, 9:00am to noon (live)
NBC, 10:00am to noon (live)
NBC, 8:00pm to midnight (likely tape-delayed)
Other options
CBC is pretty much always on-air and rarely tape-delays anything, but not all Americans are lucky enough to live in or near the post-industrial hellscapes of Detroit or Buffalo where Canadian TV is widely available.
US-based viewers can watch live feeds via NBCOlympics.com or one of its apps for your smartphone, tablet, or TV plugin. They're often buggy and can crash or go to commercial at frustrating times, but by and large they're straightforward and good. Canadian viewers have similar, and more reliable, options via CBCSports.ca/Olympics.
Another option is installing a VPN and breaking free of the shackles imposed by national borders. A Virtual Private Network is a way of making it appear that you are accessing the internet somewhere other than where you really are, which can allow you access to feeds supplied by CBC or BBC or whatever other broadcaster you wish. It's not anywhere near as difficult, dicey, or of questionable legality as it sounds; they're common and easy to work with. Like everything else online, VPNs vary in price, quality, and safety, so do your homework first.
Important links
The IAAF's live results page is awesome, bookmark it.
You also need our own Non-Track Fan's Guides to the Olympics for men and women, even if you're a track fan.
Morning Session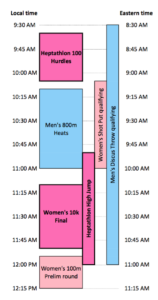 The schedule
Track and field competition schedules are best understood in a visual format since the sport is a sort of three-ring circus, with many things happening at once.
The basics are that morning competition will begin at 8:30am Eastern time and go until about 12:30. There are two finals, the women's 10,000 meters and the first few events of the women's heptathlon.
8:30am: Men's discus qualifying
Qualifying format: There will be two groups, with the second group starting at 9:55am. Each thrower gets three attempts and the top twelve will qualify to tomorrow's final. Anyone throwing at least 65.50 meters (214′ 11″) will automatically qualify (even if that makes more than 12 finalists).
Favorites: Robert Harting (Germany), Piotr Malachowski (Poland), Philip Milanov (Belgium), Christoph Harting (Germany), Gerd Kanter (Estonia), Daniel Jasinski (Germany), Zoltán Kövágó (Hungary)
Americans: Mason Finley, Andrew Evans, Tavis Bailey
Canadians: none
The USA hasn't had a finalist in this event since 2004.
8:35am: Women's heptathlon, 100 hurdles
Favorites: Jess Ennis-Hill (Great Britain), Brianne Theisen-Eaton (Canada), Laura Ikauneice-Admidina (Latvia), Nadine Broerson (Netherlands), Nafissatou Thiam (Belgium)
Americans: Barbara Nwaba, Heather Miller-Koch, Kendell Williams
Canadian: Theisen-Eaton
In case you haven't seen it in near-constant advertisement, Theisen-Eaton is the wife of American uber-decathlete Ashton Eaton.
The multi-events (decathlon and heptathlon) are about living up to your potential. What that means is that a good hurdler on a bad day might still beat a bad hurdler on a good day, but the first has left points on the table and the second has picked them up. With that in mind, here are the career best times of the expected medal contenders:
Ennis-Hill, 12.54
Theisen-Eaton, 12.93
Ikauneice-Admidina, 13.07
Broerson, 13.39
Thiam, 13.63
9:05am: Women's shot put qualifying
Qualifying format: Two groups will compete simultaneously in two shot put rings. Each thrower will get three attempts and the top 12 will qualify to tonight's final.
Favorites: Valerie Adams (New Zealand), Lijiao Gong (China), Michelle Carter (USA), Christina Schwanitz (Germany), Raven Saunders (USA), Anita Márton (Hungary)
Americans: Carter, Saunders, Felisha Johnson
Canadians: Brittany Crew, Taryn Suttie
Other than the boycotted 1984 games, the USA has never put three women in the final of this event.
9:10am: Men's 800 meter heats
Qualifying format: There will be seven heats. The top three in each heat automatically qualify to tomorrow night's semifinals, along with the next three fastest runners from all seven heats combined.
Favorites: David Rudisha (Kenya), Alfred Kipketer (Kenya), Ayanleh Souleiman (Djibouti), Boris Berian (USA), Nijel Amos (Botswana), Adam Kszczot (Poland)
Americans: Berian, Clayton Murphy, Charles Jock
Canadians: Brandon McBride, Anthony Romaniw
9:50am: Women's heptathlon, high jump
Again, here are the PRs for the favorites…
Ennis-Hill, 1.95 meters
Theisen-Eaton, 1.89 meters
Ikauneice-Admidina, 1.85 meters
Broerson, 1.94 meters
Thiam, 1..97 meters
10:10am: Women's 10,000 meter final
Read Kevin Sully's preview
Favorites: Almaz Ayana (Ethiopia), Vivian Cheruiyot (Kenya), Tirunesh Dibaba (Ethiopia), Gelete Burka (Ethiopia), Alice Nawowuna (Kenya)
Americans: Molly Huddle, Emily Infeld, Marielle Hall
Canadians: Natasha Wodak, Lanni Marchant
Long shot worth taking: Huddle, 20:1 odds on winning a medal
Vegas sportsbooks are taking Olympic bets this year. I don't know what odds they're giving, but Britain's Ladbrokes is giving 2:5 odds on Almaz Ayana to win, meaning you must bet $5 just to win $2. That means she's heavily favored.
10:55am: Women's 100 meters preliminary round
I'm sure you've seen this going around…
Every Olympic event should include one average person competing for reference.

— Bill Murray (@BiIIMurray) July 19, 2016

Well, that's kind of what happens in the 100 meters preliminary round. Every nation, no matter how small, gets to enter one woman and one man in Olympic track and field even if no one has achieved a qualifying mark. The restrictions are such that they pretty much have to enter the 100 meters. These aren't exactly "average" sprinters but more like good high schoolers. All but eight get weeded out right here. The regular qualifiers, including every sprinter you've ever heard of, get a bye to this evening's heats.
1:30pm: Men's 20 kilometer race walk
I'll freely admit that this 19th-century holdover is one of the odder events in the Olympics. Ridicule it if you like, but the medal winners will be moving fast enough to walk a half-marathon in under 1:25.
The basic rules of racewalking are that at least one foot has to be in contact with the ground at all times, and the back leg must be straight at toe-off. But, like traveling in the NBA or holding in the NFL, no one is ever fully compliant. Three warnings lead to a disqualification, thus the yellow-card scoreboard you will see during the race.
It's also an event where the complete absence of Russian athletes has made this a wide-open affair. According to betting odds at Ladbrokes, the favorites are Eiki Takahashi (Japan), Zhen Wang (China), and Miguel Angel Lopez (Spain), at 3-1, 4-1, and 5-1 respectively. No Americans qualified, but Canada has three medal threats in Evan Dunfee, Inaki Gomez, and Ben Thorne. Thorne, a former NAIA champion at the University of British Columbia, won bronze at last year's World Championships.
Evening Session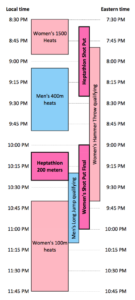 The schedule
As you can see, the evening competition begins at 7:30pm Eastern time, which is before NBC's primetime coverage begins. I suspect the Peacock will give little to no live coverage of tonight's track and field action. Live streams are the way to go.
7:30pm: Women's 1500 meters heats
Qualifying format: There are three heats of 14 each, and they will be cut down to 24 semifinalists. The top six in each heat automatically qualify plus six more by time.
Favorites: Genzebe Dibaba (Ethiopia), Faith Kipyegon (Kenya), Jenny Simpson (USA), Laura Muir (Great Britain), Sifan Hassan (Holland), Dawit Seyaum (Ethiopia)
Americans: Simpson, Shannon Rowbury, Brenda Martinez
Canadians: Hilary Stellingwerff, Gabriela Stafford, Nicole Sifuentes
7:35pm: Women's heptathlon, shot put
Again, the PRs of the favorites…
Ennis-Hill, 14.79 meters
Theisen-Eaton, 13.99 meters
Ikauneice-Admidina, 13.22 meters
Broerson, 14.93 meters
Thiam, 15.24 meters
7:40pm: Women's hammer throw qualifying
Qualifying format: The entrants are in two groups (throwing at 7:40 and 9:20pm) with each athlete getting three attempts. The top twelve will go to Monday morning's final, with anyone over 72.00 meters (236′ 3″) doing so automatically.
Favorites: Anita Wlodarczyk (Poland), Zheng Wang (China), Wenxiu Zhang (China), Betty Heidler (Germany), Hanna Skydan (Azerbaijan), Gwen Berry (USA)
Americans: Berry, Amber Campbell, DeAnna Price
Canadian: Heather Steacy
8:05pm: Men's 400 meters heats
Qualifying format: 54 athletes in seven heats will be cut down to 24 semifinalists. The top three in each heat automatically qualify plus another three by time.
Favorites: Wayde van Niekerk (South Africa), Kirani James (Grenada), LaShawn Merritt (USA)
Americans: Merritt, Gil Roberts, David Verburg
Canadians: none
8:20pm: Men's long jump qualifying
Qualifying format: Two groups of 16 jumpers each will compete on side-by-side runways. Each athlete gets three attempts and the top 12 go to the final, with anyone over 8.15 meters (26′ 9″) getting there automatically.
Favorites: Greg Rutherford (Great Britain), Fabrice Lapierre (Australia), Jeff Henderson (USA), Jarrion Lawson (USA), Gao Xinglong (China), Rushwal Samaai (South Africa), Mike Hartfield (USA)
Americans: Henderson, Lawson, Hartfield
Canadians: none
9:00pm: Women's shot put final
Favorites: Valerie Adams (New Zealand), Lijiao Gong (China), Michelle Carter (USA), Christina Schwanitz (Germany), Raven Saunders (USA), Anita Márton (Hungary)
Americans: Carter, Saunders, Felisha Johnson
Canadians: Brittany Crew, Taryn Suttie
Long shot worth taking: Carter is a 33-1 bet to win.
Notes: Val Adams was once the most dominant athlete on the track and field circuit, but recovery from injury has made her mortal. If she's anywhere near her old self then she's once again a lock to win…
The USA has won just a single Olympic medal ever in this event, Earlene Brown's bronze in 1960. Brown went on to be a feared defender in roller derby and earned the nickname "747"…
Expect NBC announcers to tell you that Michelle Carter is the daughter of NFL great Michael Carter. Expect them to not know that Val Adams' "little" brother is Steven Adams, the center for the Oklahoma City Thunder…
Saunders was basically unknown three years ago, then in 2014 she broke the national high school record and won silver at the World Junior Championships. After just two years of NCAA competition she owns about every collegiate record on the books…
9:05pm: Women's heptathlon, 200 meters
The PRs of the favorites…
Ennis-Hill, 22.83
Theisen-Eaton, 23.33
Ikauneice-Admidina, 23.64
Broerson, 24.57
Thiam, 24.78
9:40pm: Women's 100 meters heats
Qualifying format: The specifics won't be set until after the morning competition, but it will be a rather brutal affair that cuts about 70 sprinters down to 24 semifinalists.
Favorites: Elaine Thompson (Jamaica), Dafne Schippers (Holland), Shelly-Ann Fraser-Pryce (Jamaica), Tori Bowie (USA), English Gardner (USA), Murielle Ahouré (Ivory Coast), Tianna Bartoletta (USA) , Blessing Okagbare (Nigeria)
Americans: Bowie, Gardner, Bartoletta
Canadians: Crystal Emmanuel, Khamica Bingham