One Comment
The Weekend's Best Matchups: Millrose Games, College Track, Cross Country & more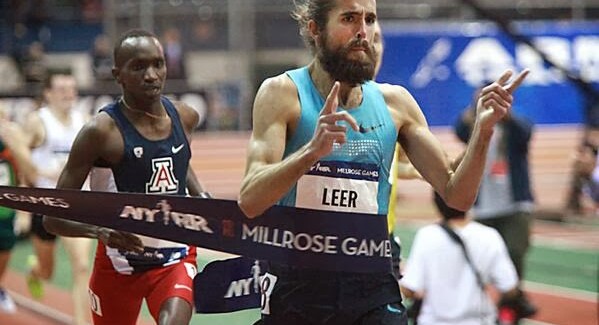 Jesse Squire | On 13, Feb 2015
There are weekends when the great action comes in waves. This weekend has the Millrose Games, still the biggest name in indoor track and field, but there's more: three great college meets, the Kenyan cross country championships, and overseas invitationals. We have a sweet seventeen matchups that you should follow this weekend.
But if you watch only one race this weekend, there's clearly something wrong with you make sure it's this one: the Wanamaker Mile.
Battle Royale
NYRR Men's Wanamaker Mile, NYRR Millrose Games
Armory Track & Field Center, New York NY
Saturday, 7:53pm
Meet website
Live TV coverage on NBC Sports Network from 6:00 to 8:00
There is an art to putting together a field for an invitational race that will generate maximum interest, and this one is a masterpiece. It's not entirely American, but the foreigners are all well known to US fans from their college days. Nick Willis (adidas/New Zealand) is the headliner due to his blazing 3:51.61 win in Boston last week, but Lawi Lalang (Nike/Kenya) anchored a distance medley in 3:52.33 two weeks ago. Leo Manzano (Hoka One One) and Matthew Centrowitz (Nike Oregon Project) are the USA's championship medal-winning stars of the last few years, and Bernard Lagat (Nike) is a legend who is still a contender. The defending champion, Will Leer (Nike) is here, plus Edward Cheserek (Oregon), the most electrifying young college distance runner in a generation. The other five entries are all legitimate stars in their own right and real contenders. This looks to be the best race of the indoor season, period.
The best of the rest, in chronological order…
Bromell vs Teeters
Men's 60 meters, Tyson Invitational
Randal Tyson Track Center, Fayetteville AR
Friday, 8:00pm local time (9:00pm ET)
Meet homepage
Webcast at Watch ESPN from 1:00pm ET Saturday
This will not be part of the webcast coverage of the Tyson Invitational, and that's too bad because it's the first time these two will meet this year. Trayvon Bromell (Baylor) was the star sprinter of the 2014 college outdoor season and set the world junior record over 100 meters. John Teeters (Oklahoma State) is tied with him atop the college 60 meter list at 6.54, and has posted a 6.55 and 6.56 too. Both are undefeated in the 60 so far this year. This is just one of many fantastically deep fields at this meet in the sprints and field events; the USTFCCCA has the lowdown on all of it.
Karoki vs Kamworwor
Men's senior race, IAAF Permit/Athletics Kenya National Cross Country Championships
Uhuru Gardens, Nairobi KEN
Saturday, 8:00am local time (Friday at midnight ET)
Bedan Karoki is the defending Kenyan national cross country champion, and that automatically makes him one of the best runners in the world. He will face dozens of other top runners in what might be the world's deepest annual race, but among the most likely of his challengers is Geoffrey Kamworor, who won the Kenya Police Forces championship two weeks ago. A rising star to watch is Philip Langat, who won three different times in the six leg AK/KCB 2014/15 cross country series.
Cherono vs Chebet
Women's senior race, IAAF Permit/Athletics Kenya National Cross Country Championships
Emily Chebet is a two-time IAAF world cross country champion, so she is automatically one of the favorites here, although neither of her wins were preceded by wins at the Kenyan championships. Gladys Cherono showed fantastic form three weeks ago when she was just edged out at the finish of the Dubai Marathon—but has she had enough time to bounce back? Both of these two are facing another deep field of athletes, led by defending champion Faith Chepng'etich.
Bascou vs Merritt
Men's 60m hurdles, ISTAF Indoor
O2 World, Berlin GER
Saturday, 7:35pm local time (1:35pm ET)
Meet website
Live webcast from 12:35pm ET
While the highlighted event at the ISTAF Indoor meet is the discus—yes, they're throwing the discus indoors—I think the most interesting race is the men's hurdles. Dimitri Bascou (France) is the world leader with 7.51 seconds, and in fact has the year's four best times. Aries Merritt (Nike) has struggled with hamstring problems in the two years since he destroyed the world record for the 110 hurdles, but looks to be back into form. His 7.57 last week is by far his best since that dominant 2012 season and he's just getting started.
Teschuk vs DiSanza
Women's 3000 meters, Iowa State Classic
Lied Recreation Center, Ames IA
Saturday, 3:40pm local time (4:40pm ET)
Meet homepage
Live webcast at Flotrack (subscription required)
The best race at the Iowa State Classic looks to be the women's 3000 meters, which brings together a top miler and 5k runner. Erin Teschuk is a junior at North Dakota State who has improved her mile PR by a stunning 16.5 seconds in just two races and currently leads the NCAA qualifying list. Wisconsin's Sarah DiSanza ran a brilliant 15:20.57 for 5k back in December, the third-fastest indoor time in NCAA history, and this will be her first individual race in 2015.
Jenkins vs record book
Men's 3000 meters, NYRR Millrose Games
Saturday, 5:17pm
Live webcast from 2:00pm at USATF.tv
This comes before the live television portion of the Millrose Games but is worth getting on the series of tubes to see. Eight of the twelve entrants are collegians, and half of those are Oregon Ducks. One of them, Eric Jenkins, was runner-up at the NCAA cross country championships in November and ran a fine 13:31 5k three weeks ago. He's a good enough runner that breaking the collegiate record of 7:38.59 is a possibility; it was set by Arkansas' Alistair Cragg exactly eleven years ago Saturday. Also note that Jenkins is clearly just the second-best 3k runner on his team; the best, Edward Cheserek, is taking on top pros in the Wanamaker Mile.
Harris vs world champions
Howard Schmertz Men's 60m hurdles, NYRR Millrose Games
Saturday, 6:07pm
The men's and women's hurdles will kick off the TV portion of the Millrose Games. While the women's race features Sharika Nelvis (adidas), last year's NCAA indoor/outdoor champion, the men's race has a better matchup. David Oliver (Nike) and Jason Richardson (adidas) are the last two world outdoor champions in the high hurdles, but both are rebuilding. Oliver had a decent but not great season in 2014, and Richardson had a just plain terrible season. Both were upset two weeks ago by Aleec Harris (adidas), who is stuck out in lane 8 for this race.
Ahye vs Bartoletta
NYH&RC Women's 60 meters, NYRR Millrose Games
Saturday, 6:13pm
Michelle Lee Ahye (Trinidad & Tobago) first made a name for herself during the early part of last season. Still just 22 years old, she picked up where she left off by winning in Boston last week over the favored Tianna Bartoletta (Nike). They face off again.
Avery vs pros
Women's 3000 meters, NYRR Millrose Games
Saturday, 6:24pm
There are a number of top pros in the field, including Sally Kipyego (Oregon TC/Kenya), a World and Olympic silver medalist, but Kate Avery (Iona) had one helluva season in cross country last fall. She thrashed a quality field at the NCAAs, then went to the European championships and nearly beat teammate Gemma Steel, one of the world's best runners. One the track last summer she was 4th at the Commonwealth Games 10,000 meters. And if Avery isn't up to the task of tangling with the pros, maybe Emily Sisson (Providence) is; she ran 15:21.84 in December, which makes her the 6th-fastest indoors in NCAA history.
Iguider vs half-milers
Mel Sheppard Men's 1000 meters, NYRR Millrose Games
Saturday, 6:35pm
Abdelaati Iguider (Nike/Morocco) is a late add to the field after his 3:54.41 third-place mile run in Boston last week, and he's clearly in shape. But he's more of a 1500/5k type and the 1000 is a bit short for him. Half-mile stars Duane Solomon (Saucony) and Erik Sowinski (Nike) are speed-based half milers and the distance might be a bit long for them. Straddling the middle is Robby Andrews (adidas).
Levins vs Bowerman Track Club
Paavo Nurmi Men's 5000 meters, NYRR Millrose Games
Saturday, 6:45pm
Cam Levins (Nike Oregon Project/Canada) was the star of the night two weeks ago at the Armory Invitational with his short-turnaround mile/2-mile double. Clearly he's in tremendous shape and it's hard to see Levins' own Canadian record (13:19.16) not being broken. All of his main competition will come from the NOP's rival, the Bowerman Track Club: former US indoor record holder Lopez Lomong plus Ryan Hill and Andrew Bumbalough. Victory is far from assured for Levins, but I assure you it will be fast.
Borlee vs Americans
NYAC Men's 500 meters, NYRR Millrose Games
Saturday, 7:03pm
Jonathan Borlee (Nike/Belgium) is clearly the best 400 meter runner in this field. He has a PR of 44.43 and won the 2009 NCAA title. But this is not 400 meters, it's 500 meters, and any odd distance favors chaos. Mike Berry (Nike) is a tough runner too and Bershawn Jackson (Nike) figures as a favorite just due to the kind of strength that a 400 hurdler has to have, but it should be noted that Brycen Spratling is the collegiate record holder in the event and fifth-fastest in world history.
Richards-Ross vs Francis
AT&T Women's 400 meters, NYRR Millrose Games
Saturday, 7:15pm
This is a matchup of the two collegiate indoor record holders. Phyllis Francis (Nike) broke the record last year while running for Oregon, and Sanya Richards-Ross (Nike) held it fro Texas from 2004 to 2007. It's also a matchup of women on the opposite ends of their careers; it's Francis' first full season as a pro and Richards-Ross' eleventh.
Rowbury vs the clock
NYRR Women's Wanamaker Mile, NYRR Millrose Games
Saturday, 7:20pm
This is not specifically being set up as a record attempt, but it's hard to see it any other way. Shannon Rowbury (Nike Oregon Project) ran the year's fastest mile, a 4:22.66 on a flat track two weeks ago, which puts her at #5 in world history. Two weeks before that, she ran 4:27.86 at the back end of a one-day 1000/mile double—the year's second-best time. In other words, a tired Rowbury > anyone else rested. So this at least has the appearance of a coronation more than a race. The numbers to watch: 4:21.45 (Millrose record), 4:20.5 (American record), and 4:17.14 (world record).
Scott vs Coogan
Women's 3000 meters, Husky Classic
Dempsey Indoor, Seattle WA
Saturday, 4:25pm local time (7:25pm ET)
USTFCCCA preview
Live webcast at Flotrack (subscription required)
Dominique Scott (Arkansas) and Katrina Coogan (Georgetown) are the top two returnees in this event from last year's NCAA indoor championships and are the favorites here, along with Bethan Knights (Cal) and superfrosh Elise Cranny (Stanford). The Husky Classic is a distance-based meet and the USTFCCCA has a full preview of all eight distance races.
Steel vs Jelagat
Women's race, Cinque Mulini
Five mills, San Vittore Olona ITA
Sunday, 12:30pm local time (6:30am ET)
Meet website
Britain's Gemma Steel won the European cross country championships in December, topping off a fantastic 2014 year. Here she faces off against Viola Jelagat, a top-notch Jackie-of-all-trades who has won five of her last seven races. This is the famous Five Mills race, in which athletes run around five water mills—and through one of them.