2 Comments
The Scoreboard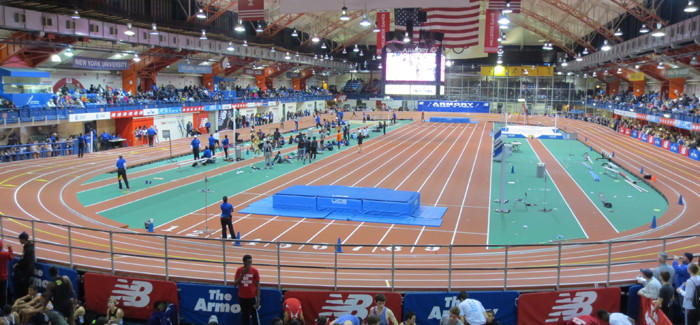 Jesse Squire | On 15, Feb 2015
Every Friday I preview the best matchups of the weekend, and on Sunday I take a look at how they turned out.
Battle Royale: Centrowitz
With 20/20 hindsight, the men's Wanamaker Mile was going to come down to Matthew Centrowitz (Nike Oregon Project) and Nick Willis (adidas/New Zealand). Those two were well clear of the rest of the field and Centro held on for the win by 0.11 seconds. His time, 3:51.35, was 0.01 off his indoor PR.
More from the Associated Press
Bromell vs Teeters: nobody
Trayvon Bromell (Baylor) and John Teeters (Oklahoma State) are clearly the two best 60 meter sprinters in college track this year but have yet to meet in a race. Both were the top qualifiers to the finals at the Tyson Invitational on Friday night and neither ran. They can't hide from each other in either of their next two meets, the Big 12 and NCAA Championships.
More from the USTFCCCA
Karoki vs Kamworwor: Karoki
Bedan Karoki successfully defended his title at the Kenyan cross country championships, with Geoffrey (Kipsang) Kamworwor second by 11 seconds. Karoki might be the favorite for the World cross country championships in March.
More from the IAAF
Cherono vs Chebet: Chepng'etich
Faith Kipyegon Chepng'etich won the women's senior race at the Kenyan cross country championship for the second straight year, while two-time world champion Emily Chebet finished a disastrous 14th. No word on whether or not Gladys Cherono even ran; she was listed as a participant in pre-race reports but her close runner-up finish at the Dubai Marathon was just three weeks ago.
Bascou vs Merritt: Ortega
Dimitri Bascou (France) dominated the indoor circuit up until Saturday's ISTAF Indoor in Berlin, where he finished fourth. The once-dominant Aries Merritt (Nike) is beginning to put things back together after two injury-plagued years. Both were beaten by a pair of Cubans, with Orlando Ortega winning in 7.51 seconds, which stood as the world leading time for a few hours.
More from the IAAF
Teschuk vs DiSanza: Teschuk
Wisconsin's Sarah DiSanza ran an amazing 15:20 for 5k in December but was a no-show for the 3000 meters on Saturday at the Iowa State Classic. In her absence, breakout North Dakota State star Erin Teschuk won the race in 9:02.40, which stood as the collegiate leader for a few hours. It appears to be the first 3000 meter race that Teschuk has ever run.
More from KVRR
Jenkins vs record book: record book
Oregon's Eric Jenkins won the 3000 meters at the Millrose Games with one of the most underhyped results of the weekend: 7:44.91. He did not come close to the overall collegiate record (7:38.59) but narrowly missed the best ever by a US collegian, the 7:44.69 by Galen Rupp in 2009.
Harris vs world champions
Aleec Harris (adidas) turned back a strong field of hurdlers at the Millrose Games, including three world champions: Jason Richardson (adidas), Ashton Eaton (Oregon Track Club) and David Oliver (adidas). His winning time of 7.50 seconds is the fastest of 2015.
Ahye vs Bartoletta: Ahoure
In the rematch of Michelle Lee Ahye (Trinidad & Tobago) and Tianna Bartoletta (Nike) from the 60 meters at last week's New Balance Indoor Grand Prix, the winner was Michelle Ahoure (Nike/Ivory Coast), in a world-leading 7.05 seconds.
More from AFP
Avery vs pros: pros
Iona's Kate Avery may have run some great cross country races last fall, but she was "just" sixth at the Millrose Games. Sally Kipyego (Oregon Track Club/Kenya) looked average last week in Boston but apparently was just getting tuned up; she won here with relative ease in 8:41.72.
Iguider vs half-milers: half-milers (walkover)
Abdelaati Iguider (Nike/Morocco) was on the start list for the 1000 meters at the Millrose Games but did not run, leaving the race to go to the half-mile specialists. Erik Sowinski (Nike) edged out Robby Andrews (adidas) for the win.
More from Let's Run
Levins vs Bowerman Track Club: BTC
Cam Levins (Nike Oregon Project/Canada) was the star of the Armory Invitational two weeks ago, winning the mile and two mile in less than forty minutes, but here he faded badly late in the race. The Bowerman Track Club took first and second, with Lopez Lomong taking the win.
More from Let's Run
Borlee vs Americans: Americans
There was a lot of awful announcing on the Millrose Games telecast, virtually all by the barely-sentient Tom Hammond, but I think the gold medal for verbal incompetence goes to the men's 500 meters. No one seemed to know anything about anyone save Bershawn Jackson (Nike)—not even Belgian Olympian and Florida State alum Jonathan Borlee (Nike)–but the win went to unsponsored Brycen Spratling (This Space For Rent) in a new world record of 60.06 seconds, which left the announcing crew flummoxed. That he was already the collegiate record holder in this odd event and the only race-sharp athlete in the field was known to anyone who cares to do any pre-meet research…which is most clearly not Hammond.
More from Let's Run
Richards-Ross vs Francis: Francis
Another event where Hammond showed he's a nice voice in an empty suit was the women's 400 meters, where he only knew Olympic star Sanya Richards-Ross (Nike). He had no idea who Phyllis Francis (Nike) was when she swept by on the homestretch for the win. As the indoor American record holder, she's likely to be one of the next batch of Olympic stars.
Rowbury vs the clock: the clock
Shannon Rowbury (Nike Oregon Project) was clearly shooting for the American record but was undone by a rabbit who let the pace on the second 400 meters lag, and legs that nearly buckled in the last 20 meters.
More from Let's Run
Scott vs Coogan: Scott
Dominique Scott (Arkansas) won the 3000 meters at the UW Husky Classic in 8:52.57, the #5 indoor time in college history. That plus her status as the top returning runner from the 3k at last year's NCAA indoor championships makes her the favorite. Katrina Coogan (Georgetown) was the second-best returnee from last year's meet; she finished fifth behind Scott, a pair of pros, and freshman standout Elise Cranny (Stanford).
More from ArkansasRazorbacks.com
Steel vs Jelagat: Jelagat
Viola Jelagat (Kenya) won the classic Cinque Mulini cross country race near Milan, Italy, this morning. The race goes around five water mills and right through one of them. Britain's Gemma Steel, the European cross country champion, does not appear to have run.