2 Comments
The Monday Morning Run: Ben True's World Lead, Santos upsets Merritt, Gay's suspension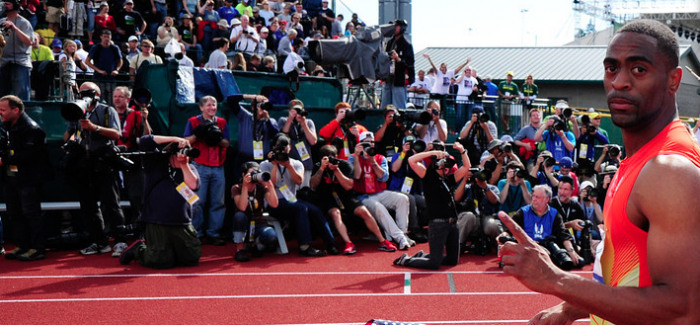 Kevin Sully | On 05, May 2014
Photo via TrackTownPhoto
Sprinters in Kingston, distance runners in Palo Alto, but first a few more words about Meb. These are the last ones, I swear. Until he wins New York City in the fall.
This week, Amby Burfoot of Runner's World deconstructed various theories about how Meb was able to win the Boston Marathon. Burfoot does an excellent job debunking some of the myths and conspiracy theories floating around two weeks after the historic win.
Much of this speculation stems from a misunderstanding of Meb's chances going into the race. Was he an underdog? Absolutely. But the chatter after the race gave the field too much credit and Meb not enough.
Consider the following: Meb's personal best entering Boston was 2:09:08, only good for 17th among the elites who towed the line in Boston. Not "fast" by today's standards, except when you look at the type of courses he runs. Meb has never run Amsterdam, Rotterdam, Berlin, or Dubai. He competed once in London in 2007 and once in Chicago in 2004.
That's the entire list of Meb's attempts on paced, pancake courses. The rest of his career is comprised of Boston, New York and Olympic Trials and Olympics. So he entered the race with a very misleading 2:09:08 attached to his name. If he had focused his career on simply running fast, as opposed to winning, a conservative estimate would have his personal best under 2:07.
On the other side of this discussion is the hype about the strength of his competitors. "The greatest Boston field of all-time" was thrown around quite a bit before and after the race. On time, this was true, but once again let's look at where these performances were run. There were eight runners with entry times under 2:06. Two of those times come from the severely wind-aided 2011 Boston race. The other six are split between Chicago, Dubai, Amsterdam and Rotterdam. Only Gebre Gebremariam, Dennis Kimetto and Lelisa Desisa had won a major marathon. None of them finished the race.
Neither of these facts mean that Meb's win wasn't an upset. With stars like Kimetto and Desisa in the field, Meb's odds were at best 50/1. But when those same runners dropped out of the race, his chances skyrocketed. Improbable, yes. Impossible, only if you put way too much stock in numbers.
The Medalists
The top three performances of the week…
Gold: Luguelin Santos
Last week, we were brimming with excitement over the the Lashawn Merritt/Kirani James rivalry in the 400. Luguelin Santos mucked that up this week. The Dominican ran 44.82 to upset Merritt at the Jamaican Invitational in Kingston. Merritt was even with Santos in the final 100 meters, but leaned too soon and finished in 44.86.
Santos is a known quantity, but all of the gold medal talk since 2011 has centered on James and Merritt. At Drake, he placed third behind the two favorites. Could Santos be the third-party in this rivalry?
Silver: Ben True
True won the stacked 5,000 at the Payton Jordan Invitational in 13:02.74, edging Hassan Mead who ran 13:02.80. Both men walked away with huge personal bests. With the win, True continues his gradual climb into the first tier of American 5,000 runners. He also looks poised to be the next to break the 13 minute barrier.
The names True beat are impressive: Lopez Lomong, Chris Derrick, Evan Jager, Matt Centrowitz, Ryan Hill and Andrew Bumbalough. But the most remarkable aspect of True's rise over the last couple years has been his consistency. On the track, the roads and the cross country course he seemingly never has a poor race.
Equally startling is just how fast American 5,000-meter men are running. Without Bernard Lagat and Galen Rupp, the United States had five men break 13:10 on Sunday evening in Palo Alto.
Bronze: Justin Gatlin
Maybe the arbitrary Monday Morning Run bronze medal will ease the pain of possibly losing an actual Olympic silver (more on that below). Gatlin won the 100 in 10.11. All of the sprint times at the typically fast Kingston track were slowed by a headwind. For the men's 100, the reading was a -1.9, which means Gatlin ran a sub-10 effort in calm conditions.
22-year-old Jamaican Andrew Fisher finished second in 10.21. Walter Dix, who looked good in his return to the track last week at the Penn Relays, struggled and ran 10.45 for seventh place–still too soon to have a reading on him for this season.
Surging….
-Kori Carter
Considering how good she was, Kori Carter kept a surprisingly low profile last year. She won the NCAA Championships, held the world lead in the 400 hurdles until July, but disappeared after dropping out in the heats of the US Championships. Had she made it through the season, Carter was a good bet for a medal in Moscow and could have possibly challenged Zuzana Hejnova for the gold.
Instead, she entered her first professional season a bit off the radar. That will change quickly. She dispatched a solid field in Kingston, winning the race in 54.94, the fastest time in the world this year.

-Felix Sanchez
This season, all men's 400-meter hurdles results will be reported in relation to Ashton Eaton. Felix Sanchez won the race in Kingston in 49.21 and Isa Phillips, who Eaton beat two weeks ago at Mt. SAC, finished fourth, .78 back of Sanchez. I'm not sure how the transitive property works in 400-meter hurdling, but I think that is a good sign for Eaton.
-Hansle Parchment 
High hurdlers talk often about rhythm. Rhythm from hurdle to hurdle, but also from one race to the next. David Oliver's 2010 undefeated season is a prime example. One dominant win rolled into another throughout the summer. Same with Aries Merritt's 2012 and Brianna Rollins's 2013. If you want to know who is going to be hurdling well at the end of the season, sometimes it's as simple as seeing who is winning the beginning.
Parchment hopes that holds true for this year. It is very early, but he has already racked up two quality wins. Last week at the Drake Relays he beat Oliver. On Saturday, he beat Ryan Wilson and Andrew Riley to win in 13.42.
–Juan Carlos Alanis
Come on, everybody comes to the Payton Jordan meet to watch the 100.
Slowing….
-2012 American Men's 4 x 100 Team
On Friday, USADA announced a one-year suspension for Tyson Gay. The suspension is backdated to the date of his positive test, so Gay will be eligible to compete by the end of June. USADA typically hands out two-year suspensions for doping violations, but Gay's penalty was reduced because he cooperated with the investigation. David Epstein reported several months ago that Gay was using a cream that contained DHEA and testosterone.
All of Gay's results from July 2012 (when he reportedly first used the drug) through June 2013 will be voided. He has already given back his silver medal from the Olympic 4 x 100 and it is likely his teammates will have to do the same. Trell Kimmons, Justin Gatlin, Ryan Bailey and Gay made up the quartet that set the American record in the final. Jeff Demps and Doc Patton also received silver medals for running legs in the preliminary heat. The IAAF has reportedly elevated Trinidad and Tobago to silver and the French to bronze.
The policy about relay teams returning their medals due to failed drug tests is a bit murky. Marion Jones's teammates got to keep their relay medals after appealing the ruling to the Court of Arbitration of Sport. In 2003, the American 4 x 400 World Championship had to return their gold medals after Calvin Harrison's second doping violation.
Ideally, there would be a clear policy regarding situations like this where one teammate is caught cheating. However, like most aspects of anti-doping, the rules are often inconsistent. If the team gained an advantage from having Gay, which they clearly did, then it is hard to justify them keeping their place or their medals.
It will be interesting to see how Gay will be received once he returns to racing. There is a funny morality that goes along with this. We want Gay to come clean and name names. When he does, the perception is that he sold his teammates out to shorten his own suspension. Never mind the fact that the medals are ill-gotten.
A few other points:
-What does it say about the effectiveness of testing if Gay was able to avoid detection in 2012?
-If "plea deals" such as the one Gay took are off the table, what other incentives do convicted dopers have to cooperate?
-Although they failed tests at roughly the same time, Asafa Powell's suspension will end up being about six months longer than Gay's. Powell tested positive for a stimulant, which should have drawn a shorten suspension than Gay. Powell, however, drug his feet throughout the entirety of the process and claimed he was unaware of what substances were on the banned list.
-British Long Jump Records
Greg Rutherford jumped 27-11 last week to set the British national record. Then, video tape surfaced including a screen shot that appeared to show Rutherford's foot over the toe board. The previous holder, Chris Tomlinson, thinks Rutherford's mark should be thrown out.
As an American, it's nice to finally see a controversy that doesn't involve USATF. Wait……What's that? USATF is involved?
The USA Track and Field association insists the meeting, at the Olympic training centre in San Diego, complied with its standards and that Rutherford's leap was legal. A spokeswoman told the Guardian: "The meet was USATF sanctioned, through our USATF Southern California Association, and used USATF officials. Thus all marks are verified and legal."
-Sanya Richards-Ross
In a race where Francena McCorory set the world lead of 50.24, Richards-Ross finished 5th in 51.62. This was her first major race of 2014 after missing all of indoors and a majority of the 2013 outdoor season. Too early to tell if this is troubling sign for the Olympic champion. As with Walter Dix, we will wait and see.
Keeping Score
Every Friday, Jesse lays out his best matchups of the weekend. Some of them live up to the hype, others never materialize. Here are the results of some of his featured face-offs:
-American Track League vs. Success
There was music. Fans were close to the action. And, most importantly, there were selfies. The crowd in Bloomington, Indiana was either 2,500 or 1,00 depending on who you believe. The competitive fields were sparse. Lolo Jones was the biggest name and she delivered a win in the 100-meter hurdles. Mark Hollis set a world lead in the pole vault. DeeDee Trotter won the 400. There are eight other ATL meets scheduled throughout the summer so there will be plenty of time to evaluate if the "track meet within a rock concert" format has any traction.
The meet was filled with gimmicks to entice fans (fans holding blocks, music throughout the meet, members of the crowd competing in a 40-yard dash), but light on logistics. As of Sunday evening, there were still no results posted on the meet website and there was very little buzz in the weeks leading up to the meet.
-Molly Huddle vs. Sally Kipyego
Both women ran extremely well in Palo Alto. Kipyego won in 30:42, while Huddle finished second in 30:47. Huddle's mark makes her the second fastest American of all-time in the 10,000, only trailing Shalane Flanagan.
-Ryan Whiting vs. Christian Cantwell vs. Reese Hoffa
Whiting didn't compete, Hoffa finished fourth. Cantwell threw a world lead 71-8 ¼ and was his typically candid self after the competition.
Christian Cantwell in Kingston stadium PA interview after winning shot put: "Hell yeah, I'm pleased. Shit, I didn't do anything last year."

— Nick Zaccardi (@nzaccardi) May 4, 2014
-Matt Centrowitz vs. Bowerman Track Club
Ben True conquered all.
-Anna Willard vs. Steeplechase
The former American record holder returned to the steeplechase at Payton Jordan. Steeplechase got the upper-hand in this matchup (as it often does). Willard finished 14th in 10:18.16, almost a minute off of her personal best. With the current depth in the women's steeplechase, I'd be surprised if she chooses to focus on the event again.