No Comments
The Monday Morning Run: 8 Things We Learned This Indoor Season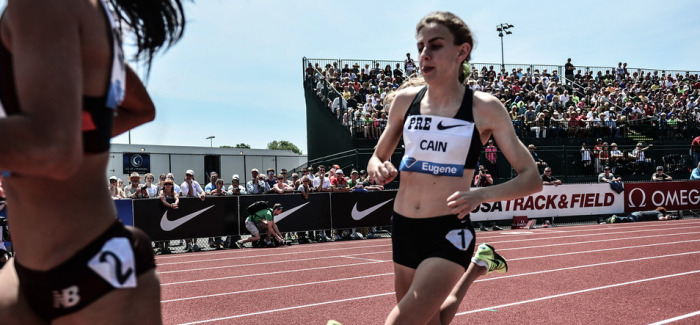 Kevin Sully | On 09, Mar 2015
Last weekend's European Championships in Prague was the last major meet on the professional indoor schedule. More on that at the bottom of the Monday Morning Run. First, let's look big picture and discuss some takeaways over the past two months of indoor competition.
8 Things We Learned Indoors
1) Genzebe Dibaba isn't a one year wonder
By my estimation, her 5,000-meter world record last month is just as impressive as the three she set last winter. Dibaba posted the fourth best mark all-time and did it by running alone for the last 3,000 meters of the race.
The question of whether Dibaba is a one year wonder now evolves into asking whether she is a one season wonder. As in, the winter season.
Dibaba's issue is that the skills that make her great at setting records, running one consistent pace from the gun, aren't the same as what it takes to win a medal in a championship. That last sentence will confuse your non-track friends and it brings up a worthy point. With such a superior personal best to her competition, why doesn't Dibaba try to run from the front this season? Jenny Simpson did this effectively last year and even though the 5,000 is different than the 1,500, Dibaba is playing down to the competition by running with the group.
Sit and kicks might work better for her this year, but if it doesn't, why not attack from the start? I'm not just talking about Diamond League rabbited races, but the championship ones too. Don't do what Kenenisa Bekele did against Hicham El-Guerrouj in the 2004 Olympics and try to outkick a kicker. Let your PR do the work. There are only two reasons not to try this strategy:
1) Dibaba proves she can win consistently in a tactical race. If that is the case, no need to go into Prefontaine mode.
2) Tirunesh Dibaba, one of the two women who has a faster personal best than her, decides to run the 5,000. I'm not sure why she would return to the track after a successful marathon career, but a fast pace only serves to provoke the Baby Faced Destroyer.
Only Tirunesh Dibaba and Meseret Defar have run faster than Genzebe Dibaba in the 5,000. Both of them are still active, neither are at their peak. Dibaba can go out hard and turn every 5,000 into a wasteland behind her. If she isn't going to win, she can make it incredibly difficult for whoever does.
2) Mary Cain is human
We learned these past six weeks that Cain is, in fact, a human subject to the same struggles and ups and downs as other other professional athletes. Her progress was never going to be linear though she stuck to that course much longer than I ever could have imagined.
Cain ran three major indoor races this year. An 800 at the Armory Track Invitational, the 1,000 at the New Balance Indoor Grand Prix and the Millrose Games mile. None of them went to plan, especially the mile where she finished well off the pace. This is uncharted territory for Cain. She's rarely had a bad race since turning professional, let alone a poor season. Cain hasn't underperformed at all, at least not in races that matter. Her 2013 and 2014 were virtually flawless. After this season, the biggest concern is psychological, not physical.
This indoor season was in such a tight window that there wasn't time to reset after an off race. What plagued Cain for her first competition probably impacted her for all three of her races. During the summer, she will have more time to regroup if she falters. Logic dictates that she will be faster this year than last. She's more experienced. She lives in the same city as her coach and training group. She has more time to concentrate on running.
But logic doesn't always work in determining performances on the track. Logically, Chris Solinsky shouldn't have run the best race of his career in May of a non-championship year in the first 10,000 of his life. Logically, Alan Webb should have been faster at 25 than he was at 18. He wasn't.
Projections are tricky, but they go both ways. Cain isn't guaranteed to run 4:04 and 1:59 just because she has done it before. Likewise, she isn't doomed just because she had a poor stretch of indoor meets this winter.
3) Ashton Eaton is not human
Lost in the midst of this…….
……was the fact that Eaton finished the season sixth on the world list in the 60-meter hurdles. He finished just .01 behind Aleec Harris at the Millrose Games. Harris went on to win the USA Championships two weeks later.
4) Men's high jump continues to be the most interesting field event
Without any real competition Mutaz Essa Barshim went on a barnstorming high jump tour around Europe. He cleared 2.40 and 2.41 in different competitions and had a few near misses at the world record height of 2.46. Barshim and Bohdan Bonderenko pushed each other to amazing performances last year, but without his main rival so far this season Barshim was left to go at it alone indoors.
A world record imminent, a great rivalry….there is only one thing that can make the men's high jump more fun. The presence of an American. Enter, Erik Kynard.
Kynard's not in the 2.40 club yet and thus he sits a level below Barshim and Bondarenko. His three attempts at an American record of 2.41 in Boston were unsuccessful, but encouraging. With another couple of months training, and with the help of some tougher competition, he can get into the 2.40s and join the group of men chasing Bondarenko and Barshim on a weekly basis this summer.
5) Mo Farah still reigns
Based on 2014, you could build a case that Farah's rule over the 5,000 and 10,000 was in danger. His marathon debut didn't go well and he raced sparingly during the summer. In his absence, no single runner rose to prominence, but there were enough that showed great potential in 2015 to make you think that one or two of them could seriously challenge Farah when the medals were handed out in Beijing.
In his one appearance this winter, he quelled any doubts about who is the best distance runner in track and field. Farah set the world record in the two-mile, running 8:03.40 in Birmingham. It was a reminder that while much of the focus this winter was on what he tweeted and who he trained with, Farah is still very much in his prime.
6) American women's mid-distance is stronger than anticipated
Since the calendar turned, a recurring topic on the Monday Morning Run is how strong the American women's mid-distance group will be this year. Between the 800 and 1,500, every member of the United States that earns a trip to Beijing will have a bonafide chance at a medal. Despite these lofty expectations, the Americans look even better positioned after the indoor season.
Jenny Simpson ran one race and ran it well, setting an American record in the two-mile. Shannon Rowbury almost ran the table and had a legitimate chance at the American record in the mile if not for lack of competition or better pacemaking. In the 800, Ajee Wilson ended her season with a rough fall at the US Championships, but even in a crash she emerged unscathed. Prior to that race, she ripped through the indoor season and was tactically sound and as fast as always.
Where the US really helped themselves was with Alysia Montano. Montano, like her fellow 800-meter runner Brenda Martinez, only appeared in one major meet, but once was enough to show that she is ahead of schedule for the outdoor season.
Right now, Wilson, Montano and Martinez are favorites for the spots to Beijing. In the 1,500, Simpson has a bye so the Americans will send four. Rowbury is a lock barring injury. The last two spots look open and might be the only vulnerability for the Americans. At the beginning of the year, I'd have written Mary Cain's name down for no worse than third at the US Championships. Her struggles make the predictions a bit more complicated, but the US is in a strong position regardless.
7) Open season ahead in the sprints
Like always, there isn't much to gather from the sprints indoors. In fact, one race outdoors over 100 meters is probably a better predictor of success than an entire indoor season. Richard Kilty and Marvin Bracy both won titles this season, just as they did in 2014.
The biggest names–Usain Bolt, Justin Gatlin, Yohan Blake, Veronica Campbell-Brown, Shelly-Ann Fraser-Pryce and Allyson Felix didn't run indoors. When they were gone, nobody asserted themselves. Ryan Bailey, Kim Collins, Murielle Ahoure and Tianna Bartoletta looked the best of the established names, but drawing any conclusions from a two month long season where the distance is only 60% of what the athlete is training for outdoors is a tricky proposition.
Success in one doesn't usually translate to the other. It's rare for a man or woman to have the fastest time in the world in both the 60 and 100 in the same year. Carmelita Jeter was the last to do it in 2009. The only thing we can glean from this season (and from looking at last year) is that there are a lot of sprinters who could be in the mix in Beijing. Maybe not for gold, that list is decidedly shorter, but there are medals that are up for grabs in both the men's and women's sprint events.
8) French hurdlers are on the rise
Is it too late to add an event to the World Relays? With the emergence of the French men's high hurdlers, a shuttle hurdles relay against the United States might actually be a race. France swept the medals in the 60-meter hurdles at the European Indoor Championships.
Right now, their depth is nowhere near the Americans, but they could put a solid four on the line. Based on last year's times, the United States had five hurdlers faster than France's second best and 12 better than France's #3. With Pascal Martinot-Lagarde leading them, they could keep it close. World junior record holder Wilhem Belocian, and Dmitri Bascou give France a top three that better than any nation in the world, save for the US. Of course the United States could trot out several quartets capable of winning the race. They have the last three global champions to chose from (David Oliver, Aries Merritt and Jason Richardson).
As good as that group were/are neither of them made it into the American's top four last year. That group comprised of Ronnie Ash, Aleec Harris, Devon Allen and Ryan Wilson. A shuttle hurdles relay wouldn't nearly be as competitive on the women's side. A U.S. vs. the World structure would be more interesting. Even then, the Americans are favored unless the world team gets to use Sally Pearson twice.
The Medalists
The top three performances of the week……
Gold: Katarina Johnson-Thompson
KJT just missed the pentathlon world record when she recorded 5,000 points at the European Indoor Championships. Entering the final event of the competition, the 800, she needed to run 2:11.86 to break the record. She ran 2:12.87.
Not often you see first-place finisher in a race bury head in hands and second-place finisher raise arm in triumph. pic.twitter.com/enYvkbuXx3

— Nick Zaccardi (@nzaccardi) March 6, 2015
Silver: Renaud Lavillenie
Unlike some events at the European Championships, the field events are typically Diamond League quality. Even with the tough competition, Lavillenie won the competition by a wide margin. He cleared 6.04 meters. The best height was 5.85 meters.
Bronze: Jakub Holusa
The most exciting race of the European Championships came in the men's 1,500 when Jakub Holusa of the Czech Republic chased down Turkey's Ilham Tanui Ozbilen on the final lap to the delight of Holusa's home crowd. Ozbilen looked over his shoulder several times in the last 50 meters (because that is the most effective way to run fast), but couldn't hold off Holusa.
Surging….
-The Borlees
The family comprised 75% of the gold medal winning men's 4 x 400 team at the European Indoor Championships. Julien Watrin (who we can only assume to be a distant Borlee cousin) led off in 46.88. Dylan Borlee ran second and posted a split of 45.86. Jonathan couldn't let Dylan have the fastest split of the day so he ran a 45.14 and put Belgium in first place. And then Kevin got the baton and put them all to shame with a 44.99. One small victory for Belgium, one giant victory for genetics.
-Christopher Taylor
The next 400-meter prodigy is here. Fifteen-year-old Christopher Taylor ran 45.69 at the Carifta Games Trials in Kingston, Jamaica on Sunday. That is an age group record and he did it while jogging the final 10 meters.
-Sandra Perkovic
Sticking with outdoor performances, Sandra Perkovic threw the discus 70.08 meters at a meet in Split, Croatia. That is only one meter off her lifetime best, which also is the farthest throw since 1992.
Slowing….
-Only one nominee for this category and it is this man:
Taking hipster to the extreme. Interesting look by high jumper Gianmarco Tamberi. pic.twitter.com/fQG7zBf1Ug

— Aimee Lewis (@aimee_lou_lewis) March 8, 2015