No Comments
College Track Issues & Answers: Between the Championships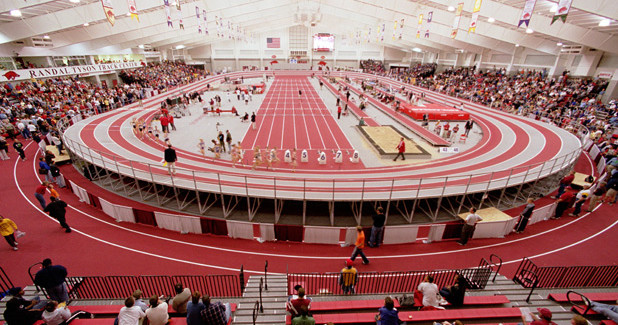 Jesse Squire | On 03, Mar 2015
Fayetteville and the NCAA Division I Indoor Championships await.
The past weekend saw conference championship meets over most of the NCAA, and in two weeks we'll have the national collegiate championships. The USTFCCCA did a nice job of summarizing the action in three separate posts: sprints/hurdles, distance, and field events.
One thing is missing from all of that, though: a summary of how the teams did. It is, after all, what makes college track different from being just a U-23 developmental program. Coaches in all sports are fond of the clichéd but meaningful statement: "the name on the front of the jersey is more important than the one on the back of the jersey". But in college track we don't even have names on the back of our jerseys–the one on the front is the only one there is.
If we want to attract new fans–and we must–we have to keep it simple. Team competition takes nearly two dozen individual competitions and nicely summarize them into one. Besides, general fans of college sports like their particular team, and it shouldn't take three minutes to answer the question, "How did my Wildcats/Eagles/Bulldogs/Banana Slugs do?"
So here you go, a summary of the major team competitions.
SEC: Florida (men) and Arkansas (women), the #1 teams in the USTFCCCA computer rankings, both won over the deep competition typical in the SEC. But it was unusual in that both teams won by wide margins. Does this mean that these teams are favorites for the NCAA titles? Maybe, maybe not. Only two of the last nine NCAA men's champions also won the SEC, and just one of the women's. But these convincing wins are major accomplishments in their own right.
One big storyline coming out of the SEC meet: Deon Lendore, Texas A&M's star 400 meter runner, came up injured. I don't know if the Aggies had a path to the national title before he got hurt, but I don't think they do any more. Finishing in the top four and winning one of the trophies that goes with it may be a bit of a stretch now too.
Big 12: The Texas Longhorns swept the men's and women's titles for the first time since 2006, the men winning easy and the women by narrower margin over Kansas State. This was no surprise as both Texas squads were the top-ranked teams in the meet.
MPSF: The western quasi-conference meet was won by Oregon (men) and USC (women). The Ducks don't always go full-bore in this meet since it's not an official Pac-12 championship, preferring to save some gas for the NCAAs, so I wouldn't read too much into the women's result. (Note that the Oregon women have a five-year win streak at the NCAA indoor championships but only won this meet in three of those years.) What is interesting is that a) USC is taking indoor track seriously, whereas they rarely used to, and b) Oregon's men scored 47 points in just four distance races, even while facing the deepest distance conference and saving stars Edward Cheserek, Eric Jenkins, and Johnny Gregorek for the distance medley.
The Oregon men are the defending NCAA champions and are capable of doing it again, but they're in a difficult situation. They have almost no "balance" whatsoever and all of their points are likely to come from just four events: the mile, 3000, 5000, and distance medley. (Weight thrower Greg Skipper has a shot at a point or two.) It's going to be feast or famine for them in two weeks.
Big Ten: Even though I live right in the middle of the Big Ten footprint, I wasn't all that plugged into the action. I wasn't terribly surprised to see Nebraska win the men's competition–they were #22 in the USTFCCCA computer rankings to Wisconsin's #15–but the women's result took me completely by surprise. Ohio State came away with the women's championship.
A brief history of Ohio State women's track: until the last few years, they've mostly been very bad. (As for the men, with brief exceptions they have been middling since the days of Jesse Owens.) As the lone BCS power in a large, diverse, and sports-mad state, this makes no sense. But under head coach Karen Dennis the Buckeye women won their only Big Ten titles: indoors in 2011, outdoors in 2011 and 2012, and now indoors in 2015. (She apparently knows how to delegate too; under distance coach Sara Vergote, the women's cross country team had its best season ever last fall.) Dennis was made director of both the men's and women's programs for the 2014-15 season and it remains to be seen if she can similarly raise the profile of the men's team, but so far her record speaks for itself.
Another reason I was so shocked to see the Buckeye women win the Big Ten was that the USTFCCCA computer rankings did not indicate they'd have any chance at all. They were ranked #83 in the NCAA, behind nine other Big Ten teams, led by #11 Wisconsin. There are a few takeaways from this epic upending of the rankings.
One is something that coaches always say, that rankings don't win championships, only performances on the field do. In this case I'll also say that the USTFCCCA computer rankings only look at NCAA Championships scoring potential, which is sometimes a much different beast than scoring at a conference championship. A third is that, in women's track, the Big Ten might be the weakest of the five power conferences. Still, I think it's a remarkable accomplishment for Ohio State.
One area in which the Big Ten is at or near the top of the heap is in women' distance running. Michigan State won the NCAA cross country championship last fall and they look just as powerful on the track. The Spartans came one place away from sweeping the mile, 3000, and 5000. That's not terribly unusual at a conference meet, but the Spartans did it with three different athletes and that is unusual. Even more impressive: mile champion Leah O'Connor reportedly split 4:25 or so for the anchor leg on the distance medley, and the collegiate women's mile record is 4:25.91. Keep in mind that this run was for 1600 meters, which is a good ten yards short of a mile, and it was on a relay which provides the benefit of a running start, but it's still a beast of a run.
And what of Wisconsin's Sarah Disanza? The redshirt freshman made big waves in December by running 15:20.57, the then-4th-fastest ever indoors and a new US junior record. She disappeared after that and resurfaced just once, for a leg on a less than stellar distance medley. I suspected she might have been hurt and it turns out she was, at least a little bit. She ran second in the Big Ten 3000, some fifteen seconds in arrears of Michigan State's Rachele Schulist. Hopefully she gets it all back together for the outdoor season, but she is in no way the favorite for the NCAA 5000 any more (more on that later).
It's entirely possible that Michigan State could win three events at the NCAA Championships, the mile (O'Connor), 3000 (Schulist) and distance medley. Tori Franklin is #4 on the national list in the triple jump too. Thirty points is a reasonable goal and while that's not enough to win it's probably enough for a top-four finish. The Big Ten has a grand total of five top-four finishes in the entire 32-year history of the NCAA women's indoor championships, and only three Big Ten women's teams have ever topped 30 points (Wisconsin, 1993 and 1997; Michigan, 2009). Only disaster would keep them from improving their best ever result in school history (17 points in 1997).
ACC: Virginia Tech (men) and Clemson (women) won without much drama, and Florida State was runner-up for both men and women. The last ACC women's indoor championship won by a team other than these three was 2006 (Miami), and the last men's team to do it was in 1996 (North Carolina).
Big East: Villanova won both the men's and women's championships with ease, but tht wasn't the big news. The big news was Providence's Emily Sisson, who broke the 5000 meter collegiate record* with 15:12.22. No pacemaker, no help, no nothing. She beat second place by 68 seconds. Of course this means she's a heavy favorite to win the event at the NCAA Championships, but it might mean a bit more than that. First off, it means that she's among the rare group of record-setting high school girls distance runners who become collegiate record-setting distance runners. More importantly, it's a World Championships qualifying mark, and of the other dozen or so Americans capable of hitting that mark, maybe half will try for the US team in different events. So she's on the radar for making a national team.
(*Jenny Simpson ran 15:01.70 in 2009 on an oversized track)
Oh, and by the way, someone Sisson won't have to worry about is Kate Avery. The Iona runner dominated the NCAA cross country championships, but she's skipping the NCAAs and will run for Great Britain at the European Championships.
Other Random Thoughts
Controversy up north
I wasn't there to see it but apparently some crazy stuff happened at the Ontario University Athletics championships in Toronto. The Guelph Gryphons, Canada's dominant distance running program, stand accused of playing dirty pool in the men's 3000 meters. From Let's Run:
Backstory is you can either qualify for nationals as an auto-time qualifier or finish first or second in your conference championships. Guelph already has a couple guys auto-qualified, having run 7:53, 7:58, and 8:16 (standard is 8:17) and they are clearly trying to use some team tactics to get a fourth man to nationals.
Basically, three teammates ran up front and tried to block anyone from passing. You can see the video here.
Again, I wasn't there, and video doesn't always tell you everything. The comments at Let's Run span everything from "sports are supposed to be cutthroat" to "hangin's too good for these ruffians". If you want calmer discussion than Let's Run (admittedly a low bar), head to the Canadian boards. All I know for sure is whereas I previously wasn't sure if I was going to go up to Windsor to see the CIS Championships, I definitely am now. I don't take pleasure in controversy, but I have to cover it.
Collegians vs pros
Top collegians competing at the USA indoor championships is rare. Demi Payne, the Stephen F Austin pole vaulter who is rewriting the collegiate record books, took advantage of odd scheduling by the Southland Conference and went up to Boston and beat all the pros. Apparently she had a bit of an adventure getting home after the meet.
WHAT. A. STUD. MT @DemiPayne08: lost my ID in Boston…showed TSA the current cover of @tandfn & they let me fly home #SavedByTheMag

— USATF (@usatf) March 2, 2015
While watching the races on Saturday and Sunday I couldn't help but think that a lot of them would have been won by college kids if they'd had a chance to compete. Even Tianna Bartoletta's 7.08-second win in the 60, which I thought was the performance of the meet, was equaled by Remona Burchell at the SEC Championships (for a new collegiate record).
Next year I think it's going to be different. The World Indoor Championships will be in Portland on March 18 through 20, and the NCAAs will be in Birmingham on March 11-12. Running in both is doable. Of course, for Americans that requires winning a spot at the US indoor championships. The site and dates haven't been announced but it's hard to imagine it wouldn't be in Portland on March 5 and 6. I don't think a lot of college kids will sign up for three big meets in three weeks, but some will.