4 Comments
NCAA Championships Recap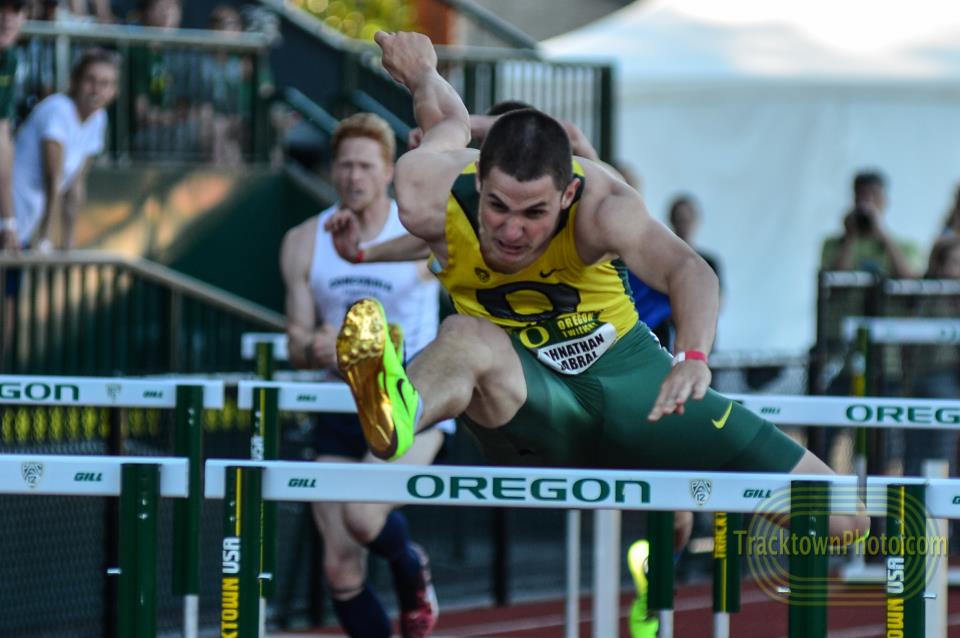 Dozens of teams went into Albuquerque and just one came out with a championship. (Photo: TrackTown Photo)
My weekly college recaps usually end with handing out the "three stars" awards of the weekend. An NCAA Championships weekend requires a whole lot more than three awards, so I'll give out three awards in a bunch of categories. Here we go!
Top 3 thrilling moments
1. Down to the last step
The women's 4×400 was the most thrilling moment in quite a long time at the NCAAs. With that one event remaining, the score was Texas 35.5, Florida 35.5, and Oregon 34. All three were in the fast heat of the relay. The winner took the championship. Texas had the depth–they had three finalists in the open 400 earlier in the evening–but Oregon had the hammer. The Ducks' Phyllis Francis won that open 400 with an American record and world-leading time
On the anchor leg, Texas handed off to Ashley Spencer in front and it stayed that way for the next 350 meters. Francis swung wide off the last turn into lane two, and the two runners were shoulder-to-shoulder down the entire homestretch. Francis dipped, Spencer did not, and the Ducks won the event and the meet by 0.02 seconds. "I didn't know what happened until my teammates started celebrating," Francis said.
2. Cheserek storms by
Arizona's Lawi Lalang is one of the greatest distance runners in collegiate history and he was going for something special, a never-before-tried distance triple. His first final was Friday night's 5000 meters and he was the overwhelming favorite, considering he's the defending NCAA outdoor champion.
The conventional wisdom gave only one runner any chance against Lalang, namely Edward Cheserek. The Oregon freshman won last fall's NCAA cross country title in a huge upset, storming past heavy favorite Kennedy Kithuka in the last mile.
On Friday night, Cheserek ran right behind Lalang for 4700 meters, and then went past and simply ran away. It was a stunning upset. Oregon senior Parker Stinson closed hard for an even more surprising third-place finish, by far his best ever at an NCAA meet, to give the Ducks 16 points. That moment, combined with their perfect record in the day's semifinal qualifying, was the first indication that Oregon might contend for the men's title–the one they ended up winning.
3. Lawson's big jump
Rutgers junior Corey Crawford led Friday night's long jump from the first round. This was expected; his best jump of the season, 8.22 meters (26′ 11¾") was nine inches better than any other collegian had jumped all season, and tied him for fifth on the 2014 world list. The former sprinter and high jumper had suddenly blossomed into a real live long jumper, adding nearly 2 feet to his PR this season.
The Arkansas Razorbacks were in a pickle. Oregon was racking up finalist after finalist in the running event semifinals, Duck heptathlete Dakotah Keys was unexpectedly high in the standings in his event, and the points were about to start accumulating in the distance races. If the Hogs were going to stay in the fight for the championship, they needed big points here. But Raymond Higgs, the #2 seed, only got off one decent jump and didn't make the cut for the final rounds. They had a sophomore named Jarrion Lawson in the finals, but he was only the #5 seed and sat in sixth. Lawson was a bronze medalists at the World Junior Championships two years ago and was fourth at last year's NCAA indoors, but has been rather inconsistent.
In the fifth round, Lawson got off a big jump of 8.01 meters (26′ 3″), a PR which put him in second. And then the final round came and he got off an even bigger jump: 8.39 meters (27′ 6½"). How big a jump is that? It's the longest indoor jump anywhere in the world since 2009. It's the longest jump by an American, indoors or out, since 2011 (and the longest in a decade by anyone not named Dwight Phillips). It won the event and put ten big points on the board. Ultimately it was not enough for Arkansas to win the title, but the precocious 19-year-old might be America's next great long jumper.
Top 3 men's stars
1. Edward Cheserek
Cheserek won the 5k in an upset off a hard kick, and did the same thing the next day in the 3000. A freshman winning an NCAA distance double is unusual. A freshman doing it in dominating fashion is almost unheard of.
2. Jarrion Lawson
Lawson's monster jump (see above) would have won gold at last week's World Indoor Championships. It would have won silver at last year's World Championships. It would have won gold at the 2012 and 2008 Olympics. In fact, the only international championship in which it would not have been good enough to get on the medal stand is the 1991 Worlds (where Carl Lewis jumped 29 feet and lost).
3. Deon Lendore
Texas A&M's Trinidadian quarter-miler did not run his fastest time of the year on Saturday, but it was still faster than the winning time at last week's World Indoor Championships.
Top three women's stars
1. Phyllis Francis
She broke the American record in the 400 meters and ninety minutes later she ran to victory in what just might be the most exciting women's 4×400 relay in college history. She might be one of the three or four best in the world in this event right now.
2. Kendall Williams
As good as Francis was this weekend, it's still hard to put Williams second. The Georgia freshman pentathlete broke the collegiate record and the world junior record. The college record had been held by Brianne Theisen (Eaton), the Canadian who won silver at the World Championships last year, so that record is no small achievement for anyone, let alone a freshman. Whose world junior record did she break? Carolina Klüft's. The Swede is considered the second-greatest heptathlete of all time behind Jackie Joyner Kersee.
3. Kaitlin Petrillose
Texas' sophomore pole vaulter came into the meet as the #2 seed on a PR of 4.45 meters (14′ 7¼"). She tied that with a clutch third-attempt clearance to stay in the top three in the competition. At the next height she broke that PR on her first attempt…and broke it again at the next height, also on her first attempt…and then again on the next height. By the time it was all over, she was NCAA champion and set a new collegiate record of 4.60 meters (15′ 1″). No American has ever gone this high, indoors or out, while this young.
Top three most ignored stars
1. Abbey D'Agostino
D'Agostino won the women's 3000/5000 double for the second year in a row, the first time that's ever been done. There was never any real doubt she'd pull it off, despite being tailed until the very last lap in the 3000, and she now has seven individual NCAA championships between indoor track, outdoor track, and cross country. She is one of the greatest distance runners in collegiate history but so great were the accomplishments of those above that she didn't make my top three.
2. Shawn Barber
Akron's sophomore pole vaulter won his first collegiate title with a clearance of 5.75 meters (18′ 10¼"). It's a new Canadian record and better than his own national outdoor record. It's the best indoor height by a collegian since 2003, when future World Champion Brad Walker went 5.80. So far as I know, it's the best indoor mark ever by a college sophomore. Barber is following the magic formula for becoming a world-class athlete: he's the national high school record holder but has shown continued and steady improvement. Canada hasn't won an Olympic or Worlds medal in the men's pole vault since 1912, and Barber might be able to do it someday.
3. Diondre Batson
The Alabama senior won the 200 meters in 20.32, the fastest indoor time by a collegian since Walter Dix and Xavier Carter beat it in 2006.
Top three upsets
1. Remona Burchell
The Alabama junior, a junior college transfer from Butler County, won the 60 meters over heavily favored Dezerea Bryant. She won the 100 at last year's national outdoor junior college championships but had never before shown anything like what she brought to the finals on Saturday. Her PR going into the NCAAs was 7.24, a runner-up finish at the SEC Championships but about a zip code behind Bryant. She brought that PR down to 7.20 in the semis and 7.11 in the finals.
2. Emily Lipari
Florida's Cory McGee and Arkansas' Stephanie Brown were the favorites in the women's mile. McGee was last year's NCAA indoor runner-up and made the US team for the Moscow World Championships, and Brown was the SEC champ at 800 meters. Lipari has run some tremendous relay legs for Villanova in her college career but had never finished higher than tenth at an NCAA track championships. But here she used a big kick to go from seventh to first over the last 50 meters.
3. Sharika Nelvis
The Arkansas State hurdler was third on the yearly list coming into the meet and was undefeated in this event on the season, so I'm not sure that this was a huge upset. But the women's hurdles was supposed to be a battle between Kentucky's Kendra Harrison and LSU's Jasmine Stowers, and Nelvis came out the winner by breaking her PR by a full 0.10 seconds.
Top three overachievers
1. Oregon's men's team
The Ducks weren't expected to be in the hunt for the championship despite the fact that they brought a boatload of qualifiers. In every single event, the Ducks finished higher than their seeding. Maybe it's good coaching, maybe it's a product of not pursuing a Pac-12 conference championship (because the Pac-12 doesn't organize one) and maybe it's a product of mostly staying away from the fastest tracks and fastest meets of the indoor season. Whatever the reasons, they had an error-free meet and that's an amazing accomplishment.
2. Texas' women's team
The Texas women's program has been through a lot of controversy in the last year. Longtime coach Bev Kearney was out after some dirty laundry came to light and she's filed a $1 million lawsuit against the university citing everything but the kitchen sink. This was Longhorns' first championship meet under new coach Mario Sategna and associate head coach Tonja Buford-Bailey, and they came half a step away from winning it all. They haven't been this close to the title since their last title in 2006.
3. Lorraine Ugen
The TCU long jumper was the favorite coming into the championships and did not allow it to be close. She put away the title on her first jump, and any of her four fair marks would have won. She's now #8 on the all-time collegiate indoor list.
Top three underachievers
1. Florida
My formcharts had the Gators as heavy premeet men's favorites and heavy women's favorites after day 1. Both teams finished third. Maybe they didn't underachieve so much as they were overrated. Teams that pursue the best possible conditions in which to get qualifying marks often end up looking better on paper than they really are.
2. Lawi Lalang
Lalang attempted an unprecedented distance triple in the mile, 3000 and 5000 and came away with no wins at all. He was outkicked and by a lot in Friday night's 5k, a bit of a surprise for a guy with PRs of 3:33.20 (1500) and 13:00.95 (5000). He was outkicked in Saturday's mile, too, and then withdrew from the 3000.
3. Albuquerque's altitude
When New Mexico was awarded the NCAA Championships, much was made of Albuquerque's 5000 feet of altitude and how it would impact the distance races. It really didn't come into play. It didn't appear that runners from BYU, Colorado or New Mexico had any advantage over anyone else. One winner did come from a high-altitude college–UTEP's Anthony Rotich–but he was one of the favorites and would have been even if the race was run in Death Valley.
Top three who came full circle
1. Curtis Beach
Beach came into the college ranks as the national high school record holder in the decathlon and was expected to become a big star, but it hasn't exactly turned out that way. He won his second NCAA title on Saturday, finishing up his college career in front of his hometown of Albuquerque and with a personal record score. He kept his sense of humor, tweeting during the meet "Only need a 2:04 in the 1000 to break Ashton Eaton's collegiate record!!" (Running 2:04 would require an 800m world record, then picking it up for the last 200.)
2. Brandon McBride
McBride is the fastest high school half-miler in North American history. Few people realize this because he's from Windsor, Ontario, right across the Detroit River, but he ran 1:46.07 in the summer before he went off to college. His 400 PR is a blazing 45.89. At the age of eighteen, he beat Olympic silver medalist Nick Willis. Had his freshman year at Mississippi State been anything like his high school career, he would have dominated the NCAA last year. But it wasn't. I haven't seen any reports of injury, he just got slower as the season went along.
He ran the 800 just three times this indoor season and won them all, topped by Saturday's dominating run. He led wire-to-wire, and when challenged on the final straightaway he still had gas left to fight them off and pull out the win.
3. Laura Roesler
Roesler came to Oregon as one of the most multi-talented runners in high school history and all she did was win. She won 22 state championships in distances ranging from 100 meters to cross country. In college she settled into a role as a half-miler who also ran tremendous 4×400 relay legs, and her progress in the 800 was slow enough to make me wonder if maybe she was better suited to the quarter-mile. I don't wonder now, as she's finally won her first individual national title. She blew by everyone so hard that Let's Run said "[h]er move honestly reminded us a someone playing a video game hitting the 'turbo' button".