2 Comments
The Monday Morning Run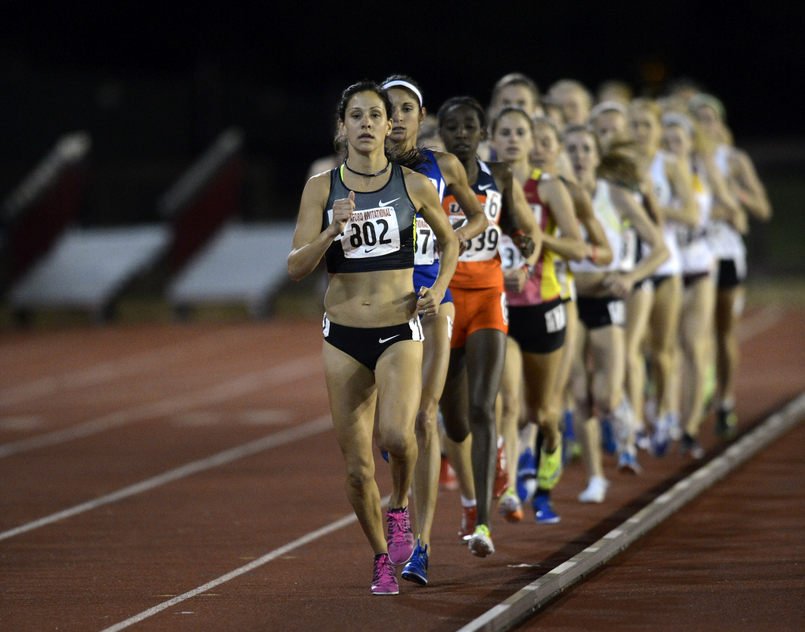 Kevin Sully | On 16, Dec 2013
Photo courtesy of TrackandFieldPhoto
Later in the week, the Daily Relay will proudly present our end-of-year-awards. Pat, Jesse and I will give our "best-ofs" in 15 different categories. In putting them together, we realized that 15 weren't enough. So much like the Best Jib Operator category at the Academy Awards, which is announced the month before the real show, we will need to present some of our awards early. Without further ado….
2013 Best-Ofs
Best Rabbit: Matt Scherer
Even if most of the pace-making this year wasn't atrocious, Scherer would still win this award in a landslide. He paced 23 races this season and produced 32 "A" standards and 26 "B" standards in the 800 and 1500. Rarely was he off target with his splits and when he was, it wasn't by much.
Best Marathoners: Tsegaye Kebede and Priscah Jeptoo
I devoted a whole post to this after the New York City Marathon, but here are the CliffsNotes. Both races were extremely close. Jeptoo got the nod over Rita Jeptoo and Kebede eked out win over Dennis Kimetto, Lelisa Desisa, Wilson Kipsang, Geoffrey Mutai and Emanuel Mutai. There was no clear front-runner for the men, but Kebede did have the best combination of consistent performances and a quality win.
Best Record: Wilson Kipsang
I was leaning toward Sally Pearson's egg in spoon Guinness World Record until I realized that there are probably a thousand people who can run 100 meters in 16.59 while balancing an egg. Kipsang's 2:03:23 at the Berlin Marathon was the only world record in a major track and field or road-racing event in 2013. If he came up short, it would have been the first time in IAAF history that no world records were set during a calendar year. Honorable mentions go to Molly Huddle's 12-k world best and Erik Sowinski's indoor 600-meter American record.
Best Ezekiel Kemboi Moment: Dancing at 2013 World Championships
As usual, a loaded category. In May and June it looked clear that his railroading/finger-wagging of Conseslus Kipruto at the Prefontaine Classic would be the decisive winner. But with Kemboi, it always comes back to dancing. He pulled out another win at the World Championships in Moscow and then shook his hips while wearing the Kenyan flag as a skirt.
Best Attempt at Passing a Drug Test: Devis Licciardi
Licciardi attempted to use a fake penis with clean urine to pass a drug test at a road race in Italy. There were no other nominees in this category.
Delhi Half
As expected, there were fast times in the last major half marathon of the year. Atsedu Tsegay won the Delhi Half Marathon and set a course record of 59:12, the fifth fastest time at the distance in 2013. Tsegay was expected to make his marathon debut this year in Chicago, but he did not finish the race.
Geoffrey Kipsang, Wilson Kiprop and Kenneth Kipkemoi followed Tsegay under the one-hour mark. Kipsang's 17-year-old brother passed away two days before the race.
Florence Kiplagat ran 1:08:00 to take the women's title. Gladys Cherono was three seconds back in second place and Lucy Kabuu ran 1:08:10 for third. More importantly, the top finishers wore turbans and posed for a picture with Donovan Bailey.
Foot Locker
Last weekend at NXN, Alexa Efraimson, Sara Baxter and Elise Cranny produced a gripping finish that overshadowed the boys' competition. On Saturday, the roles were reversed at the Foot Locker Cross Country Championships when the boys' race came down to riveting final half-mile between Grant Fisher and John Dressel. There were four lead changes and plenty of contact between the two juniors racing for the title.
In the girls' race Tessa Barrett of Pennsylvania won easily over the field in 17:16.

MJ
Quadruple gold medalist and BBC broadcaster Michael Johnson weighed in on what he feels is ailing track and field.
"We must look closely at the sport and see what it is that people actually want to watch." 

"Do we need the women's discus? A 3000m steeplechase and 5000m at the same meeting? Nothing has happened to change the sport in my time."
Women's discus? What did that event ever do to you MJ? And why is the men's immune?
Johnson's comments about doping were a bit more revealing.
"In real life you will always have people who cheat. It's unrealistic to expect athletics to be drug-free."

"Other sports may have fans that can put up with [doping] but in athletics the fans want to see the Olympians hold true to the Olympic ideal and values," he said.
Well said. Even the women's discus fans would agree with Johnson on that.
Goucher 
Kara Goucher is moving to Boulder, Colorado and will be coached by her collegiate coach, Mark Wetmore. Though she will be leaving the high powered Oregon Track Club, and former rival turned rival/training partner Shalane Flanagan, she will have plenty of fast women to accompany her in Boulder. Wetmore also coaches Jenny Simpson, Emma Coburn and Shalaya Kipp.
American men's and women's marathoning both seem poised for a changing of the guard. Goucher is 35 and Meb Keflezighi is 38. Ryan Hall is 31, but has been running marathons at a high level since 2007. Even Flanagan, who yet to show any serious cracks, is 32.
These veterans are aided by the fact that the next generation in the marathon hasn't proven to be as fast or consistent to fully take over. So there does still exist a window for Goucher to finish as the top American in a major marathon. Reuniting with Wetmore might be exactly what she needs to make one last run.
Bolt vs. El 59
El 59 is a bus. A very slow bus. In fact, after watching the race I'm wondering how anyone in Argentina gets to work on time. The acceleration was sloppy, and the top end speed was lackadaisical.
Before the video, viewers were treated to 15-20 minutes of Bolt stretching. I don't think anyone has ever warmed up so much for a race that they put so little effort into. Bolt's physio got serious air-time, and why not? If Bolt hurts himself racing a bus, Bolt's physio would quickly become an unemployed physio.
There is another jog-fest at the end of the video, this time between Bolt and his Racers Track Club teammates. If you look closely you can see the disappointment running the through the minds of the Argentinian fans- "Why exactly did we walk all the way down here to watch this? How are we going to get back home?  The bus?  Oh, no."
Kawauchi
Yuki Kawauchi is competing in a different sport. He is entered in marathons, but he is actually running an obscure running stage race where he is the only entrant. The Tour De Marathons. On Sunday, Kawauchi ran 2:09:15 in the Hofa Marathon. He finished second behind Serod Bat Ochir of Mongolia. With Kawauchi though, the time and place never really tell the full story.
Fourteen days ago at the Fukuoka International Marathon Kawauchi was 3rd in 2:09:05, vowing "to go where nobody has gone before" in Hofu. With a second sub-2:10 just fourteen days after Fukuoka he took twenty-eight days off his own world record for the shortest time ever between sub-2:10 marathons.
Chariots of Backfire
Why is a race featuring the cast of TNT's Inside the NBA included in the Monday Morning Run? For one, Shaq and Charles Barkley put forth much more effort than that bus in Argentina. Also, Allyson Felix and Sanya Richards-Ross served as coaches.
The lessons? There are bad starters everywhere and as Chris Webber said, RUN THROUGH THE TAPE IN LIFE, AMERICA!!!!!!!