One Comment
The Weekend's Best Matchups -- April 19-21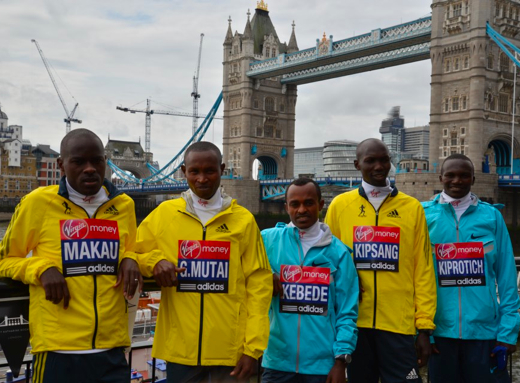 Jesse Squire | On 19, Apr 2013
Photo courtesy of facebook.com/virginlondonmarathon
The outdoor and road racing seasons are really beginning to heat up. Here are my picks for the best matchups to watch this weekend.
1. Stephen Kiprotich vs Geoffrey Mutai vs Patrick Makau
Sunday, Virgin London Marathon, 10:00am local time (5:00am ET)
It's insane how good this field is. One internet wag tweeted "We now live in a world where Geoffrey Mutai gets a #3 bib in a Marathon". Mutai is the reigning World Marathon Majors champion, the "world record holder" (no capital letters) with his 2:03:02 at Boston in 2011, and also holds the New York City Marathon course record. Patrick Makau is the the World Record holder (capital letters) with his 2:03:38 at Berlin in 2011. Kiprotich is a relative newcomer, winning Olympic gold in only his fourth marathon. The rest of the field is an all-star cast all by themselves: Tsegaye Kebede (reigning Bank of America Chicago Marathon champion), Emmanuel Mutai (Virgin London Marathon course record holder), and Wilson Kipsang (defending London champion). The presence of British uber-celebrity Mo Farah for the first half will add to the craziness. Pacers are set to tow the field through halfway at 1:01:30, a World Record pace. Just nuts.
Race website | Telegraph preview
TV coverage on Universal Sports | Live webcast link
2. Tiki Gelana vs Priscah Jeptoo
Sunday, Virgin London Marathon, 9:00am local time (4:00am ET)
These are the gold and silver medalists from last summer's London Olympic marathon (run on a different course, a one-off route for the Games). Gelana was slated to run the New York City Marathon last fall until that race got called off, so she's had plenty of time to recover and start a new training cycle. Jeptoo's training mates won three big marathons last weekend. And, of course, there's plenty of other competition. Edna Kiplagat (2011 World Champion), Florence Kiplagat (2010 World Half-Marathon Champion) and Lucy Kabuu all have sub-2:20 marathons to their credit.
Runner's World preview
3. Arkansas at Oregon (men)
Saturday, Hayward Field, Noon local (3:00pm ET)
This is what was hoped for when this meet was scheduled last year. The teams are #1 and #2 in the latest Track and Field News dual meet rankings, thus the national title is on the line. Both have pledged not to hold anything back and to go all-out for the win. At this week's press conference, Arkansas head coach Chris Bucknam said "you have two classic, elite programs going after each other and so our kids are excited about that… We're going to try to win this meet."
GoDucks.com preview | Arkansas Traveler preview | Oregonian preview
Schedule | Entries | Live webcast | Live results
4. Florida State vs Virginia Tech (men)
ACC Championships
Friday and Saturday, Raleigh NC
Florida State and Virginia Tech have owned the ACC in men's track, as all of the last 20 indoor and outdoor titles have been won by these two teams (Virginia interloped a bit in 2009 by tieing for the title) and it looks like more of the same this weekend. Virginia Tech won indoor this year and outdoors last year and the Seminoles are keen to break that streak. Helping them out will be Olympian Josh Mance, a top-notch 400 runner who got in a bit of trouble earlier this spring but is now cleared to run for the team.
Meet website | Live results | Live webcast
5. Erik Kynard vs Jesse Williams vs Dusty Jonas
Men's high jump, Mt. SAC Relays
Saturday, 4:00pm local time (7:00pm ET)
Quick, who is the 2013 US leader in the men's high jump? It's not Kynard, the 2012 Olympic silver medalist, nor is it Williams, the defending World Champion. It's Jonas, whose career was in jeopardy a year ago after an Achilles tendon rupture. He cleared 7-8 at an indoor meet at Nebraska earlier this year, proving that he's back to where he was three years ago when he won a World Indoor bronze. These are doubtlessly the three best US high jumpers right now.
Meet website | Schedule | Heat sheets
Live results | (subscription required)
6. Cal at Stanford, aka The Big Meet
Saturday, Angell Field, 10:15am local time (1:15pm ET)
This is the 119th edition of the rivalry, the longest-running dual meet in the nation. Stanford has swept the last two meets and has a six-year win streak on the men's side, but the latest TFN dual meet rankings suggest that the Cal Golden Bears could reverse that trend and win either the men's meet, the women's meet, or both. Back in 1997, a new Stanford head coach named Vin Lananna told his teams that if they swept the meet–and broke a 26-year Cal win streak in the men's meet–that he'd shave his beard. They did, and he did. It was the beginning of a Stanford turnaround that culminated in an NCAA Championship just three years later.
Cal Bears preview | Meet program
Meet schedule | Live results
7. Nick Symmonds vs Leo Manzano
Glenn Cunningham Mile, Kansas Relays, Lawrence KS
Saturday, 4:25pm local time (5:25pm ET)
Manzano won silver in the 1500 meters at last year's Olympics while Symmonds finished fifth in the Olympic 800 meter final. Both are big kickers, and Symmonds is in the process of transitioning to the 1500/mile as his main event. Others adding depth to the race include Ireland's Ciaran O'Lionaird and America's A.J. Acosta. This will be the last Kansas Relays held in Memorial Stadium, as a 10,000-seat track-specific facility is being built with an eye towards hosting the NCAA Championships.
Meet website | Schedule
Live results | Live webcast link (subscription required)
8. Jessica Cosby vs Sophie Hitchon vs Sultana Frizell
Women's hammer throw, Mt. SAC Relays
Saturday, 3:30pm local (6:30pm ET)
These three women are the national record holders of the USA, Great Britain and Canada. A subtext to the competition is a collegiate matchup of Jenny Orozai (USC) and Ida Storm (UCLA), fourth and fifth at last year's NCAA Championships, plus newcomer Brooke Pleger (Bowling Green), currently #2 on the NCAA list. (Hat tip to BG assistant coach Matt Conly for his help. Roll along!)
9. Neely Spence vs Abby D'Agostino
Women's 5000 meters, Mt. SAC Relays
Friday, 7:40pm local time (10:40pm ET)
Spence, who runs for Hansons-Brooks Distance Project, just came off a 13th-place finish at the World Cross Country Championships. A week before that, Dartmouth's D'Agostino swept the 3000 and 5000 meters at the NCAA Indoor Championships. They are two of the very best runners in the USA right now.
10. Duane Solomon vs Eric Sowinski
Men's 800 meters, Mt. SAC Relays
Saturday, 12:15pm local time (3:15pm ET)
Solomon was the USA's shocking new development in distance running last year, going from essentially nowhere to fourth in the Olympic final. Sowinski was the same for this year's indoor season, winning the national indoor title and breaking the US indoor record at 600 meters (set earlier in the season by Solomon). Adding depth to the race are some up and comers: former Big West rivals Charles Jock and Ryan Martin plus Penn State's Cas Loxsom.
Best of the rest
There's a lot more good stuff going on this weekend that didn't even make the top ten.
At Mt. SAC, Anna Willard faces Brenda Martinez in the 1500 (Friday at 10:00pm ET), and on Saturday, we have Olympic heroes Manteo Mitchell and Bryshon Nellum running the 400 (2:55pm ET), Carmelita Jeter's "Team Jeter" vs Allyson Felix's HSI team vs English Gardner's Oregon team in the 4×100 (4:40pm ET), Ryan Bailey vs Mike Rodgers in the 100 (5:45pm ET), and Carmelita Jeter vs English Gardner again in the 100 (5:50pm ET).
On Saturday, the Kansas Relays has Antwon Hicks vs Jeff Porter in the 110 hurdles (2:35pm ET), Jenn Suhr vs Kylie Hutson in the pole vault (3:00pm ET), Trell Kimmons vs Maurice Mitchell in the 100 (3:25pm ET), Novlene Williams-Mills vs Diamond Dixon in the 400 (3:45pm ET), and Michael Tinsley vs Bershawn Jackson in the 400 hurdles (4:40pm ET).
At the LSU Alumni Gold, NCAA contenders Ameer Webb (Texas A&M) and Diondre Batson (Alabama) will face off in the 100 meters.
At Florida's Tom Jones Memorial, two of the USA's very best long jumpers meet up when Florida's Marquis Dendy and Olympic bronze medalist Will Claye go at it at 2:30pm. We'll also get David Oliver vs Ryan Brathwaite in the 110 hurdles (3:55pm), Danielle Carruthers vs Kellie Wells vs Tiffany Porter in the 100 hurdles (4:05pm), Tony McQuay vs Tyson Gay in the 400 (4:25pm), and Justin Gatlin vs a returning-to-track Jeff Demps in the 100 (4:50pm).
The Hyogo Relay Carnival and the Nagano Marathon will be in Japan over the weekend. For more, go to Japan Running News.
For all the rest of the weekend's collegiate competition, go to the USTFCCCA's site.