No Comments
Kipchoge bucks the marathon trend, Sumgong's fall, Dibaba's scratch: The Monday Morning Run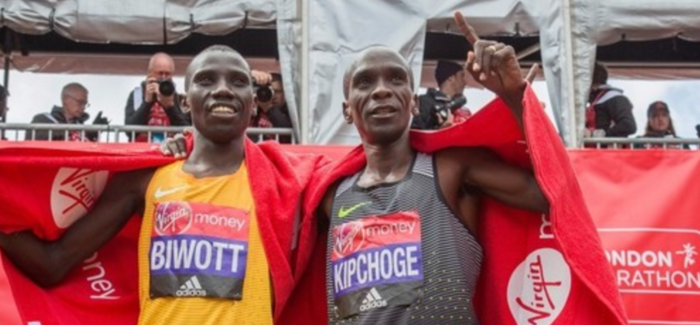 Kevin Sully | On 25, Apr 2016
The London Marathon and a smattering of track results highlight the weekend. I didn't watch the race live. When you have a seven month old, all opportunities for sleep must be honored. I did succeed in staying completely away from the results until I got a chance to watch the race.
I'm glad I did. The results on paper didn't do either race justice and watching via DVR gave me the chance to learn that fast forwarding through the commercials and all the unnecessary cutaways means you can watch a marathon in about 90 minutes.
The Medalists
The top three performances of the week
Gold: Eliud Kipchoge
After his London victory, Kipchoge has now won four World Marathon Majors in a row. I think that is enough to distinguish him from the other runners of the last five years who had a momentary time at the top before falling back down to earth. The way Kipchoge ran in London gave the impression that more was possible in Sunday's race and that more is possible for future marathons. Of those four wins, this was by far the most impressive. 2:03:05 is the second fastest time all-time and he did it by closing well under world record pace–he made up 12 seconds on Dennis Kimetto's mark in the last two kilometers.
Kipchoge expression at the finish line looked like one of missed opportunity, suggesting he wasn't aware how close he was to 2:02:57. It's hard to guarantee that he had seven more seconds in his legs, but the last two miles were effortless and the weather and the competition were close to ideal. Will he get the perfect set of circumstances again to shave off those eight seconds? On Sunday the temperatures were in the 40s and he had company for as long as you can possibly hope when running 2:03 pace.
Putting time aside, does Kipchoge have the longevity to keep winning that escaped Patrick Makau, Geoffrey Mutai, Dennis Kimetto and Wilson Kipsang? All were great, but their string of major victories didn't last more than two years. Interestingly, Kipchoge might end up being the best of an era that was supposed to be characterized by runners who skipped the track and jumped to the marathon when they were still young. In that sense, Kipchoge is a throwback. He starred on the track from 2003-2011. His decision to the run marathons looked like the tradition pattern of an aging star running out the string of their career on the roads. Paul Tergat and Haile Gebrselassie were very effective post-track, though runners in that mold were supplanted by the 20-year-olds running 2:05s out of the gate. I think there was a common sentiment that to be great in the post-Gebrselassie marathon world you needed to run marathons as soon as possible. Doing anything else would mean wasting your best years competing in 10,000m races. Kipchoge is showing the other side of that argument. He is a better marathoner than he was in the 5000m or 10,000m on the track. His consistency and experience look to have given him the staying power missing in the others.
Silver: Stanley Biwott
-Biwott won the "Emmanuel Mutai Incredible Time Only to Finish Second" Award. He was nine seconds behind Kipchoge at 40K, which means he lost 37 seconds in the last 2K. I attribute most of that gap to pure shock. He was running 2:03 pace and then Kipchoge throws in a 4:38 mile? We'd all shuffle in if we found out 4:40s weren't good enough in race that already started at sub-world record pace.
Biwott's second place finish should put him on the Kenyan Olympic team. Along with Kipchoge, he stands out above the others and has something Kipchoge doesn't– a win on a championship style race. Who gets the third spot? I think it is Wilson Kipsang by default. He ran 2:07:52 and finished fifth on Sunday. It's been a year-and-a-half since he won a marathon–a long stretch in Kipsang time. But if you think Kipsang is in his decline, who do you put in his place? The list of available options doesn't yield a clear number three. With Kipsang you get someone with Olympic experience is who is still pretty good, even on a bad day.
Bronze: Jemima Sumgong
-The year of falling down–and winning–continues. Geoffrey Kamworor tripped at the start of the World Half Marathon and got run over before catching the field and winning the race. Daniel Wanjiru fell at the Prague Half Marathon and also ended up with a victory. In London, the women's race got a literal shake up at mile 22. Aselefech Mergia went bowling for Kenyans and
took out Jemima Sumgong and Mary Keitany.
Sumgong (and Mergia to a lesser extent) recovered, Keitany did not. Sumgong surged to catch up after the fall and kept up the pressure, winning the race in 2:22:58. Tigist Tufa was not involved in the crash and provided that last competition to Sumgong, running 2:23:03. This is Sumgong's first major marathon victory. Rita Jeptoo beat her at the 2013 Chicago Marathon, but that victory should be reassigned to Sumgong at some point in the near future.
Now it's time to ask the same question we did with Kipsang–is this performance enough to put Sumgong in the Olympics? I'd vote yes, but really the women's selection (along with the men's and women's selections for Ethiopia) is chaos. None of the easy scenarios played out.
Keitany finished way back and Florence Kiplagat and Priscah Jeptoo didn't win. Instead, someone from the second tier complicated the selection process. London will be the deepest marathon this year and Sumgong won it. I think you need to honor that fact and put her on the team. I know the temptation for both Kenya and Ethiopia is to put athletes with the fastest times on the team who ran in Tokyo or Dubai. I'd rather have someone who won against a tough field. That means starting with Atsede Baysa for Ethiopia and Sumgong for Kenya and working your way down from there
Kenya, Ethiopia you have three years to plan your Olympic Trials for 2020 so you can avoid all this next time around. Please get started promptly.
Surging…..
-Kenenisa Bekele
He reportedly had injury issues in his preparation for London and struggled with his bottles during the race, but third place in this field was a good performance. Three minutes behind the next person isn't the ideal way to finish third and I'm sure someone with Bekele's record bristles at celebrating anything other than a win.
He did, however, beat all the other Ethiopians in the race. And losing to the second and eighth best performances of all-time is completely understandable.
Bekele's had trouble staying healthy over the past five years. Frequent injuries and marathoning don't go well together so Bekele has dropped out of the picture since he won his debut marathon in Paris. Perhaps this will breathe a bit of life into him. If he does get to run for Ethiopia in the Olympics, I don't hate his chances in a one-off championship race where there will be only a handful of runners on the starting line with better personal bests than him.
-Volha Mazuronak
The Belarusian ran the last half of the marathon in 1:10:35, almost catching Florence Kiplagat for third. Her splits from the final 7K were insane. If only she wasn't 2.5 minutes behind the leaders at halfway……..
#LondonMarathon 5K's for Volha Mazuronak (BLR):
17:16
17:33
17:21
17:26
16:51
16:46
16:47
16:46
(7:08 last 2.195k; Winner Sumgong = 7:17)

— David Monti (@d9monti) April 24, 2016
-Women's 400m
Three women have already broken 50 seconds and the Diamond League season hasn't even started yet. Shaunae Miller and Quanera Hayes both ran under 50 last week in the Bahamas. Saturday, Courtney Okolo broke the NCAA record, running 49.71 at a meet in Baton Rouge, Louisiana. Francena McCorory and Allyson Felix have yet to open their 400m seasons. Feeling pretty good about my sub 49-second winning time prediction for Rio.
-Dafne Schippers
A 22.25 200m in rainy Gainesville gives her the world lead. It's also her fastest opener.
.@dafneschippers' season debuts over 200m:

2009 24.79
2010 23.70
2011 22.90
2012 22.73
2013 23.08
2014 22.77
2015 22.63
2016 22.25

— Jon Mulkeen (@Statman_Jon) April 23, 2016
-Omar McLeod
McLeod became the first sub 13-second 110m hurdler to also break 10 seconds in the 100m. He ran 9.99 and got the benefit of a perfect +2.0 m/s wind.
Usain Bolt hasn't broken 10 seconds this year…….
-Asbel Kiprop
Kiprop won the police Service Championships in Kenya in 3:40.2. Not a fast time for Kiprop, but he did achieve his stated goal of making the race interesting. For Kiprop, that meant celebrating early, giving up the lead, only to accelerate and grab a victory just before the finish. And, if you thought that was his biggest display of dominance in the race, notice Kiprop click his watch at the finish line.
Toy with me all you want throughout the race Asbel, but taking the time to stop your watch like this was a training session? That's some cold-blooded indifference.
-Femi Ogunode
He ran the world lead of 9.91 in 100m, bettering Yohan Blake's 9.95 from the previous week.
Slowing…
-Mary Keitany
On the broadcast, they mentioned Keitany's knee issues frequently. That was before the fall, which I'm sure didn't make anything feel better. She trudged to the finish line in 2:28:30, the last finisher of all the Kenyans and Ethiopians. Keitany should be safe for Olympic selection, but this was the worst possible outcome.
Scratch that, it would have been worse if she didn't fall and still ran 2:28:30.
-Dennis Kimetto
By halfway, Kimetto was already out of the lead group. He stuck in the race, finishing ninth in 2:11:44.
Since his world record in 2014, he's gone 3rd in London, DNF at the World Championships, DNF in Fukuoka and now ninth. Kimetto only started running marathons in 2012 and had a three racing winning streak from 2013 to the spring of 2014. If you want to talk about the life cycle of an elite marathoner, Kimetto is an interesting case.
What is strange is that he doesn't have many miles in his legs. When he debuted in the marathon, he'd only been running for a few years. I'm not sure what explains his drop in performance over the last year–his earlier races were anything but flukes, they were some of the greatest races of all-time. He's not trending in the right direction, but it has only been one year since he was relevant in London. He won't be running in Rio, which maybe will give him the time to fully regroup for the fall.
-Genzebe Dibaba
She was set to debut in the 10,000m, and encroach into Tirunesh's territory, but was a late scratch. Dibaba is apparently (or was) targeting a 10,000m/5000m Olympic double. Strange, considering she lost the 5000m last year and was untouchable at 1500m. But, the 1500m/5000m is not possible with the schedule. The 800m/1500m is, however, and that seems doable for someone who reportedly runs repeat 800s in practice around the same time it would take to medal.