No Comments
America's Track & Field Stadiums: Kansas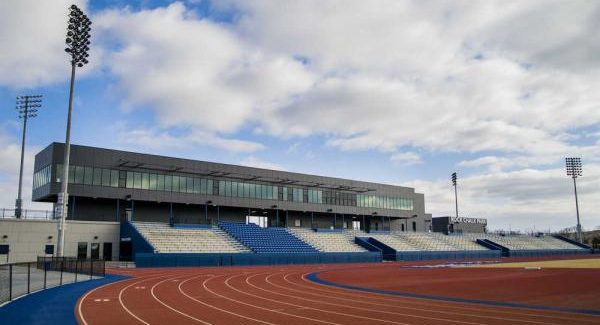 Jesse Squire | On 22, Apr 2016
Kansas' Rock Chalk Park opened last year and is one of only five IAAF Class I facilities in the United States.
Welcome back to our 50-part series on America's track and field stadiums and facilities. Our attention turns to the Sunflower State because the Kansas Relays get started in earnest today.
Largest: Cessna Stadium
Wichita State's Cessna Stadium, host of the annual high school state championship meet, holds 24,000. That makes it one of the largest track stadiums in the United States. It hosted many editions of the USTFF championship meet in the 1960s and 70s, when that organization and the AAU battled over control of track and field in the United States.
Track-specific: Cessna Stadium
Wichita State eliminated its football program in 1986, which left Cessna Stadium to the track team. It could be argued that the stadium is not track-specific, since it has the tight turns that go with a stadium initially built for football. I would at least say that Kansas' Rock Chalk Park deserves honorable mention. The 7,000-seat stadium built for track and nothing else opened last year.
Most Picturesque: Smith Center High School
Wichita State assistant coach John Wise helped me out here. He said "In terms of picturesque and Kansas I think of a small high school track with a sunset in western Kansas." Smith Center fits the description.


Gone but not forgotten: Memorial Stadium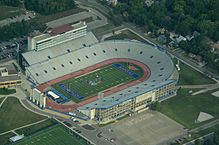 The Kansas Relays were held at KU's Memorial Stadium from 1923 to 2013, with gaps only for World War II (1943-45) and stadium construction (1998-99). The Relays were founded by John Outland, the same man who created the Outland Trophy award for college linemen. The largest track and field crowd in Kansas history — 32,000 — was at the 1972 edition of the Relays, when favorite sone Jim Ryun made his comeback.