No Comments
Five Things We Learned in Birmingham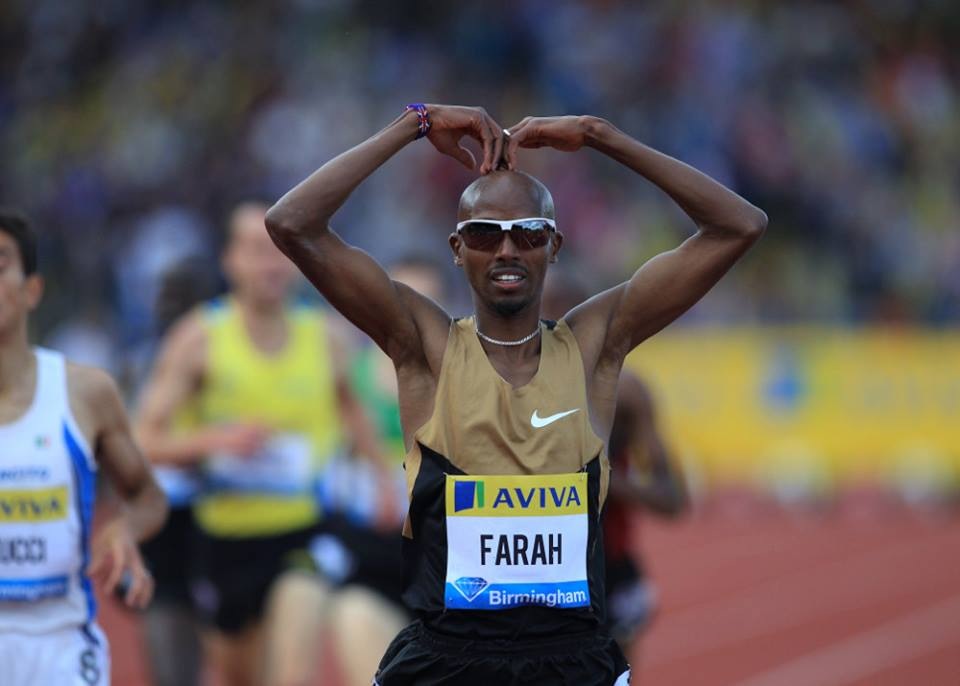 Jesse Squire | On 30, Jun 2013
Photo courtesy IAAF World Athletics Club facebook page.
Five quick takeaways from today's Diamond League meet at Birmingham's Alexander Stadium…
Mo's still got it.
Never lost it.
In past years, British stars didn't always face top talent in home Diamond League meets. You cannot say that about today's 5000 meter clash between the undisputed three best 5k runners on the planet, Mo Farah and Ethiopians Hagos Gebrhiwet and Yenew Alamirew. Farah's two foes collectively won just every Diamond League distance race this year plus several other top competitions, including a rare defeat of an ill Farah at the Prefontaine Classic.
Today's race was classic Mo. No one went with the pacemakers and instead it became a "tactical" affair with changing pace and leads. The last two laps went in about 1:51, the last in 53.4. Farah was in the right position all along, winning the stretch drive over Alamirew with Gebrhiwet third.
And the crowd went wild.
Teddy Tamgho is back.
In 2010 and 2011, France's Teddy Tamgho went further in the triple jump than anyone had since the retirement of world record holder Jonathan Edwards (who happened to be one of today's BBC announcers). He was just 21 years old at the time. But injuries put a premature end to his 2011 season, and surgery put him on the shelf for the entirety of 2012.
In his absence, Christian Taylor won the World and Olympic titles and came within 2 centimeters of Tamgho's best. Taylor won their head-to-head matchup today with his best mark of the year, but Tamgho served notice that he's once again as good as he's ever been and maybe better.
Tamgho got off only one fair mark but had two huge fouls. His fourth round jump was close to 18 meters (59 feet), and his fifth round jump was, toe to landing, in the range of 18.10 to 18.20 meters (59′ 4″ to 59′ 8″).
UK statistician Jon Mulkeen:
That loud whoosh sound I just heard wasn't a plane passing overhead. It was a sigh from Jonathan Edwards after Tamgho fouled again.

— Statman Jon (@Statman_Jon) June 30, 2013
Britain has their own prodigy
You know what it looks like: a precocious young middle distance runner is suddenly the hope of a nation. Brown hair flying behind her, the schoolgirl races with a wisdom and tenacity far beyond her years. She seems to improve with every race. But this time her name is not Mary Cain or Ajee Wilson and she's not an American.
It's Jessica Judd, the 18-year-old British half miler. For the second straight week she won a major competition in front of an adoring English crowd. Last week she won the 800 meters at the European Team Championships, and today she came flying up from behind to win the same distance in Birmingham. Her time was 1:59.85, a personal best, and she beat two women with 1:57 PRs. It puts her third on the 2013 U20 world list, not behind Russians or Kenyans but Cain and Wilson–and all three rank in the top 15 on the senior list.
The men's high hurdles are a crapshoot this year.
Aries Merritt was the story in hurdling last year. He won the Olympics convincingly and took the world record to a place we never thought we'd see. A consistent hamstring problem has him struggling this year, though, and won't be the favorite to win the Worlds unless he gets healthy and in rhythm (and in a hurry).
The thing is, there isn't any favorite. Jason Richardson won about everything that Merritt didn't win last year but he's not had an outstanding year, finishing just fourth at the US Championships. New US champion Ryan Wilson has won only two of his other eleven races. Olympic bronze medalist Hansle Parchment came up hurt at the Jamaican Championships and is out.
Today's winner was Ryan Brathwaite, the 2009 world champ, his second Diamond League win of the year. Not only is he's the only hurdler who has won more than once, he's the only one who has finished in the top three more than once. But his best time puts him only fifth on the world list.
The pole vault is a fickle master.
Back in March, Jenn Suhr broke Yelena Isinbayeva's world indoor record. Two weeks ago in a low-key tune-up competition for the US Championships, Suhr took good attempts at Isinbayeva's world outdoor record and one was reportedly very close.
Today, she finished third and cleared only one height. Cuba's Yarisley Silva won and now has beaten Suhr two out of three times this year. It's the nature of the event that it goes this way. Recall that Sergey Bubka, the greatest pole vaulter of all time, won only a single Olympic medal in three tries.