No Comments
Daily News Roundup: Ivan Ukhov's Dominance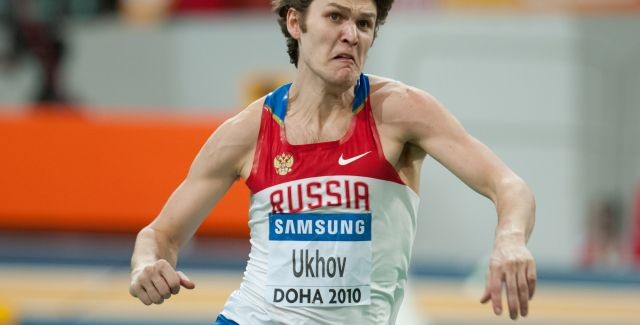 Just a few hours ago in Prague, Russian high jumper Ivan Ukhov cleared 2.42 meters (7′ 11¼") and with some daylight between him and the bar.
There have been just seven 2.42 meter jumps in all of history. More from Jon Mulkeen:
The last time someone jumped 2.42m, indoors or outdoors, was 1994.

— Jon Mulkeen (@Statman_Jon) February 25, 2014
Before 2014, no man had ever jumped 2.40m+ indoors three times in one year. Ukhov has now done it three times in the space of 6 weeks.

— Jon Mulkeen (@Statman_Jon) February 25, 2014
As good as all of that is, it doesn't guarantee a World Indoor Championships gold medal. The vertical jumps are events prone to inconsistency and Ukhov hasn't always produced at the championship meets. But it can be done: Javier Sotomayor jumped a world record 2.43 at the 1989 World Indoors.
Your video of the day is Ukhov's jump:

Links
In his Athletech series, Jim McDannald talked to Steve Magness about what he does and what gear and technology he uses to get it done.
Kevin Sully wrote about pro runners' weekend of discontent.
Results
Besides Ukhov, the other notable result from today's Prague Indoor meet was Blanka Vlašič's 2.00m high jump clearance, which puts her in the picture as a challenger for World Indoor gold.
Full results
News
Runner's World's Morning Report has all of yesterday's news: Grunewald's DQ is overturned, Kenyans win World's Best 10K, and more.
In his daily Oregon track & field rundown, Ken Goe joins the chorus of those calling for USA Track & Field to produce the evidence, plus the morning's news.
No shortage of controversy this weekend, as Veronica Campbell Brown was cleared of doping charges by the Court of Arbitration for Sports.
More from the Jamaica Observer
According to VCB's lawyer, the decision was due to problems relating to collection and/or storage of her urine sample.
More from the Jamaica Gleaner
Want to read the CAS press release for yourself? Have at it.
More controversy: why was Andrew Bumbalough disqualified from the men's 3000 meters? It looks like they dinged the wrong guy–and that's if anyone deserved it at all.
More from Spiked Up Psyched Up
Not-so-controversial news…
Not many changes at the top of the USTFCCCA's computer rankings.
Full rankings release
A 94-year-old secretary is the sunshine of UTEP's track program.
More from the El Paso Times
From this morning's Today Show: Tom Brokaw interviews Angelina Jolie and 1936 Olympic runner Lou Zamperini about their upcoming film, Unbroken.
More from NBC