No Comments
Daily News Roundup: Drake Relays Going Big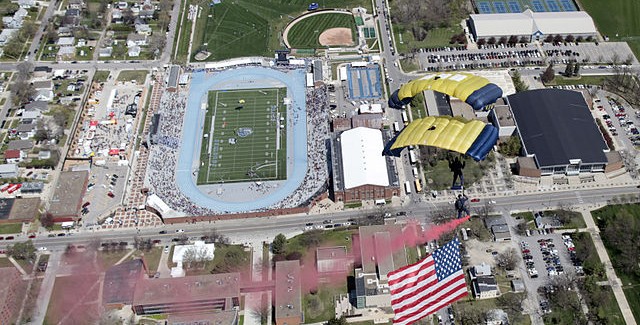 Members of the U.S. Navy parachute demonstration team, the Leap Frogs, perform above Drake Stadium during the opening ceremony of the 102nd Drake Relays. (Photo by Wikimedia Commons)
One of the great success stories on the domestic front for track and field in the last few years has been the Drake Relays. Hy-Vee, the upper Midwest grocery store chain, is pumping more than half a millions dollars per year into the meet.
The end result is that Drake is bringing in basically every available pro not snapped up by the Penn Relays' "USA vs The World" program. In general, that means hurdlers plus the all-too-often-ignored field events.
Last month, Relays director Brian Brown announced some early fields in those events, plus a new shuttle hurdle relay for pro men and women. Some of the hurdlers will do double duty (relay and individual) and the world records of 53.36 (men) and 50.78 (women) are targets.
On Thursday, more announcements were made. First and strangest is the location of special high jump competitions: inside a new Hy-Vee store in Waukee, Iowa. Specifically the produce section. I am not making this up. They will be great events, too: Derek Drouin (Word & Olympic bronze) vs Erik Kynard (Olympic silver) for the men, Brigetta Barrett (World & Olympic silver) vs Ruth Beitia (Worlds bronze) vs Chaunte Howard-Lowe (American record holder) for the women.
The Drake Relays also managed to score the world's four best men's quarter-milers. All three medalists from last year's Worlds will be there–LaShawn Merritt, Tony McQuay, Luguelin Santos–plus Olympic champion Kirani James. Only ten men have ever run the 400 in under 44 seconds and two of them will be in this race.
Probably better yet is the shuttle hurdle relay announcements. These are awesome teams and probably equally matched.
MEN
WOMEN
Team 1
Team 2
Team 1
Team 2
David Oliver
Aries Merritt
Dawn Harper-Nelson
Brianna Rollins
Ryan Wilson
Jason Richardson
Kellie Wells
Queen Harrison
Antwon Hicks
Jeff Porter
Nia Ali
Lolo Jones
Joel Brown
Ty Akin
Kristi Castlin
Vashti Thomas
The men's teams have six of the top seven on the 2013 US list (and three of the world' top five) and all of the top eight on the '13 US women's list (all in the world's top eleven). Add up their 2013 best times and you get 52.84 to 53.14 for the men, 50.11 to 49.80 for the women. Add up their best times from the last two years and it's 52.45 to 52.16 for the men, 49.89 to 49.80 for the women. Most Diamond League meets would have a hard time putting together those kinds of fields.
Your video of the day is right up top here, the press conference making this announcement. Notice the high jump setup, right in front of cabbages and carrots and whatnot.

Links
This morning I recapped the weekend's college action.
News
Runner's World's Morning Report recaps all of yesterdays news: Rupp does a workout after dropping out of a race with an injury scare, WADA wants Kenya to speed up its doping probe, and more.
Ken Goe's daily Oregon track and field rundown looks at the Ducks' position in the USTFCCCA rankings.
Those USTFCCCA computer rankings keep Arkansas #1 for the men and move Texas to #1 for the women.
More from the USTFCCCA
Pheobe Wright compares clubs, training groups, and other track organizations to Harry Potter characters. If you're like me and like this, you're two different kinds of nerds in one.
More from Fast Food & Cheap Thrills
Athletics Weekly previews this weekend's Birmingham Grand Prix. Genzebe Dibaba is, of course, going for yet another world record.
More from Athletics Weekly
Speaking of World Records, Renaud Lavillenie and Ashton Eaton both think they could break the indoor world records.
The Boston Marathon and its long history will be the subject of a documentary.
Want to know what is happening when? Track and Field News has every calendar and schedule you could need.
More from T&FN
Stat corner
On Saturday, Cam Levins narrowly missed the Canadian indoor 3000 metre record despite running much of the race with only one shoe. Still, his time eclipsed the Canadian outdoor record. Here is the all-time Canadian list down to 8:00.00 (so far as I know it), mixing indoor and outdoor times and converting 2-mile times.
Key: id=indoor, ov=oversize indoor, cv=converted from 2 mile, ic=indoor, converted
| | | | | | |
| --- | --- | --- | --- | --- | --- |
| 1 | 7:38.05 | ic | Cam Levins | 2/16/13 | New York (ATC) |
| 2 | 7:40.17 | id | Kevin Sullivan | 2/9/07 | Fayetteville |
| | 7:41.59 | id |  — Levins | 2/2/14 | Boston (RLC) |
| | 7:41.61 | |  — Sullivan | 7/22/08 | Stockholm |
| | 7:42.17 | id |  — Sullivan | 2/10/06 | Fayetteville |
| 3 | 7:43.42 | | Jeff Schiebler | 8/25/98 | Lausanne |
| | 7:43.89 | |  — Sullivan | 7/1/06 | Cork |
| | 7:44.46 | id |  — Sullivan | 1/31/04 | Boston (RLC) |
| 4 | 7:45.58 | id | Jason Bunston | 2/2/96 | New York (MSG) |
| | 7:45.75 | id |  — Levins | 2/4/12 | Boston (RLC) |
| 5 | 7:46.22 | | Paul Williams | 6/8/88 | Victoria |
| 6 | 7:47.90 | id | Nathan Brannen | 2/10/06 | Fayetteville |
| 7 | 7:47.95 | | Graeme Fell | 8/16/85 | Bern |
| 8 | 7:48.04 | | Carey Nelson | 7/22/86 | Paris |
| 9 | 7:48.33 | | Stephen Agar | 8/26/98 | Rovereto |
| 10 | 7:49.17 | | Rob Lonergan | 6/27/86 | Hengelo |
| 11 | 7:49.20 | | Simon Bairu | 7/15/07 | Gent |
| 12 | 7:49.32 | | Paul Craig | 8/15/80 | Lausanne |
| 13 | 7:50.21 | ov | Sean Kaley | 2/6/99 | Ames |
| 14 | 7:50.40 | | Grant McLaren | 7/3/75 | Oslo |
| 15 | 7:50.90 | id | Brendan Matthias | 3/12/93 | Toronto |
| 16 | 7:51.95 | | Paul McCloy | 8/16/85 | Berne |
| 17 | 7:52.02 | id | Ben Hubers | 2/11/12 | Bloomington |
| 18 | 7:52.16 | | Dave Reid | 7/10/85 | Lausanne |
| 19 | 7:52.24 | | Paul Morrison | 6/5/04 | Gresham |
| 20 | 7:52.27 | ov | Michael Woods | 2/4/06 | South Bend |
| 21 | 7:52.28 | ov | Kurt Benniger | 2/4/06 | South Bend |
| 22 | 7:52.35 | | Greg Duhaime | 8/10/80 | Cologne |
| 23 | 7:53.51 | id | Reid Coolsaet | 1/25/08 | Boston |
| 24 | 7:53.89 | id | Mathew Kerr | 3/14/98 | Indianapolis |
| 25 | 7:54.26 | | Taylor  Milne | 7/23/08 | Vlaanderen |
| 26 | 7:54.57 | ov | Luc Bruchet | 1/18/14 | Seattle |
| 27 | 7:54.61 | | Ryan McKenzie | 6/15/08 | Richmond |
| 28 | 7:55.11 | | Matt Johnston | 6/5/04 | Gresham |
| 29 | 7:55.13 | ov | Mo Ahmed | 2/23/13 | Geneva OH |
| 30 | 7:55.37 | ic | Robert Finlay | 1/11/69 | Boston |
| 31 | 7:55.47 | ov | Ryan Hayden | 1/30/04 | Seattle |
| 32 | 7:56.14 | id | Marc Olesen | 3/12/93 | Toronto |
| 33 | 7:56.48 | | Christian Weber | 1995 | |
| 34 | 7:56.78 | | Eric Gillis | 7/1/09 | Halifax |
| 35 | 7:56.80 | | Bob Finlay | 8/23/72 | Munich |
| 36 | 7:57.01 | id | Ross Proudfoot | 2/8/14 | Boston (BU) |
| 37 | 7:57.03 | id | Ian Carswell | 3/8/97 | Indianapolis |
| 38 | 7:57.13 | | Philippe Laheurte | 6/29/85 | Tillsonburg |
| 39 | 7:57.39 | ov | Jay Cantin | 2/14/04 | Seattle |
| 40 | 7:57.41 | cv | Joe Sax | 7/27/74 | Toronto |
| 41 | 7:57.46 | ov | Alex Genest | 2/11/12 | Geneva OH |
| 42 | 7:57.80 | | Art Boileau | 4/13/85 | Eugene |
| 43 | 7:57.92 | id | Andrew Nixon | 2/8/14 | Boston (BU) |
| 44 | 7:58.14 | | Vern Iwancin | 6/18/85 | Burnaby |
| 45 | 7:58.23 | | John Castellano | 6/8/88 | Victoria |
| 46 | 7:58.40 | | Peter Butler | 6/30/78 | Vasteras |
| 47 | 7:58.70 | id | Dylan Wykes | 1/31/04 | Boston |
| 48 | 7:59.03 | id | Graham Hood | 2/11/05 | Fayetteville |
| 49 | 7:59.16 | ov | Chris Winter | 2/9/13 | Seattle |
| 50 | 7:59.70 | | Dan Shaughnessy | 7/21/73 | Toronto |
| 51 | 7:59.72 | | Kyle Boorsma | 7/26/08 | Oordegem |
| 52 | 7:59.81 | cv | Bruce Kidd | 5/23/64 | Modesto |