2 Comments
College Track Issues & Answers: A new schedule and the meaning of early success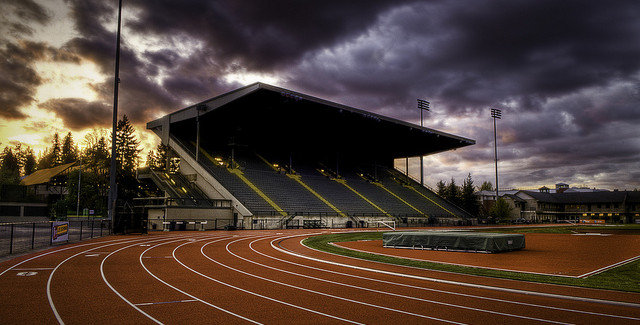 Jesse Squire | On 18, Feb 2015
Hayward Field will host the NCAA outdoor championships in June under a much different schedule.
Some big news in college track broke yesterday. The NCAA outdoor championships will undergo a significant schedule change for 2015 and 2016 in that men's and women's competition will be split into separate days. Wait, what?
There is no word yet on which sex will be on which days, but I'll assign one just to make it simple. Women will have running event prelims plus the 10k final on Wednesday (June 10) and all other running event finals on Friday (June 12), with the eight field events split evenly between the two days. Men will have the same split on Thursday and Saturday. (The men's decathlon and women's heptathlon, which by international rule must be competed on consecutive days, will both be held on Wednesday and Thursday.)
So where did this come from, and why? And will it be the ruination of all that is good and holy?
The release from the NCAA says the following…
The Division I Men's and Women's Track and Field Committee made the recommendation to the cabinet because it believes the schedule will improve the overall championships experience.
Committee members believe the change could result in improved media coverage of the championships by allowing each gender to have more defined stories to be told during the championships.
Committee members also believe the meet will be easier for fans to follow, and team scoring can be more easily highlighted when following one specific gender each day. Additionally, the national championship men's and women's teams will each have their moment of recognition because they will be crowned on separate days.
ESPN, which televises the championship, can potentially include an additional hour of coverage on its family of networks.
The committee also noted that the format provides a rest day for each gender, which could help track and field athletes perform at higher levels.
The basic thought is that it will make for better TV and better meet presentation. Note that this is not a new idea at all; it was floated back in 2012 and was supposedly a done deal, but it took until now for it to finally happen. The idea came from then-Oregon head coach Vin Lananna and it was met with some skepticism, but among coaches it is no longer controversial. A vote was taken at the USTFCCCA convention in December with more than 90% approval.
The reaction I've seen since yesterday across various internet and social media sources has been underwhelming, but the track and field community is one not receptive to change. Personally, I like it (as does Track and Field News editor Garry Hill, a man who has been to more NCAAs than just about anyone on the planet). Pretty much every objection I've come across either boils down to "why change?" or "I don't like it, it's different". If you've got something more substantive, by all means post it in the comments.
What we'll end up with is two tight finals days, held in just over two hours, and doubling will be tough. That means depth will be key, especially in the sprints.
Want to see what a possible schedule would look like? Click here for the proposed schedule floated three years ago.
Do great young athletes become great athletes?
We've still got the most important part of the indoor season yet to go, and then there is the entire outdoor season yet. Voting for the Bowerman Award won't take place for another four months. Saying who will get my vote is a bit premature at this point. But the leading candidates are rather obvious: Shawn Barber (Akron) and Demi Payne (Stephen F. Austin), both of whom have set multiple collegiate records in the pole vault.
If I had to say whose record heights were more meaningful on an absolute scale, I'd go with Barber. His 5.90 meter (19' 4 ¼") record on Saturday puts him #2 in the world, behind only France's Renaud Lavillenie, who himself was selected as the world's top athlete of 2014. In fact, from 2013 to present only Lavillenie and Raphael Holzdeppe have gone higher, and the latter by a single centimeter. Barber is not just a medal contender at August's World Championships, but a favorite.
The most remarkable thing about Barber is that he is doing all of this while very young. Despite being a college junior, he doesn't turn 21 until the end of May. This makes him one of the best young pole vaulters of all time.
Here is the top ten list for height cleared before age 21, along with their lifetime PR.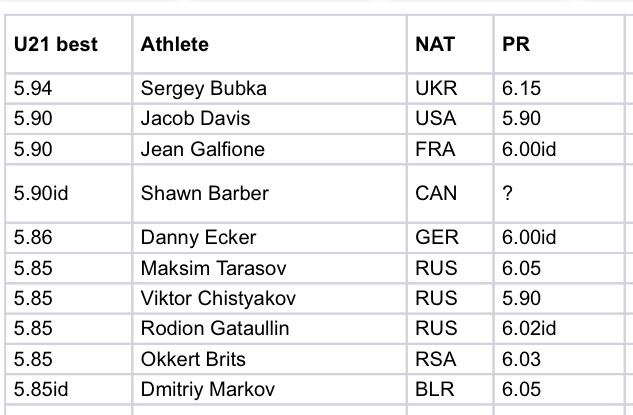 It's hardly shocking to see Sergey Bubka at the top of the list, but #2 is a reminder that early success is no guarantee of improvement. Jacob Davis cleared his lifetime PR of 5.90 meters as a college sophomore but it wasn't much longer before he was out of the sport. Otherwise, that's some startling company to be in.
But what if we turn the numbers around? What if we look at the all-time top ten and work backwards to see what they did in their very early 20s? In other words, in order to become a great vaulter, is it necessary to be a great young vaulter.
Mostly, no. Here are the numbers:

World record holder Renaud Lavillenie made massive improvements from age 21 to now, as did Steve Hooker. Three of those guys—Hartwig, Trandenkov and Mack—were so ordinary at that age that I can't find their best 21-and-under height without some heavy lifting. Hartwig is especially notable as a late bloomer; he never broke into the world top ten rankings until he was 31 years old. For the most part, it appears that the most important quality for greatness is to keep on getting better.
There are two other young college athletes making a splash. Freshmen Raven Saunders (Southern Illinois) and Keturah Orji (Georgia) have both established US junior indoor records and appear headed towards NCAA indoor championship victories, in the shot put and triple jump respectively. These are two events in which the USA hasn't had a lot of success on the international level, especially the triple jump. Does early success in those events translate to success on the senior level?
First, the all-time US junior list in the women's shot put.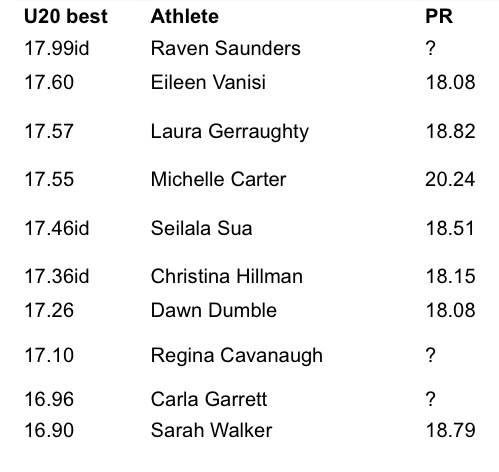 Note that it generally takes about 20.00 meters to win a medal at a Worlds or Olympics and 19.00 meters for top ten on the world list. Of the dozen or so Americans who have ever thrown over 19.00 meters, only one of them is listed above.
Generally speaking, being an age-group ace means that the athlete in question either has tremendous talent, or has come closer to her full potential than her peers. In the shot put, it certainly appears that the latter is most often true, although it should be pointed out that Sua specialized in the discus as a mature athlete and Hillman is still just 21 years old. Which will be true for Saunders? It's hard to tell.
Second, the same for the women's triple jump.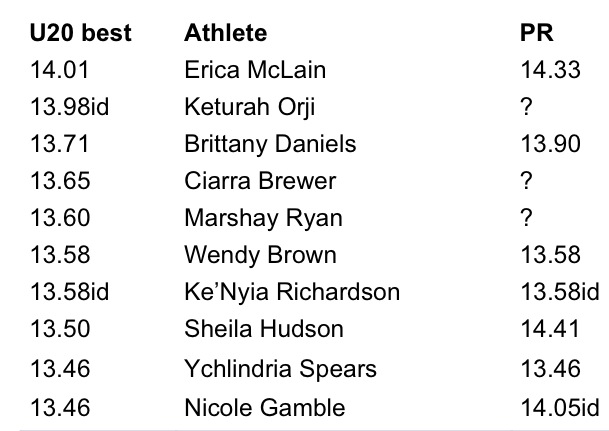 There's a whole lot less we can draw from this data set. Orji, Brewer and Ryan are all still very young athletes with their careers ahead of them. McLain suffered a horrific injury at age 25 that all but forced her out of the sport, and Brown moved to different events as a senior athlete. Still, we can see that Sheila Hudson improved by nearly a meter as a senior, and that's about how much Orji is going to have to do in order to be globally competitive.
To summarize: being good at a young age is nice, but making big improvements is better.