One Comment
Bitter fifths for McQuay, McCorory; plus wild wind, crazy long jump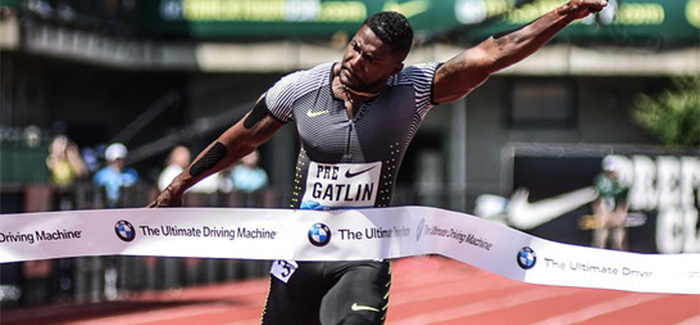 Brendon Desrochers | On 03, Jul 2016
(Photo courtesy TrackTownPhoto.com)
EUGENE, Ore. — Fourth place has the reputation as the cruelest spot at the U.S. Olympic Trials, since only the top three go to Rio as individuals in each event. In the men's and women's 400m finals Sunday afternoon, however, fifth-place finishers Tony McQuay and Francena McCorory are probably feeling the most regret tonight.
It was the second straight trials in which McCorory entered a favorite to finish top three. It was the second straight trials in which she entered the final having run the fastest semifinal time. And it was the second straight trials in which McCorory came up short in the final, notably in the last 100 meters.
McQuay didn't come into this year's meet as one of the three favorites to advance, but, after running 44.24 in the semifinal out of Lane 8, he was in the mix for the last two Olympic spots behind LaShawn Merritt. It didn't happen for the Florida product.
"I just didn't show up," said McQuay. "I just have to do a better job of race execution and finishing the job."
McQuay's 45.30 in the final was more than a second slower than what he ran in the semis. McCorory was just .09 seconds slower in the final, but the top three finishers — Allyson Felix, Phyllis Francis and Natasha Hastings — were, on average .84 seconds faster in the final than in the semis. After running a then-world-leading 49.85 in the semis in 2015, McCorory ran 1.03 seconds slower in the final last year to finish fourth.
Felix and McCorory came into each of the last two trials as favorites to advance. Felix did both times; McCorory didn't either time. For the experienced Felix, running the rounds is simple.
"You try to save your energy through the rounds and set up your best race for the final," she said.
The 13-time Olympic or World Championships gold-medalist won the race in a world-leading 49.68. Phyllis Francis went from fourth in the semis to second in the final in 49.94, and Natasha Hastings went out fast and held off Taylor Ellis-Watson by .08 for third.
McCorory will have to wait another year to figure out how to get through that last round and into a major championship's open 400m. (Edit: She did make the 2013 team, finishing second at trials and sixth in the Moscow final.)
McQuay didn't see his problem Sunday in any way related to his exuberant performance Saturday.
"I don't think going through all the rounds affected anything," he said. "I think it's just race execution and winning when you're supposed to win."
LaShawn Merritt, like Felix, another veteran of negotiating rounds, ran a world-leading 43.97 to take first ahead of Gil Roberts and David Verburg in second and third.
Sunday's was the second straight disappointing trials final for McQuay, who pulled up 200 meters into the 2015 final and did not finish.
"We go through ups and downs in this sport," said McQuay. "Every day is a learning experience."
Both McQuay and McCorory will be part of the 4x400m relay pool for Team USA as will Courtney Okolo, the NCAA champ from Texas, who finished a disappointing sixth in the women's final despite entering the race with the world's second-fastest time this year.
It was a breeze
On a day when strong winds would have their greatest effect, the sprinters and jumpers in the 100 and long jump got a boost from a healthy tailwind.
The women's semifinals were the races most affected by the breezes, ranging from a tail wind of 2.5 to 4.5 m/s. There was only one wind-legal men's semi (in which Justin Gatlin ran a then-world-leading 9.83), though things died down (at least officially) for both finals, which were wind legal and allowed Gatlin to run the fastest time in the world this year at 9.80 with a +1.6.
"This sport, it deals with elements all the time — cold, rainy, hot," said Gatlin before adding a comment  that drew nods from fellow Olympic qualifiers Trayvon Bromell and Marvin Bracy. "A tailwind is better than a headwind. At the end of the day, we'd like it to be allowable and to run a fast time."
"We all gotta compete in the same weather," said Bromell, who finished second in 9.84. "You can't really worry about what kind of environment you're running in."
Tori Bowie's 10.78 third-place time (with a +1.0 m/s wind) in the women's final was the best third-place time ever in a women's 100m. English Gardner won the race in 10.74, the second-fastest time in the world this year. Tianna Bartoletta finished second with the same time as Bowie. With that finish, Bartoletta clinched a spot in the Olympics in two events, since she also qualified in the long jump Saturday.
A long jump for the ages
The competitor most affected by the wind was probably long jumper Will Claye. His season-best entering the final was 8.14m, which meant he needed to jump the Olympic standard 8.15 in the final. Whoever finished in the top three was certain to jump farther than that, and, of course, they did. Claye jumped past the standard twice Sunday, an 8.38 and an 8.42, but neither was wind-legal. Claye's only wind-legal attempt was in Round 2, when he fouled.
"I figured today I would just get [the standard], but the wind just wasn't agreeing with me," said Claye, who will also compete in the triple jump for which he has the Olympic standard. "I tried to wait on it a couple times, but the time was running out, so I just had to go."
Because of that, Marquis Dendy, who finished fourth — he also jumped 8.42 but had a shorter second-longest jump — appears to have made the team. Dendy was in 11th place entering his third jump, after which the field would be pared to eight. That's when he unleashed the longest jump of the night to that point.
"It still wasn't a good jump as far as technicalities," said Dendy. "I was reaching. I was going to come forward on my fourth attempt, but I hurt myself. I don't know what could have been — I could have jumped 28 feet (8.53m)."
Dendy felt a cramp in his right calf on that fourth attempt and passed on his final two attempts. Helpless to do anything to improve his mark, Dendy watched top contenders Marquis Goodwin and Mike Hartfield take aim at 8.42, but Dendy's mark and his Olympic hopes survived, so it seems.
Dendy, who said he was only jumping at 85 percent before the calf tweak, indicated he wasn't going to get ahead of himself on thinking he made the team, though the USATF indicated that he did.
He tweeted after the competition:
Am I an Olympian

— Marquis Ali (@CheckTheSky) July 4, 2016
The quality of the men's long jump, though inflated by the wind, was nonetheless undeniable. Five men in the field jumped at least 8.39; only one man in the world had done so prior to Sunday. That one — Goodwin — couldn't manage better than an 8.25 in Round 3.
Jarrion Lawson's 8.58 and Dendy's 8.42 were the only wind-legal marks of the six jumps that went at least 8.39 (Jeffery Henderson, the winner of the competition, did it twice). Lawson, who tripled at NCAAs in the 100m, 200m and long jump, became the ninth American man in history to jump that far. He also made the final of the 100m, placing seventh.