One Comment
America's Track & Field Stadiums: Texas

Jesse Squire | On 31, Mar 2016
In celebration of the Texas Relays, the Lone Star state is the next in our tour of American's track and field stadiums and facilities. Texas is almost like five different states but for this series we'll treat it as one.
Largest: Mike A. Myers Stadium
Myers Stadium's first event was the 1999 Texas Relays, which had previously been held in Memorial Stadium. The stadium regularly fills up to its 20,000-seat capacity for the Texas Relays and the University Interscholastic League's state high school championships.
Texas undoubtedly has more track facilities of capacity 10,000+ than any other state in the union. This is because high school football will fill those seats, and most of those football stadiums have tracks since Texans understand how track and field is an essential part of football training.
Track-Specific: Myers Stadium
Since Myers stadium was built with crowded events like the Texas Relays in mind, it has more field-event space than almost any stadium in the USA. It has the usual dual long/triple jump runways and two D-zone high jump areas, but it has unusual dual hammer/discus cages: one inside the stadium and one outside.
Most Picturesque: Kidd Field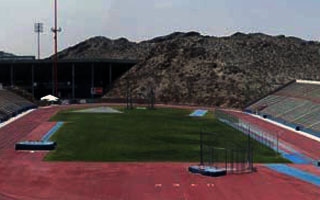 UTEP's Kidd Field has beautiful views of the nearby Franklin Mountains. The 15,000-seat stadium was the Miners' original football stadium and hosted the Sun Bowl from 1938 to 1962, when the Sun Bowl stadium opened adjacent to Kidd Field. The stadium is best known as the site of Brian Oldfield's stunning 75′ 0″ "world record" shot put in 1975, which was never officially recognized as such because the meet was part of the International Track Association's pro barnstorming tour. The stadium's record attendance of 16,000 was at another ITA meet held the year before.
Gone but not forgotten: Memorial Stadium
The Texas Relays began in 1925 in part because of bad weather at the Kansas Relays, and the meet was held in Memorial Stadium from its inauguration through the 1998 remodeling that removed the track. Memorial Stadium also hosted the UIL Championships and five editions of the NCAA Championships. Doubtlessly the biggest track crowds ever in the state of Texas were at one of these meets, but the numbers were often purposefully underreported (when they were reported at all). This was because Jones Ramsey, Texas' longtime sports information director, detested track and field and did not want to give the impression that it was popular. According to Track and Field News managing editor Garry Hill, he said "Why, I'd drive 50 miles for a track meet…. in the other direction!"