No Comments
America's Track & Field Stadiums: Washington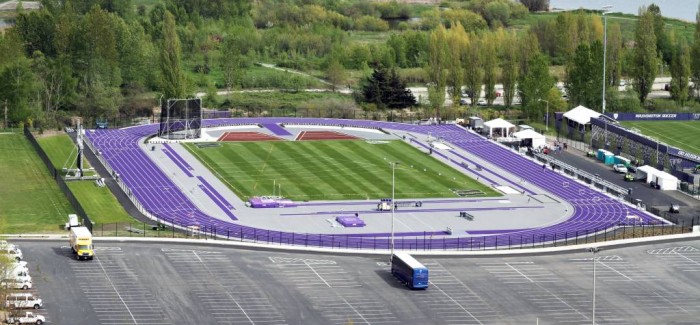 Jesse Squire | On 30, Mar 2016
The University of Washington's Husky Track is the only purple track in NCAA's Division I.
We continue our 50-part series on America's track and field stadiums and facilities in the Evergreen State.
Largest: Fran Rish Stadium, Lincoln Bowl
Two different high school stadiums are tied as the largest in Washington with a track, each with a listed capacity of 9,000. They are Richland High School's Fran Rish Stadium, aka the "Bomber Bowl", and Lincoln (Tacoma) High School's Lincoln Bowl. Rish Stadium has an unusual ten-lane layout, and even more unusually for high schools it has a steeplechase water pit and the discus is held on the infield.
Track-Specific: Mooberry Track
The home of the Washington State Cougars since 1981, Mooberry Track in Pullman has a listed seating capacity of 4,000.
Most Picturesque: Stadium Bowl
At 15,000 seats, the Stadium Bowl is the largest in Washington with a track in it, but it doesn't qualify as the largest on my list since its four lanes don't actually go all the way around. It sits in a valley next to Tacoma's Stadium High School and looks out on Puget Sound and Commencement Bay. Opened in 1910, it once had a capacity of 32,000, and is probably the only track facility in this series that can say it hosted speeches by Theodore Roosevelt and William Jennings Bryan.
Gone but not forgotten: Husky Stadium
Husky Stadium was the home of Washington's track teams until a 2011 stadium remodel removed the track. It twice hosted the NCAA Championships (1951, 1971) but by far the biggest track and field event it ever hosted was the 1990 Goodwill Games. The second edition of Ted Turner's made-for-TV Olympic-style thaw-the-Cold-War competition drew more than 115,00 fans for five days of track and field. The final day attendance was 29,211, the largest ever for a track meet in the state of Washington.