3 Comments
America's Track & Field Stadiums: Northern California

Jesse Squire | On 26, Mar 2016
Edwards Stadium is the best facility in northern California, according to TFN editor Garry Hill.
Our fifty-part series now goes to the west coast. California is so big that it really should be two states, and that's how I'm treating it: NorCal and SoCal. Today we look at the northern part of the state.
Largest: Edwards Stadium
At 22,000 capacity, Cal's Edwards Stadium is the largest stadium with a track in northern California. Opened in 1932, it used to host everything: the NCAAs (eight times!), the US championships, and international duals such as the USA vs USSR. So far as I know, its record attendance is a sellout 22,000 for the second day of the 1971 USA-USSR dual meet.
Track-Specific: Edwards Stadium
Edwards Stadium is by far the largest track-specific stadium in northern California, and just barely beats out Sacramento State's Hornet Stadium (21,195) as the largest, period. Hornet Stadium hosted many major events in no small part due to its having an immediately adjacent warm-up track – there might be just two other tracks in the USA with that kind of setup – but Berkeley High School's track, just a few blocks away, could do the same for Edwards if it ever again hosted a major championship.
Most Picturesque: College Heights Stadium
The College of San Mateo's College Heights Stadium has some views that are hard to beat.
An earlier version mistakenly called it Bulldog Stadium.
Honorable mention goes to Humboldt State's Redwood Bowl,
because redwoods
.
Gone but not forgotten: Stanford Stadium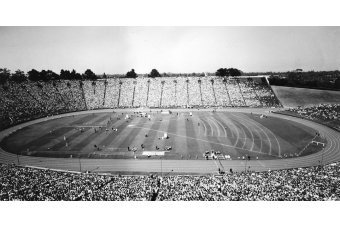 Opened in 1921 for both football and track, the track was removed from Stanford Stadium in 2005. It hosted the largest crowd ever to come to a track meet in northern California, the 81,000 fans at the final day of the 1962 USA-USSR dual meet, which is also the largest non-Olympic attendance in American track and field history. Vin Lananna's first stab at a "big idea" in promoting track and field was his bids for the 1999 and 2001 IAAF World Championships, which would have been held here.