3 Comments
America's Track & Field Stadiums: North Carolina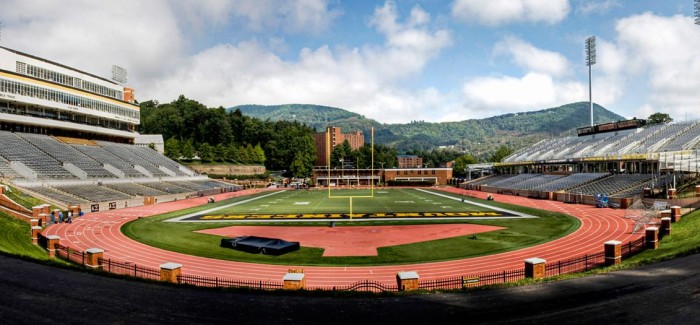 Jesse Squire | On 25, Mar 2016
Kidd Brewer Stadium in Boone is near sites used for filming The Last of the Mohicans and The Hunger Games series.
Since the Raleigh Relays kick off today, our 50-part series on America's track and field stadiums and facilities moves to North Carolina.
Largest: Kidd Brewer Stadium
With a capacity of 22,000 for track and field, Appalachian State's Kidd Brewer Stadium is by far the largest in the state. Its listed capacity of 24,050 for football includes end zone seating that is not present during track season. It is one of the higher-elevation tracks in the eastern United States, situated at an altitude of 3,333 feet (1,015 meters). The highest university anywhere east of the Mississippi River is nearby Lees-McRae College, whose track is another 400 feet up.
Track-specific: Fetzer Field
It's not totally track-specific, as soccer is its main use, but UNC Chapel Hill's Fetzer Field (capacity 5,205) is a fine track facility with all its field events held within the stadium. The track is named for Tar Heel alumnus Irwin Belk, who runs the Belk department store chain. He has funded more than a dozen college track facilities in North and South Carolina.
Most Picturesque: MacRae Meadows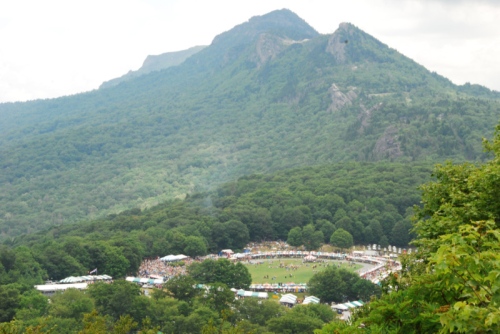 Possibly the most difficult marathon in the eastern United States begins at Kidd Brewer Stadium and then goes up. The Grandfather Mountain Marathon has a net gain of 946 feet, starting on one track and finishing on another. Those hardy souls who make it to the finish are met with the sound of bagpipes, because the race is part of the worlds second-largest Highland Games. Those games have the usual heavy athletics — wood-handled hammer throwing, tossing the caber, and the like — but also real athletics of running, jumping, and throwing. The site, MacRae Meadows, just might be the highest track (4279 feet/1304m) east of the Mississippi River.
Gone but not forgotten: Wallace Wade Stadium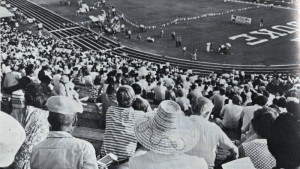 Opened in 1929 as Duke Stadium and renamed in 1967 for a football coach, Durham's Wallace Wade Stadium hosted a lot of big events before its track was removed in 2014. Fans turned out in big numbers for the 1990 and 2000 NCAA Championships, the 1987 Olympic Festival, the 1973 Martin Luther King Freedom Games, and international dual meets against the USSR (1974), West Germany (1975), and Africa (1971, '75, and '94). North Carolina's record attendance for a track meet was at Wallace Wade, 38,500 on the second day of the '74 USA-USSR dual meet.