No Comments
America's Track & Field Stadiums: Connecticut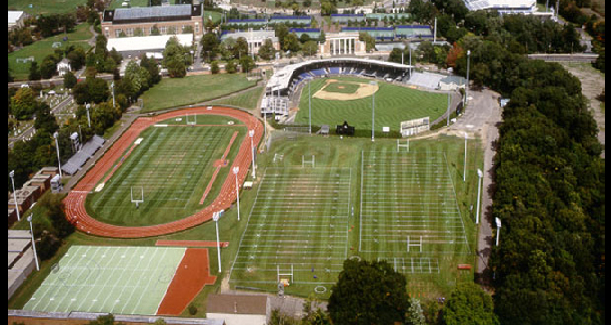 Jesse Squire | On 14, Apr 2016
The Yale Bulldogs have been running here for 140 years.
Welcome back to our 50-part series on America's track and field stadiums and facilities. In anticipation of the Boston Marathon, this week we go to New England, and today we look at Connecticut.
Largest: John F. Kennedy Stadium
Located at Bridgeport's Central High School, John F. Kennedy Stadium's capacity of 12,000 makes it the largest in Connecticut.
Track-specific: Dewitt-Cuyler Oval
With seating for 1,500, Yale's Dewitt-Cuyler Oval is likely the largest in Connecticut (see below).
Most picturesque: Coxe Cage
Yale's Coxe Cage was opened in 1928. Its most interesting feature is the large skylight, supported by framing that gave the building its name. Some documents claim a seating capacity of 2,800, but it certainly appears that number is for special events and not track meets. Honorable mention goes to the Coast Guard Academy's Nitchman Field, where an errant discus could land in the Thames River.

Unusual: Dewitt-Cuyler Oval
Yale's athletic website says the Bulldog track teams have been running here since the sport first began on campus in the 1870s. If so, that would make it the oldest continually-used track and field facility in the United States and one of the oldest in the world, since the sport as we know it is only a few decades older than that. It is also one of the few university track facilities directly adjacent to a cemetery.