2 Comments
America's Track & Field Stadiums: Colorado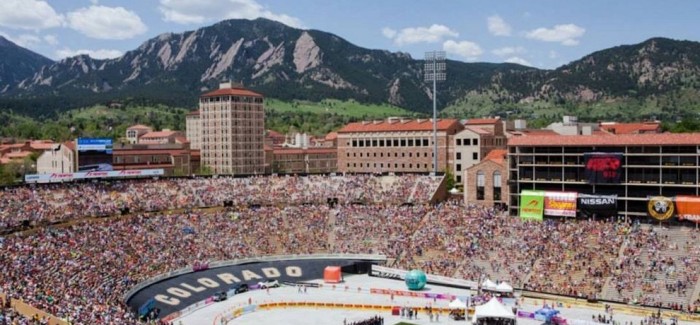 Jesse Squire | On 05, Apr 2016
If you have any breath left when you enter Folsom Field at the end of the Bolder Boulder 10k, the crowd and the view will take them away.
Our 50-part series on America's track and field stadiums and facilities goes a mile high to Colorado.
Largest: Dutch Clark Stadium
At a listed capacity of 13,000, Dutch Clark Stadium in downtown Pueblo is the largest in Colorado. Opened in 1950, the stadium was built in an arroyo on the edge of a mesa overlooking the Arkansas River, such that the parking lot is level with the uppermost seats. Once a year, though, the Colorado Buffaloes' Folsom Field is transformed into the finish line of the Bolder Boulder 10k and its 50,000 seats are filled with runners and their supporters.
Track-Specific: Cadet Track
Cadet Track at the U.S. Air Force Academy near Colorado Springs has a listed capacity of 3,500, making it the largest track-specific complex in the state. It held a whole lot more than that for the 1983 National Sports Festival when 15,500 came out for the final day of track and field competition, the largest single-day attendance mark in Colorado history.
Most Picturesque: Cadet Track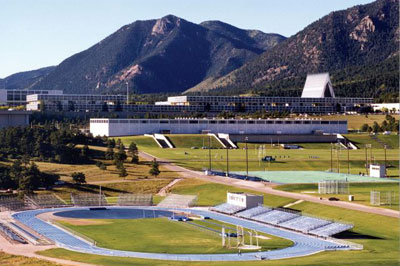 Colorado has no shortage of wonderful views, but I think Air Force's track might have the best.
Honorable mention goes to Colorado School of Mines' Stermole Track & Field Complex and Colorado's Potts Field. Special mention goes to Folsom Field at the Bolder Boulder 10k.
Unusual: Woodland Park High School
So far as I have been able to determine, the track at Woodland Park High School is the highest in the United States. Google Maps says its elevation is 8,458 feet, or 2,578 meters.