3 Comments
What 2 Watch at the Olympic Trials: Friday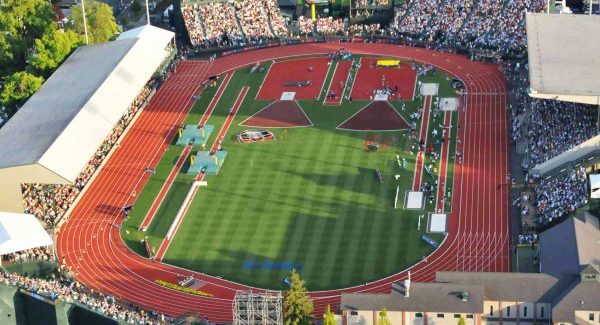 Jesse Squire | On 01, Jul 2016
Today is Day 1 of the US track and field Olympic Trials. Daily Relay has boots on the ground in Eugene, Oregon, to bring you the best and most interesting coverage of the battles for Olympic team berths.
Your important links…
USA Track and Field Olympic Trials home page
Track Town USA Olympic Trials home page
Live results
Today's start lists
How to watch
Today's NBC schedule (all times Eastern)…
7:00pm to 9:00pm: live stream via NBCOlympics.com
9:00pm to 10:00pm: live TV coverage on NBC
Today's schedule
There are two finals, the men's shot put and men's 10,000 meters, along with qualifying rounds in several running and field events. With occasional exceptions, the top three finishers are on the Olympic team.
The complete schedule below is listed by local time, so add 3 hours to get Eastern time.

Men's Shot Put
The men's shot has its qualifying round at 2:00pm Eastern time, which will cut the field down to 12 finalists. The finals begin at 8:40pm Eastern time.
Start list (via USATF.org)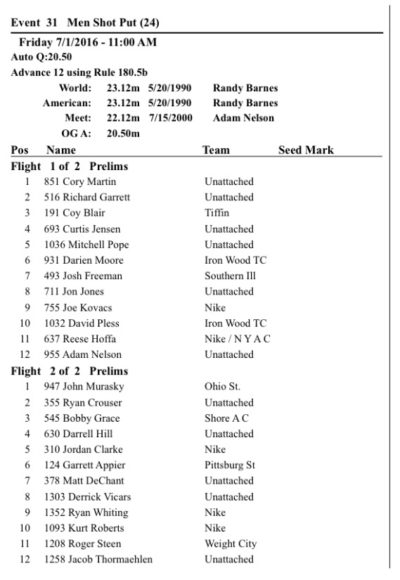 Expert analysis:
Track and Field News picks Joe Kovacs (Nike), Reese Hoffa (New York AC), and Ryan Whiting (Nike) to make the team.
HMMR Media picks Joe Kovacs to win.
In a nutshell:
Joe Kovacs (Nike) is the reigning world champion and a heavy favorite to win. After that, it gets very interesting because it's more or less a wide open competition for the other two Olympic team berths. It basically comes down to two groups: old guys and young guys.
The old men are led by Reese Hoffa (New York AC), who hasn't failed to make a US team since 2005. Ryan Whiting (Nike) was the dominant shot putter of the 2013 season and is slowly regaining form after injury knocked him off the top. And then there is Adam Nelson, the 40-year-old who came out of retirement in an attempt at his 4th Olympic team.
The young guys are led by Ryan Crouser, the recent Texas grad who had some injury-plagued years for the Longhorns but absolutely ruled the NCAA when he was healthy. Others in that category include Jordan Clarke (Nike), Jon Jones, and Darrell Hill (whose likeness you might see prominently displayed at your local Dick's Sporting Goods).
Splitting the difference is 28-year-old Kurt Roberts (Nike), which means he is in the a shot-putter's peak years. If NBC gives the shot put any reasonable coverage (they usually don't) he will be totally ignored and they'll consider it a "surprise" if he makes the team. Don't be fooled, he's one of the best in the USA.
Complicating factor: The Olympic qualifying mark is 20.50 meters (67′ 3¼"), and only Adam Nelson has yet to achieve that. It's virtually certain that it will require throwing much farther than that in order to finish in the top three.
Men's 10,000 meters
Twenty-seven finalists toe the start line at 9:15pm Eastern time.

Expert Analysis:
Track and Field News picks Galen Rupp (Nike Oregon Project), Bernard Lagat (Nike), and Ben True (Saucony) to make the team.
Let's Run picks Galen Rupp (Nike Oregon Project), Hassan Mead (Nike/Oregon Track Club), and Ben True (Saucony) to make the team.
In a nutshell:
Galen Rupp (Nike Oregon Project) is the odds-on favorite to win. After all, he hasn't lost to an American at this distance in over six years. I have some doubts about his track-racing sharpness due to the marathon-type training he's been doing (he won the marathon trials race in February) but it's still hard to imagine him losing and being in the top three is as close to a lock as you're going to find at the Trials.
The conventional wisdom is that three men–Bernard Lagat (Nike), Ben True (Saucony), and Hassan Mead (Nike/Oregon Track Club)— will fight for the remaining two spots on the Olympic team.
Lagat is now 41 years old and trying for his fifth Olympic team, but in a relatively new event for him. True has been a phenomenal runner over the last few years but a nagging hip injury over the winter leaves a chink in his armor. Mead has been en feugo in 2016 and, so far, has put together the best season of any American distance runner.
Outsiders: There are a lot of other runners who have what it takes to sneak onto the Olympic team. Roadies like Shadrack Kipchirchir (US Army), Leonard Korir (US Army), and Sam Chelanga (Nike) are the types who need to "drive the train" and eliminate competition via exhaustion, whereas track specialists like Eric Jenkins (Nike Oregon Project) hope to rely on a kick.
My dark horse pick is Diego Estrada (ASICS). He is more of a long-distance type but with decent track speed, and he's rounding into great form.
Complicating factors: All of the expected contenders have achieved the Olympic qualifying time of 28:00.00, so that's unlikely to be an issue. Fourth place could be important since many top athletes are also competing in the 5000 meters and a top-3 finish there could conceivably result in pulling out of the team in this event.
Heats and Qualifying Rounds
The remainder of the day's competition is early-round action in various running and field events. The drama in these kinds of competition is not centered around the stars since they should have no trouble getting through, rather it's the underdogs and long shots. So peruse our complete listing of Trials qualifiers and find someone to pull for.