No Comments
World Championships Day 1: What to Watch (and How)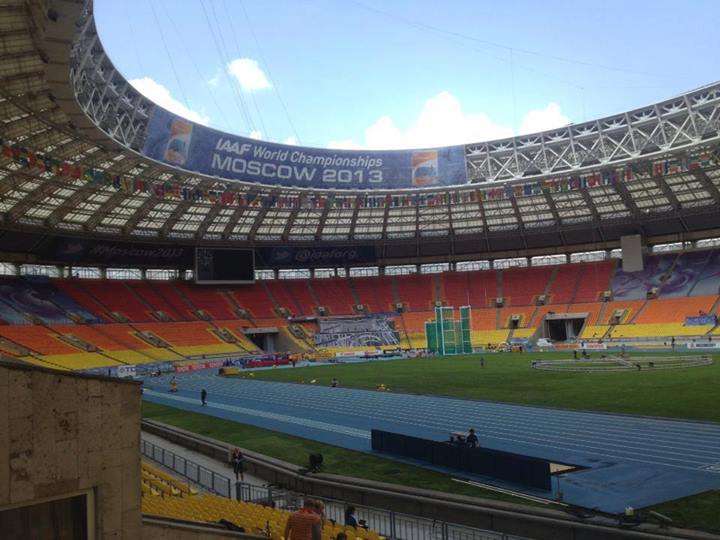 Jesse Squire | On 09, Aug 2013
Moscow's Luzhniki Stadium is ready for action. (Photo courtesy IAAF World Atletics Club Facebook page.)
Early tomorrow morning (or late tonight, depending on where you are) the IAAF World Championships in Athletics finally get underway in Moscow. Here's a handy guide on how to watch the action and what to watch for
How to Watch
There will be lots of coverage in North America on TV and the web throughout the Worlds, but not all of it will be available to everyone. (All times are Eastern.)
U.S. Television
Universal Sports, 1:30-5:30am (live)
NBC, 3:30-5:00pm (tape-delay)
Universal Sports, 7:00-8:30pm (re-air of NBC)
Canadian Television
Daily highlight shows will air on Sportsnet. Visit Athletics.ca for broadcast times in your area.
Webcasts
UniversalSports.com will webcast whenever the TV channel is running a live broadcast, but you can only watch it if you're in the minority of Americans whose cable provider carries Universal Sports.
A better bet is WatchAthletics.com which will have a collection of foreign feeds for the morning session and evening session.
Yet another option is IAAF Radio, which is quite good and will offer live play-by-play from 1:15 to 5:15 AM and 6:00 AM to 1:00 PM.
How to Follow
The main hub of information is the IAAF website. Schedules, results, news, athlete info, whatever you need.
If you're cheering for a particular team–and who isn't?–both USA Track and Field and Athletics Canada have microsites for their Worlds teams. You can follow the exploits of US collegians with the USTFCCA.
What to Watch
All day: Decathlon first day
Ashton Eaton, America's Olympic champion and world record holder, has been dealing with a few minor injuries and a post-Olympic malaise, but expect him to come out gunning to win this. He should have a big lead after the first day, as he's very strong in the 100, long jump and 400, and good enough at the shot put and high jump. A bigger question mark is Olympic silver medalist Trey Hardee. If he's reasonably close to his 2012 form then he should get on the medal stand. The other US entries, Gunnar Nixon and Jeremy Taiwo, are very young and looking for experience and improvement.
An up-and-coming medal contender is Canada's Damian Warner, who beat a tough field to win the Gotzis decathlon in Austria in May.
Other medal threats are Germans Michael Schrader and Pascal Behrenbruch, Cuba's Leonel Suarez, and Belarus' Andrei Krauchenka.
6:00am: Women's Marathon
The US trio of Dot McMahan, Jeannette Farber and Deena Kastor have modest goals. Kastor won Olympic bronze in this event nine years ago, an eon in marathoning, and is shooting for a top five finish. McMahon is hoping that her Michigan-based training has prepared her for warm and humid conditions expected with an early-afternoon start.
Canadian entrants Krista Duchene and Lanni Marchant are concentrating on continuing their sharp improvement curves.
The race for gold looks to be a battle between the reigning Olympic champion, Ethiopia's Tiki Gelana, and the defending World champion, Edna Kiplagat. There are two basic rules in World championships marathons, though: expect it to be a Kenya versus Ethiopia battle, and expect the unexpected.
10:55am: Men's 10,000 meters
Training mates Mo Farah and Galen Rupp won Olympic gold and silver last year and the home crowd responded to Farah's win with noise that literally shook the stadium. Farah won't get as much support in Moscow but looks close to unbeatable under almost any circumstances. Rupp is not nearly as sharp as he was a year ago but is still considered a serious medal threat. The other two Americans, Dathan Ritzenhein and Chris Derrick, are quality runners who just might be able to find themselves in the thick of it.
Canadians Cam Levins and Mo Ahmed were college stars but this is totally different level. Both are young and ascending runners who are looking to be competitive and improve for the future.
The man expected to give Mo Farah his biggest push is Ethiopian Dejen Gebremeskel, who has run tremendous times at 5000 and 10,000 meters and once outkicked Farah while wearing only one shoe. Others to watch are, of course, the Ethiopians (Abera Kuma, Imane Merga, Ibrahim Jeilan) and Kenyans (Paul Tanui, Bedan Karoki, Kenneth Kiprop).
Other events
The men's 800 meter heats are at 3:20am. All three Americans should make it through to the semis with no trouble. Canada's Anthony Romaniw will need to run very well to get through. Watch Djibouti's Ayanleh Souleiman, a new 1500 star who has committed to the 800…
The women's steeplechase semis are at 9:20am. The USA's best chance for a finalist is Shalaya Kipp, who runs in the first heat…
The men's 100 meters has its first two rounds at 2:10am, for the "C" athletes (season's best of 10.23 or slower), and the qualifiers from those heats meet the better runners in the real first round at 12:15pm…
The women's 400 heats are at 10:05am. 36 entrants will be whittled down to 24 semifinalists, so not much exciting is likely to happen…
Field event qualifying rounds include the women's discus (1:30am), men's pole vault (2:15am), men's hammer throw (9:05am) and women's long jump (11:20am). Team USA has potential finalists in all of these: Gia Lewis-Smallwood (discus), Brad Walker (pole vault), A.G. Kruger (hammer) and medal threats Brittney Reese, Janay DeLoach Soukup and Funmi Jomoh (long jump)…