No Comments
World Championship American Medal Odds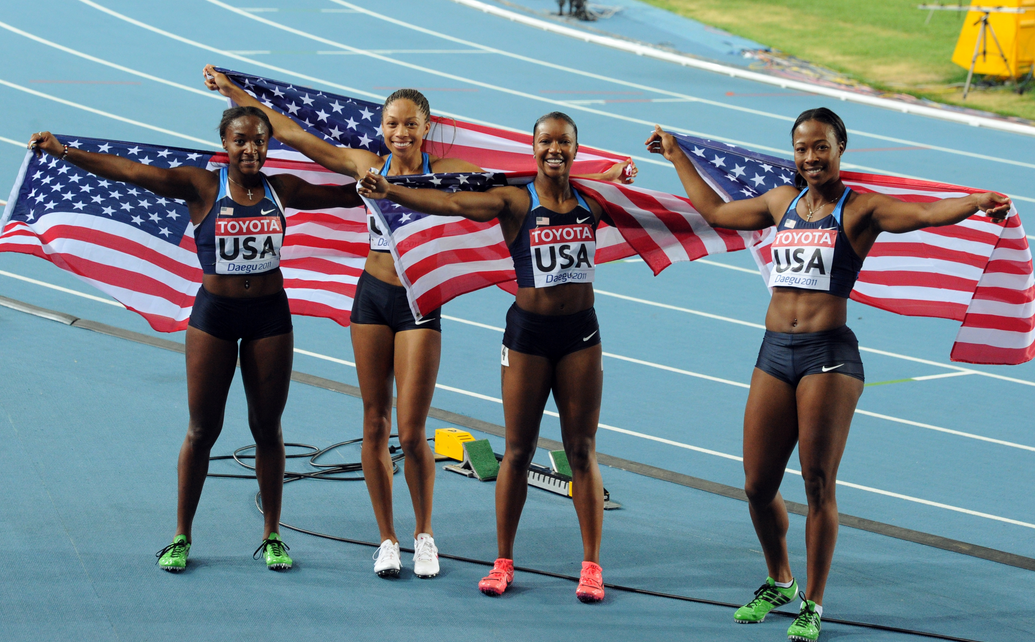 Jason Halpin | On 09, Aug 2013
Photo courtesy of trackandfieldphoto.com
Below are my percentages for an American medal in the running events at the World Championships.  The strength of the American team, competition, injuries and the tactics of the particular event all played a role in determining the likelihood of a top three finish.
Men
100m – 90%
Team USA: Justin Gatlin, Mike Rodgers, Charles Simon
July 13th – 98% This is basically a lock, Tyson Gay has been the best in the world this year and has a legit chance to upset Usain Bolt for gold, I can't see any way he finishes out of the medals barring something crazy. Hopefully Yohan Blake gets back to normal and then with him, Gatlin, Gay and Bolt this could be the best 100m in history!
July 14th – FU#$!!
August 7th – I may have oversold the 100m a little bit, Tyson Gay tested positive, Blake couldn't get healthy and Bolt is now a huge favorite again. But, with Gay and Blake out Gatlin is definitely the favorite for silver. I put it at 90% mainly due to false start possibilities but if he gets off the line safely he should be good.
200m – 30%
Team USA: Curtis Mitchell, Wallace Spearmon, Isiah Young
Bolt is obviously the huge favorite here, even more so than the 100m and I think Weir is a huge favorite for silver.  After that,  you have a bunch of guys who could be in competition for the last spot including Christophe Lemaitre, Nickel Ashmede, Churandy Martina and the US squad. I think it's definitely less than a 50-50 proposition for the United States and they probably would medal 1 out of 3 times on the good side.
400m – 98%
Team USA: Lashawn Merritt, Tony McQuay, Arman Hall
Merritt is the second best in the world and it's not particularly close. There is a chance that Merritt could place 3rd but barring injury I'd be completely surprised if he doesn't finish with a medal. I'd say he has a much better chance at gold than at nothing at all and gold is unlikely.
800m – 82%
Team USA: Duane Solomon, Nick Symmonds, Brandon Johnson
With no Rudisha this percentage jumped up significantly higher. Aman has been on tear and is definitely the favorite, but Solomon and Symmonds have been running really well and I would be really surprised if they both got shut out of the medals this year. The 800 is crazy and fairly deep and without a rabbit (Rudisha) I expect at least one of them to medal, but I can't put it above 82%.
1500m – 40%
Team USA: Matthew Centrowitz, Lopez Lomong, Leo Manzano
Predicting this event is almost impossible and even though the US boasts a very strong field, this feels like it could be the deepest medal pool of any event. Asbel Kiprop has been easily the best in the world this year and in any other event would be a huge favorite, but there is no such thing as a huge favorite in the 1500. Kevin called a Kenyan sweep last year in the Olympics and no one finished higher than 7th. There's no way that's happening again and I expect them to get AT LEAST one medal. However, Matt Centrowitz has a 2011 World Championship bronze to his name and Leo Manzano got Olympic silver last year so I have to give them some bonus points for that.
5000m – 30%
Team USA: Galen Rupp, Bernard Lagat, Ryan Hill
Rupp and Lagat both have chances to medal here, but this field is just brutal. Farah is the favorite like he is in the 10,000 but his work is really cut out for him with Edwin Soi, Yenew Alamirew, Hagos Gebrhiwet, Isiah Koech and Thomas Longosiwa in particular. That's six names that I would have to put in front of a 38-year-old Lagat and a coming off a 10,000, Rupp. BUT, this race will probably be tactical like every distance race and both of those guys can really kick so it wouldn't be crazy if one snuck in there.
10,000m – 40%
Team USA: Galen Rupp, Dathan Ritzenhein, Chris Derrick
Galen Rupp is the Olympic silver medalist and training partner of the best 10,000 meter runner in the world, Mo Farah. I think no matter how this race breaks (but let's face it, it's going to be tactical) Farah is a big favorite. Dejen Gebremeskel is, in my mind, the favorite for silver but with Rupp's speed down the stretch he could certainly make it interesting. I think I would say Rupp is the 3rd best runner in this race which you would think would make his percentage higher but with the depth of Ethiopia and Kenya there will be too many guys fighting for that last medal or two to make it even a 50-50 proposition.
3000m steeplechase – 20%
Team USA: Evan Jager, Daniel Huling, De'Sean turner
This is a six man race with the four Kenyans (Ezekiel Kemboi, Paul Koech, Abel Mutai and Conseslus Kipruto), Mahiedine Mekhissi-Benabbad of France and Evan Jager of the US. I would still have Jager as the sixth best of this group, but it's certainly not impossible that he could edge out three of those other guys for a medal I just wouldn't count on it happening more than one out of five times.
110m H – 97%
Team USA: Aries Merritt, David Oliver, Jason Richardson, Ryan Wilson
I was trying to decide between 96% and 97% on this race and I thought if they ran this race 25 times would the US medal every one of them? I thought yes. If they ran this race 33 times would the US medal every one of them? Maybe not…maybe in that 33rd race Oliver and Merritt get tangled up going over the 3rd hurdle, Jason Richardson is too busy playing basketball and Ryan Wilson gets distracted trying to figure out if Hansle Parchment is really a male model…You never know.
400m H – 75%
Team USA: Kerron, Clement, Michael Tinsley, Bershawn Jackson
I don't know why I haven't been more invested in this event this year.  Maybe Dai Greene needs to start talking some trash or something to get me really into it. This is a solid team (even if not by US standards) and has a really good shot at medaling but Javier Culson and Jehue Gordon could leave little room on the medal stand.
4x100m – 82 %
17.9% of the 18% chance the US doesn't medal is completely based on them getting disqualified by dropping the baton or running out of the exchange zone or something stupid in the prelims or finals. If they hold on to the stick, they will get silver.
4x400m – 99%
The United States had the worst showing I could imagine last year in the Olympics and ended up getting silver. This team is much better and it's really hard to drop the stick in the 4×400…we hope.
Women
100m – 60%
Team USA: Carmelita Jeter, English Gardner, Octavious Freeman, Alexandria Anderson
Shelly-Ann Fraser-Pryce is the only Jamaican with a shot at a medal in this race, Carmelita Jeter has the slowest entry time of her team and VCB got busted for PEDs. It is only because the men's 100m is so disappointing that I think we missed what a down year it is for the women's 100m. If I had to guess I would think the US will get a medal in the event because of the depth as they should have at least 3 in the final but it wouldn't be crazy if they got shut out.
200m – 90%
Team USA: Charonda Williams, Kimberlyn Duncan, Allyson Felix, Jeneba Tarmoh
That number may seem too low or two high depending how much attention you have been paying to Allyson Felix this year. After last years Olympics, she has got off to a slow start. She only has the 7th best mark in the world this year and that was back in May, but she did win the London DL meet just two weeks ago so looks to be rounding into form. I think she does look something like the Allyson Felix we know, but falls short and gets the silver to Fraser-Pryce who pulls off the double.
400m – 70%
Team USA: Natasha Hastings, Francena McCorory, Ashley Spencer
Amantle Montsho has been far and away the best in the world this year. There have only been nine sub 50-second times this season and she has four of them. She is definitely the favorite and in the worst case scenario she gets the silver. That leaves two medal spots for about six or seven runners including all three US women. I think one has a good race and grabs it but with no Sanya Richards-Ross or Allyson Felix attempting the double (no I will not give up on that dream!) the team is a little weaker than usual.
800m – 40%
Team USA: Alysia Montano, Brena Martinez, Ajee Wilson
This is a very strong team but I feel like there are roughly 6,000 people who can medal in this race. Montano will go out to the lead and I think she can hang on long enough for bronze or maybe Brenda Martinez will outkick her for a medal! Basically 40% was a complete shot in the dark because this field might be the least predictable of them all.
1500m – 35%
Team USA: Jenny Simpson, Mary Cain, Cory McGee, Sarah Brown
Jenny Simpson was a surprise gold medalist in our last World Championships and she has actually got better since then, but in a race with such a deep field and as unpredictable as the 1500 it's hard to make anyones individual odds higher than 35%. No, I don't think Mary Cain can actually medal (she's proved me wrong about 20 times already though) and Treniere Moser withdrew from the race at the last minute so I really think this is all on Simpson.
5000m – 2%
Team USA: Molly Huddle, Shanon Rowbury, Kim Conley
When you spend most of your time trying to decide between 2% or 3% eventually you give up and realize it doesn't matter because it isn't happening. Meseret Defar isn't running the 10,000 in hopes it will give her the 5,000 title. Tirunesh Dibaba (The Baby Faced Destroyer) says she is just running the 10k. I'm not buying it, Dibaba will win the gold in the 10,000 and then come back for the double and it will pay off with the double gold. Then, some other Kenyan or Ethiopian will get bronze and Molly Huddle will finish a solid 7th.
10000m – 33%
Team USA: Shalane Flanagan, Jordan Hasay, Amy Hastings
I'm buying Shalane Flanagan stock! As mentioned in the 5,000 section, The Baby Faced Destroyer will absolutely win this event especially without her two biggest rivals (Vivian Cheruiyot is having a baby) out of the race, but that will leave  room for Shalane Flanagan to come in and steal the bronze. Why only 33% then? Because that's my random fun scenario for what I will predict will happen, in real life Flanagan medals roughly one out of three times.
3000m SC – 0%
Team USA: Nicole Bush, Ashley Higginson, Shalaya Kipp
Yeah I didn't even humor this one with a 1%, there is no chance this is happening.
100m Hurdles – 99%
Team USA: Dawn Harper-Nelson, Brianna Rollins, Queen Harrison, Nia Ali
A sweep here is far more likely than getting shut out as easily the best two in the race (Rollins and Harper-Nelson) are on the US team and the former is the best in the world. Sally Pearson is still trying to look like her self since getting injured.
***Side bet: Brianna Rollins to set the World Record: 5/1
This would have been higher a few weeks ago but she just hasn't run much lately, but she has run 12.26 and only has to drop .06 to get the record.
400m Hurdles 90%
Team USA: Lashinda Demus, Dalilah Muhammed, Georganne Moline, Christine Spence
Zuzana Hejnova has completely dominated this even and Perri Shakes-Drayton has probably been the 2nd best in the world this year, but the US has enough depth and talent at the top that they could come away with a medal.
4x100m – 85%
The women get the extra bump of 3% more than the men because they are slightly favored over Jamaica as opposed to being underdogs.   But really as far as medal purposes all that matters is holding onto the stick. Well that, and practicing our handoffs in a parking garage in the middle of the night and switching the order of our last two runners thereby bringing the team closer together and propelling the Americans to gold.
4x400m – 99%
Yeah, this is going to happen.