2 Comments
What2Watch: Saturday at the NCAAs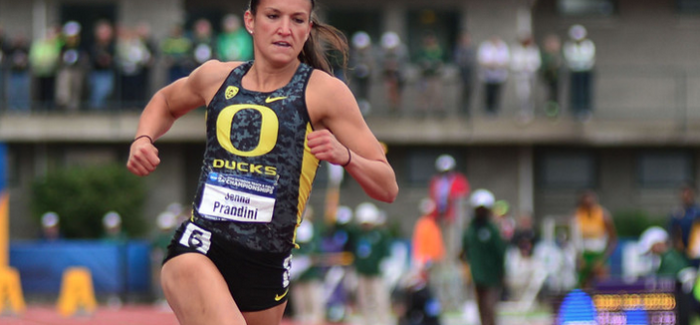 Jesse Squire | On 13, Jun 2015
Last night's men's championships turned into a rout, but today's women's championship is likely to be a nail-biter. Can Oregon can finally win the title they've been pursuing for seven years?
The NCAA outdoor track and field championships conclude today. You'll want to bookmark our NCAA championships coverage page for daily previews, recaps and analysis.
Yesterday's action
Meet the next great sprint star
The men's 100 and 200 meter finals were touted as some great showdowns, and World junior record holder Trayvon Bromell (Baylor) was the favorite. After all, he'd run a stunning 9.90/20.03 double in Wednesday's semifinals. But I had a sneaking suspicion that Andre DeGrasse (USC) wasn't being given his due.
Words cannot describe the races. Watch the video.
The 100:

The 200:

The above is the best single-day sprint double ever run anywhere. These were wind-aided times of 9.75 (+2.7) and 19.58 (+2.4); science tells us that with a maximum allowable wind of 2.0 m/s they would have been roughly 9.78 and 19.60. And note that they were his second and third races within about 90 minutes; he'd already run second leg on USC's 4×100.
If it seems like this guy has kind of come out of the blue, he has. He'd never run a formal race until three years ago, when he joined his high school track team with just one month left in the season. Word quickly spread about his shocking amount of talent (there is no shortage of scouting and club coaching in his native Toronto), he headed off to Coffeyville Community College in Kansas, and has improved by leaps and bounds. New USC head coach Caryl Gilbert says he's still only training at about 80%. And his start is still clearly his weak point, so when that improves then the sky is the limit. You know, just like Usain Bolt circa 2007. DeGrasse is the same age as Bolt was then but less experienced and much faster.
Bromell, long assumed to be the new star, was left behind but didn't run poorly. When factoring in the big tailwind, he merely ran about the same as he has been running. I worry that he may be a newer version of Asafa Powell in that he tightens up when challenged, but he appears hungry enough for success that he'll figure out a way to get past that.
Ducks fly away
Oregon made no mistakes. They beat expectations across the board: Marcus Chambers was second in the 400, Jonathan Cabral was second in the 110 hurdles, Blake Haney was third in the 1500, and then they just piled on with a 1-2-4 finish in the 5k. They almost lapped runner-up Florida by a score of 85 to 56. Since the current scoring system was adopted in 1985, the only team to score more was Oregon with last year's total of 88.
Is this a Duck dynasty? Two years in a row does not a dynasty make. That would require a third. Oregon graduates only 39 of its 85 points, and more underclass talent finished close enough to the top eight that they could make an impact next year. And note that Devon Allen, the meet record holder in the 110 hurdles, redshirted the track season after knee surgery. They have a pretty good shot at this next year.
Teams that beat the formcharts big-time were Arkansas and Illinois. Track and Field News had the Hogs picked for fifth with 36 points but they scored 53 and were third, just three points out of second. The Illini, the Big Ten champs, were picked for 41st (!) with just five points but scored 17 and finished in a tie for tenth. The latter was misunderestimated because coach Mike Turk generally eschewed time-trial type meets in good weather and instead stayed closer to home (with generally crap weather) in more team-oriented competition.
About that meet record…
As I said above, high hurdle meet record holder Devon Allen was absent from the meet while recovering from a knee injury suffered during football season. Arkansas sophomore Omar McLeod ran a stunning 13.01 for a huge win and made Allen a forgotten man. The tailwind of 3.9 m/s means it is relegated to a footnote in meet records, but wind-aided or not it's still eye-opening. About the only guy who ran that fast at or before age 21 is Renaldo Nehemiah. If not for the shocking sprints, this is the result that would have everyone's tongue wagging.
Dendy shows off
Florida's Marquis Dendy had to fight to win the long jump on Wednesday but yesterday's triple jump was a one-man show. The title was decided on his very first jump, when he hit a wind-legal 17.50 meters (57′ 5″). Only true legends such as Mike Conley, Christian Taylor and Will Claye have jumped farther at an NCAA meet. He could have passed for the remainder of the meet without a worry, but that's not his style. He improved to a wind-aided 17.54 (57′ 6½") in the fourth round, and on the final jump of the competition he went all the way out to 17.71 (58′ 1¼")—again wind-aided, but holy crap. He just entered the conversation as a potential Worlds medalist in August.
Today's Action
How to watch: The meet is being covered live on ESPN3.com from 1:30 PT/4:30 ET and live on ESPN2 from 2:00 PT/5:00 ET. The webcast is dedicated to field events and the telecast will mostly show running events.
Start lists and live results: via Flash Results
The schedule: Today is the finals for women's events. Here is a handy visual schedule of events.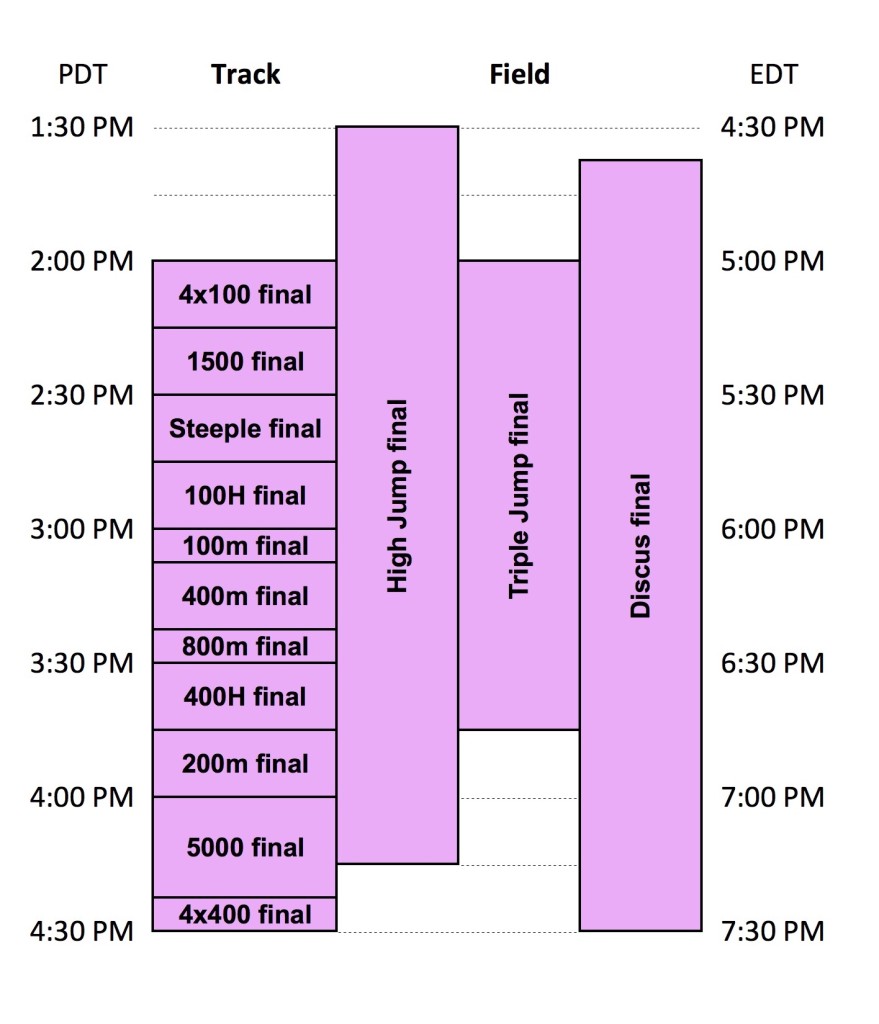 Who are the favorites?: This neat little form chart tracker starts with Track and Field News' form charts—or any of three other predictive formats–but allows you to change them as you wish and will automatically recalculate team scores.
Unlike last night's men's championship, which was a battle between just two teams and quickly turned into a rout, the women's meet is wide open. Oregon and Texas A&M are the current favorites but as many as eight teams have a shot. Below I have them shown according to points already scored, updated formcharts from Track & Field News and Flotrack, and their maximum total possible based on finals qualifiers.
| | | | | |
| --- | --- | --- | --- | --- |
| Team | On the board | TFN picks | Flotrack picks | Maximum |
| Oregon | 31 | 54 | 58 | 101 |
| Texas A&M | 3 | 54 | 48 | 79 |
| Texas | 0 | 43 | | 68 |
| Arkansas | 22 | 42 | 43 | 62 |
| Florida | 1 | 42 | 49.5 | 71 |
| USC | 0 | 42 | | 76 |
| Georgia | 21 | 39 | | 55 |
| Kentucky | 6 | 36 | 44 | 90 |
| LSU | 11 | 25 | | 69 |
Women's high jump
Begins at 1:30 PT/4:30 ET
The favorites: SEC champion Jeannelle Scheper (South Carolina) is undefeated outdoors and has the year's highest mark. Defending outdoor champion Leontia Kallenou (Georgia) won the NCAA indoor title while Scheper was redshirting.
The contender: Claudia Garcia Jou (Akron) was the NCAA indoor runner-up. Heptathlon champion Akela Jones (Kansas State) could surprise as well.
Team implications: Georgia has three qualifiers and could score big. Florida (Taylor Burke) and Oregon (Lauren Crockett) can get on the scoreboard.
Women's Discus
Two consecutive flights begin at 1:35 PT/4:35 ET
Top nine qualify to finals, expected to begin around 3:30 PT/6:30 ET
The favorite: Shelbi Vaughan (Texas A&M) hasn't lost to a collegian since 2013 and her worst marks are on par with everyone else's best.
The contender: Freshman Katelyn Daniels (Michigan State) is on a sharp improvement curve.
Team implications: The Aggies need a win from Vaughan. Both USC and Kentucky have two qualifiers but the Trojans have a much better chance at scoring.
Women's triple jump
Two concurrent flights begin at 2:00 PT/5:00 ET
Top nine qualify to finals, expected to begin around 3:00 PT/6:00 ET
The favorite: Freshma star Keturah Orji (Georgia) is undefeated outdoors and lost only once indoors.
The contender: That lone loss was to Ciarra Brewer (Florida), who lost to Orji at both the indoor and outdoor SEC championships.
Team implications: Florida needs to make the most of their opportunities and this is a big one. LSU's Nataliyah Friar could get on the scoreboard.
Women's 4×100 relay
Scheduled for 2:05 PT/5:05 ET
The favorites: The Penn Relays champion always seems to win the NCAAs, and Texas A&M won that race comfortably.
The contenders: It's the 4×1, anything can happen.
Team implications: Of those nine team contenders listed above, only Arkansas and Georgia aren't in this race. The winner gives themselves a big leg up.
Women's 1500 meters
Scheduled for 2:15 PT/5:15 ET
The favorites: Shelby Houlihan (Arizona State) won this race last year and Natalja Piliusina (Oklahoma State) won it two years ago.
The contenders: If it's anything like last night's men's 1500, where basically everyone was still in contention with 200 meters to go, then just about any of the finalists has a chance at winning.
Team implications: Oregon freshman Nikki Hiltz is the only finalist from a contending team; if she score any points at all it will be a big plus for the Ducks.
Women's Steeplechase
Scheduled for 2:27 PT/5:27 ET
The favorite: Defending champion Leah O'Connor (Michigan State) hasn't lost a final at any distance over the entire season, including the NCAA indoor mile.
The contenders: Colleen Quigley (Florida State) ran very fast at the Payton Jordan Invitational but hasn't won a steeplechase race in over a year. Courtney Frerichs (UMKC) and Erin Teschuk (North Dakota State) are serious threats to win.
Team implications: None of the eight contenders have a finalist.
Women's 100m hurdles
Scheduled for 2:45 PT/5:45 ET
The favorite: Keni Harrison (Kentucky) has the fastest time and is undefeated in the sprint hurdles this year.
The contenders: Bridgette Owens (Florida) and Cindy Ofili (Michigan) are probably the next best in the race.
Team implications: Florida, Kentucky and USC all have finalists and would need a win to stay competitive. LSU is the longest shot to win the title and the Tigers have two in this race.
Women's 100 meters
Scheduled for 2:55 PT/5:55 ET
The favorites: Morolake Akinosun (Texas) and Jenna Prandini (Oregon) were second and third last year.
The contender: Dezerea Bryant (Kentucky) might be a sleeper.
Team implications: Huge. Every single finalist is on a contending team. I expect that the chase for the championship will be trimmed to three or four teams by the end of the 100.
Women's 400 meters
Scheduled for 3:05 PT/6:05 ET
The favorite: Kendall Baisden (Texas) has the fastest PR, but her competitive record is a bit spotty this year.
The contenders: Taylor Ellis-Watson (Arkansas) and Ashley Spencer (Texas) were second and third at the NCAA indoor championships.
Team implications: Texas needs to score big here if they're going to have a shot at winning the championship, and the same goes for Arkansas.
Women's 800 meters
Scheduled for 3:20 PT/5:20 ET
The favorite: Natoya Goule (Clemson) has won the NCAA 800 more times than any of the others have run in the final.
The contenders: Chrishuna Williams (Arkansas) transitioned to the 800 just this year and is long on talent but short on experience. Hanna Green (Virginia Tech) also rates as a contender.
Team implications: Oregon has a finalist in Raevyn Rogers, as does Florida in Claudia Francis. Williams might be Arkansas' last best hope.
Women's 400m hurdles
Scheduled for 3:30 PT/6:30 ET
The favorite: Shamier Little (Texas A&M) is absolutely solid. She's been beaten in this race just once in her entire collegiate career.
The contender: Keni Harrison (Kentucky) is also solid—she's the only one to ever beat Little in a collegiate race—but is trying for a hurdle double in a short time frame.
Team implications: The Aggies are counting on ten points here. USC and Kentucky could both pick up big points as they each have two finalists.
Women's 200 meters
Scheduled for 3:40 PT/6:40 ET
The favorites: Kyra Jefferson (Florida) and Kamaria Brown (Texas A&M) went 1-2 in the SEC 200.
The contender: Jenna Prandini (Oregon) will be at the end of a long day but she is a proven competitor.
Team implications: The main contenders—Florida, Texas A&M and Oregon—will go a long way towards sorting themselves out here. Texas' Morolake Akinosun could keep the Longhorns in contention too.
Women's 5000 meters
Scheduled for 4:00 PT/7:00 ET
The favorites: Emily Sisson (Providence) is the dominant distance runner of the 2015 NCAA track season, but Kate Avery (Iona) was head and shoulders above the rest in cross country. Sisson was out of eligibility during cross season and Avery has been pointing her season towards summer international competition for her native Britain. This should be a fantastic duel.
Team implications: Oregon's Molly Grabill finished an unexpected fourth in the 10k two days ago. The Ducks had better end this race with a healthy points lead because it's their last chance to score.
Women's 4×400 relay
Scheduled for 4:20 PT/7:20 ET
There are very few things in this world better than a close, competitive 4×400 relay. One of them is a close, competitive 4×400 relay with a championship on the line. All of the title contenders save Oregon have qualified.