No Comments
What the athletes are saying at the New York City Marathon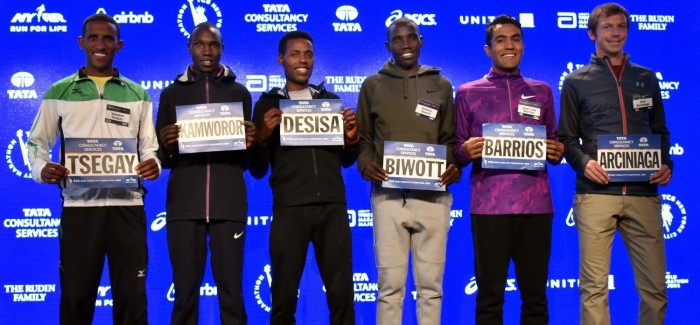 Daily Relay | On 30, Oct 2015
We liked Kevin Sully's New York City Marathon storylines so much that we figured we'd find out what the athletes thought. Here's athlete perspective on Sully's six storylines heading into marathon weekend.
Who challenges Kipsang?
Now that Gebre Gebramariam has withdrawn from the race due to injury, there are seven runners entered who have broken 2:09. The race has been won somewhere between 2:07 and 2:11 every year since 1996, except for Geoffrey Mutai's 2:05:06 course record in 2011. Even if — with no pacers and a tricky course —  it might not be won in sub-2:09 on Sunday, it will likely take someone who's proven capable of a sub-2:09 effort to win.
Of the seven to break 2:09, one is Yuki Kawauchi, who, though a good runner with a great story, has never contended in a major marathon (he did finish third in Tokyo in 2011, before that was a major). Realistically, there are five men capable of hanging with Wilson Kipsang over 26.2 miles.
Stanley Biwott: He hopes Sunday will be his breakthrough and said fitness rather than the course setup is the key. "When you are in shape, it doesn't matter whether it's up [and down] or flat. When you are in shape, you are in shape." He trains with Dickson Chumba, the Chicago winner.
Lelisa Desisa: On being out-sprinted after drawing even with Kipsang late in last year's race: "If I go in front and push, maybe I have a chance. That was my mistake."
Geoffrey Kamworor: (See section below on him.)
Meb Keflezighi: "I'm as ready as I can be, like last year when I finished fourth. … I only saw the list [of elites] once, when the press release was out. … I have to see also what they've done in the past two months or so and how they've built up. I have to do more homework and study my competitors."
Yemane Tsegay: He comes in off of a runner-up finish at Boston and at the World Championships. It's his New York City debut.
What about the Kipsang himself? He may still be the world's best marathoner, but he finished second to Eliud Kipchoge in London and dropped out of the World Championships marathon in Beijing at 35 kilometers, a race he considers "just like a long run in training."
This is Kipsang's second time running New York, something he thinks is an advantage compared to being a debutant last November.
"I think it's very easy to run the second time because every [training] session, you can remember this is how it is, this is how it is. This type of hill is not very far. It's not high."
Mutai's course record has not been approached since he ran it four years ago, but with temperatures expected to be around 50, with low winds and cloud cover, the conditions are right, and the field is deep enough.
"It depends how the weather will be and how guys will cooperate," said Kipsang. "If guys cooperate, we'll have a good time."
Kipsang has run six sub-2:05 marathons, twice as much as anyone else ever. The form sheet says it will take an off-day from him for someone else to break the tape first. If it is an off-day, I'd take Desisa then Tsegaye as most likely to topple Wilson.
What about Meb?
This is Keflezighi's 10th New York City Marathon, and he has a runner's ability to remember each finish:
"I finished, I think, seven in the top ten, I believe, from first, second, third, fourth, sixth and ninth my first time. If I can land any of those, it would be awesome — obviously, the closer to No. 1, the better."
Keflezighi almost didn't make it to New York, despite his close relationship with race organizers and history at the event. Since this is the last major of the fall, it's also the closest to the Olympic Marathon Trials, to be run in February in Los Angeles. As a result, Keflezighi considered running three weeks earlier in Chicago. It would have been a rare shot on a fast course for the 40-year-old.
"I really badly wanted to do Chicago this year. I'm not going to lie. New York Road Runners would understand because I'm trying to make another Olympic team, but things didn't work out," said Keflezighi, who spoke wistfully of a pace that might have allowed him to win. "It was like, hmm, because the winning time [in Chicago] was 2:09 something."
Keflezighi clearly thinks he could have hung in with the pace in Chicago. The field is deeper here, and if it goes out in 2:05-2:06, Meb will undoubtedly say, "Fare thee well," and clip off runners over the last 10 kilometers. Either way, he's continuing to train at a high level (he still got up to 130 miles in a week during training) and seems in good position for another top-five finish.
Kenya or Ethiopia in the women's race?
Several women from marathoning's top two countries — Kenya and Ethiopia — have a shot Sunday, and like the men, the story for the women begins with the defending champ, Mary Keitany.
Keitany finished second in London behind Tigist Tufa, who is also running New York City. Keitany does have one excuse, though: she had malaria.
"I want to say that in London it was not good because I had malaria," she said. "Anyway, I still went to London, but for sure I never experienced this in the preparation of New York. So, I think I'm well-prepared for the New York City Marathon."
She said on multiple occasions that she had "no idea" about likely tactics but, after her flameout in 2011 following a world-record-pace first half, she admitted, "I think it's not possible to run fast throughout."
In Tufa's only previous New York City Marathon two years ago, she was the "other" woman who went out fast with Buzunesh Deba, putting three and a half minutes on the field. Deba finished second, Tufa eighth. In the interim, Tufa, who had trained with Deba in New York for that race but has since returned to Ethiopia, won marathons in Ottawa and Shanghai before a stunning victory April in London over (among others) Keitany, Aselefech Mergia and Priscah Jeptoo, all of whom are running Sunday.
Tufa has come a long way since 2013 and looks prepared to take aim at Keitany, but she did indicate that it would be hard to work with her countrywomen, even a close friend like Deba.
"It's hard because we don't live near each other," said Tufa, who finished sixth in the World Championships marathon. "We might want to work together, but it's hard to do. We have all trained differently."
Deba, who lives and trains mostly in the Bronx and has four top-three finishes in major marathons (she may eventually be declared the winner of the 2014 Boston Marathon, since she finished second to suspended Rita Jeptoo), would appear to be a top threat for Tufa and Keitany, but her training was interrupted for two months due to a knee injury. She started back up Aug. 25, which gave her just a nine-week buildup for the marathon.
"I'm losing my confidence because I'm not training that much, and the group is very hard," Deba said. "Maybe I stay with the group."
Caroline Rotich is probably the No. 2 Kenyan, off a victory in Boston. Before that, she hadn't finished higher than fourth in a major marathon and has placed seventh in her previous two appearances in New York City — her last was 2011.
"Before, that was one of the biggest races I'd ever run," said Rotich of her prior appearances at the New York City Marathon. "So it was kind of getting there and trying to race and just have a good time. But right now, I have been training and it has been a long time. So I have all that mileage and knowing how the marathon feels — a big marathon."
Jeptoo won London and New York in 2013; Mergia won London in 2010 and is making her New York City debut. This is a strong, deep field, including a couple of debutantes discussed farther down.
Can Geoffrey Kamworor win the big one?
Kamworor trains with Kipchoge, the winner of Chicago, London and Berlin in the last 13 months and the man who seems most capable of claiming Kipsang's title of world's best marathoner, if he hasn't already.
"Whatever he did, I did," said Kamworor about training in Eldoret, Kenya, with Kipchoge (he also trains with 2012 Olympic and 2013 World Champion Stephen Kiprotich). "So I have confidence about the race on Sunday."
Kipsang was asked specifically about Kamworor, who won silver behind Mo Farah in the 10,000m at Worlds. Kipsang doesn't seem to consider Kamworor much of a threat, though.
"He ran the marathon, and then it wasn't going well for him, and then he came back to half marathon and maybe the 10,000," said Kipsang. "So I think, for now, when he decided to come back again, it will be tough."
Then, referring to Kamworor and Kipchoge's track speed, Kipsang said, "It doesn't worry me so much, because I really believe that with my training I have that kind of speed. It depends now if he's prepared himself very well. You cannot compare Kipchoge and Geoffrey Kamworor."
Kamworor had run the Berlin in the past, but he thinks the hills of New York suit his cross-country background and training in Kenya.
"The place where I train normally is a hilly place," he said. "So the way I plan and the thing I know about the New York course, I know I will be ready."
Does he think he can win?
"I always say, 'Train hard and always run to win.' That's always my goal."
Kamworor confirmed that he will attempt to make the Kenyan Olympic team for Rio in the 10,000m.
"People in Kenya want me to win that gold," he said.
No Kenyan has won Olympic gold in the 10,000m since Naftali Temu in Mexico City in 1968.
Which American will break through as an Olympic Trials contender?
Nick Arciniaga is one of just two top American men competing in New York City (though another, Craig Leon, has broken 2:14). Arciniaga believes the schedule, which puts the Olympic Trials marathon just 15 weeks from this weekend, works out OK for him.
"I had a lot of success with the shorter turnaround," said Arciniaga. "My PR was 16 weeks after I ran the Chicago Marathon. I figured, basically, as long as I can let my legs recovered and get the proper training, it would be fine."
Arciniaga sees a large field of athletes capable of finishing top-three at Trials, counting 23 contenders right now.
"He's another guy that added to the list of 23," said Arciniaga when asked about Luke Puskedra's 2:10:24 breakthrough performance in Chicago. "Even though he had a decent half-marathon going in, he wasn't someone I considered."
Arciniaga also mentioned Matt Llano's 2:12:28 in Berlin as a fall performance that put someone else in the mix.
As for how New York City could help Arciniaga prepare for trials? Not that much.
"Completely separate race," said Arciniaga, who is running his 18th marathon Sunday. "There's going to be a big pack of Americans running the same pace [at Trials], trying to get 2:09.
"Could be 62 minutes on Sunday or could be around 65 minutes at the half, which would be great for me."
Alana Hadley is just 18, but she, too, could run at the Olympic Trials. Even in the unlikely event that she finishes top three there, an age restriction will keep her from competing in Rio, something Hadley finds frustrating.
"The rule frustrated me as a whole, because obviously 19-years-olds, especially the past two years proved that they can beat the top runners in the world at 19 in the marathon," she said. "Because it affects me, that frustrates me, but as a whole, it just does not make sense logically to me. And that's really irritating to me."
She needs to run 2:37 or better to get the "A" standard for trials.
Who will have the most impressive debut?
Sally Kipyego and Laura Thweatt are the two most notable debutantes. Kipyego arrives two months after finishing fifth in the 10,000m at the World Championships. Thweatt is coming off of injuries this spring and summer, but she won the USATF Cross Country Championships in February by 31 seconds in her native Boulder.
Kipyego has had a long season, taking just one "down week" after Beijing in the buildup to her first marathon. She said she "started to feel the fatigue" in marathon training — bumping her mileage from 80-90 to 110-115 — and that "I hope to finish in one piece."  She calls the deep field of women's elite athletes "very intimidating."
Though those may not sound like the words of a podium contender, Kipyego — who is part of the Oregon Track Club and coached by Mark Rowland of the Oregon Track Club but trained for the race in Iten, Kenya — is planning to run with the lead pack and has the speed to hang with them if her strength allows.
Thweatt lost a couple training cycles with a knee injury suffered during cross-country season and a bruised bursa in her knee suffered in a fender-bender early this summer.
Her training for this race, though, has been adequate. She said she finally hit a point in training that told her she was over the injuries.
"It was like, boom — I'm back! I'm fit and ready to go."
In terms of her goals for this race, she just plans to "race the race" and says it "depends on what the group decides to do," which probably means she'd try to hang with a slower pace but let the leaders go if the pace is fast.
She is not considering running the Olympic Trials marathon, regardless of her performance Sunday.
"I have some unfinished business on the track," said Thweatt, who will compete to make the U.S. Olympic team in either the 5,000m or 10,000m.
Kipyego also plans to compete to run on the track in Rio. She will run the 10,000m at Kenyan trials whenever and wherever that will be. She called her performance in Beijing "very disappointing" and cited "tactical mistakes" as part of the reason she finished off the podium.